One of the unique features of the Disney Cruise line is rotational dining.
What is Rotational Dining?
Rotational dining is the Disney Cruise Line's way of ensuring that all guests enjoy each of the 3 themed dining venues while on board. 
Upon arrival, you will receive your restaurant schedule and table number by checking your Disney Cruise Line Navigator App. Each evening, you, your tablemates and your servers will rotate to a different restaurant. The same wait staff, Head server, server and drink server will serve you each night while you get to experience the unique atmosphere of each dining venue.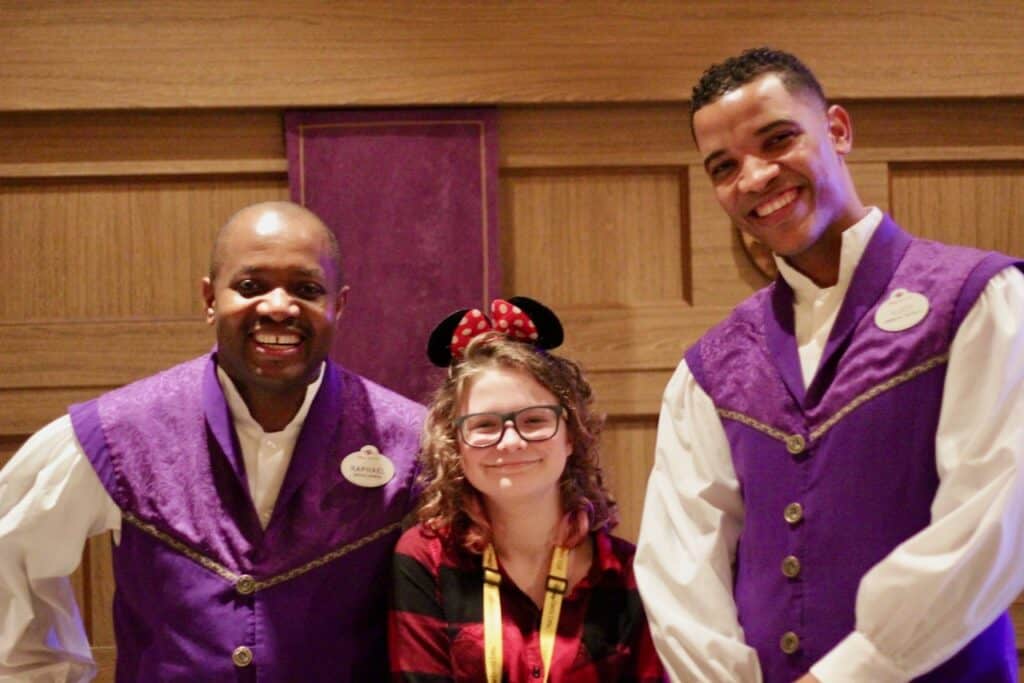 What time is Dinner?
Disney Cruise Line has two dining options: Main or Early Dining and Second or Late Dining. Main Dining is the earlier of the two and usually is around 5:45. Second Dining is usually around 8:15. Depending on your itinerary, the times may differ slightly.
Which Dining Time is Better?
A common question in Disney Cruise groups is which dining time is better. People with younger children tend to prefer the earlier time. Main dining is the more popular of the two choices; because of its popularity, it will be busier than Late dining. We prefer late dining. It gives us more time to get ready after a port day and it tends to be less busy and less noisy than early dining. I also think it is a little less rushed since it is the last seating.
I have Second seating, but I want Main. What can I do?
Don't give up hope if you want early dining but have late dining. First, check to see if you can change it in the app. Late dining is the default choice when you book a cruise. If early dining is full, get on the waitlist for early dining. Keep checking the app to see if you can change, people's plans change and early dining may open up. Checking regularly around your paid-in-full date is usually the time when you will have the most luck. Check again 30 days out. On my last cruise, early dining spots opened up at that time. Check the Navigator app if you can't switch before you board the ship. It will have information about where and when you can go to make dining changes.
What type of food do they serve on a Disney Cruise in the main dining rooms?
There is a wide variety of food. Each night there is a new menu for you to choose from, even if it is your second time in the same restaurant. Check out the menus from Disney's newest ship, the Disney Wish. I am currently posting the menus from our last cruise on the Disney Fantasy, so keep checking back for those. Or you could sign up for our newsletter and keep up with the latest Disney Cruise news. Make sure you see our other tips and tricks on a Disney Cruise.
---
This post may contain affiliate links. Meaning, that if you make a purchase through my links, I will earn a small commission at no additional cost to you. Thank you for your support of this site.