A popular question is how to get to the port for your Disney Cruise. You have a bunch of options. You can take your car and park at the port if you live within driving distance. Renting a car is another popular option. Some people opt to Hire a driver and car to get there or use Lyft/Uber. In Europe, it can be easy to take public transportation to the port. You can also use Disney Cruise Transportation to get us to the port.
In the past, we have taken a taxi and used a car rental to get to the port. The easiest way to get to the port is to take the Disney Cruise transportation. We have used the transfers a few times in Port Canaveral and London. Disney usually offers transfers from the airport or hotel (Disney Resort hotels or pre- and post-cruise hotels).
Port Canaveral
We decided to make things easy for our last cruise and take Disney Transportation to and from the port. If you are sailing from Port Canaveral, you have two choices if you take Disney Transportation. You can catch the bus at the airport or at Walt Disney World. Transfers are $39 per person in each direction to and from Port Canaveral, prices are current for August 2022.
We arrived in Orlando two days before our cruise and stayed at Coronado Springs. The day before the cruise, and spent the day at Magic Kingdom and Epcot. When we returned to our room, we had a letter explaining what we needed to do for our bus ride the next day.
Dear Family

We hope you've enjoyed your Walt Disney World® Resort stay. Below are a few important things to remember as you get ready to embark on an unforgettable voyage with Disney Cruise Line.

Bell Services will begin luggage pick-up at 7:00 AM (EST) on the morning of your sailing. Please place the luggage you wish transferred to the ship inside your resort room (with Disney Cruise Line luggage tags attached) near the entrance door. You do not need to be present for your luggage to be collected. Should you need additional Disney Cruise Line luggage tags, they may be obtained at the Bell Services Desk.

All Guests with Disney Cruise Line ground transfers are invited to meet with a Disney Cruise Line representative in the Barcelona Lounge located in the lower level of Gran Destino Tower at CoronadoSpring at 8:15 AM (EST) for an 8:45 AM (EST) motorcoach departure. Photo identification for all Guests 16 years of age and older is required to board the motorcoach.

Upon check-in at Port Canaveral, if you have completed Online Check-in at www.disneycruise.com, please be prepared to provide proof of citizenship for all members of your party. If you have not completed Online Check-In, you will have until 11:59 PM (EST) the day before embarkation to complete.

In order to sail, every Guest must individually create an account associated with their reservations) on the Safe Passage website by Inspire Diagnostics and upload their proof of vaccination or negative COVID-19 test result. Inspire Diagnostics is Disney Cruise Line's third-party partner for COVID-19 testing and vaccination verification. A parent or legal guardian will need to use their own account to provide this information on behalf of minors. On the morning of embarkation all Guests will receive an email with a link to complete a health questionnaire prior to arriving at the port. Face coverings are optional for all Guests (ages 2 and up, including those who are fully vaccinated against COVID-19) on the motorcoach and in the terminal. It is recommended you bring a day bag to carry with you to Port Canaveral that includes:

Port Arrival Form

Proof of citizenship and photo identification

Valuables, medication, and anything else you may need on the first day of your cruise

Any alcohol you plan to bring onboard in accordance with our alcohol policy and must be packed in your carry-on luggage

Should you have any questions, please call us at 1-800-395-9374, option 1.

Again, we hope you have enjoyed your stay. Bon Voyage and enjoy your cruise!
They came to pick up our luggage around 7:10am. We were told anytime after 7:00am. We met in the Barcelona lounge at 8:15am. At the lounge, a Disney Cruise Line representative approached each party. She checked that we were on the transfer list and checked our passports.
Around 8:45, we headed to the bus and were on the bus by 8:50. We stopped to pick up a couple of people at Caribbean Beach at 9:15. Our driver entertained the bus by playing the Teenage Mutant NinjaTurtles movie from 1990. The bus was not a DCL-themed bus and was missing the usual Disney bus entertainment videos.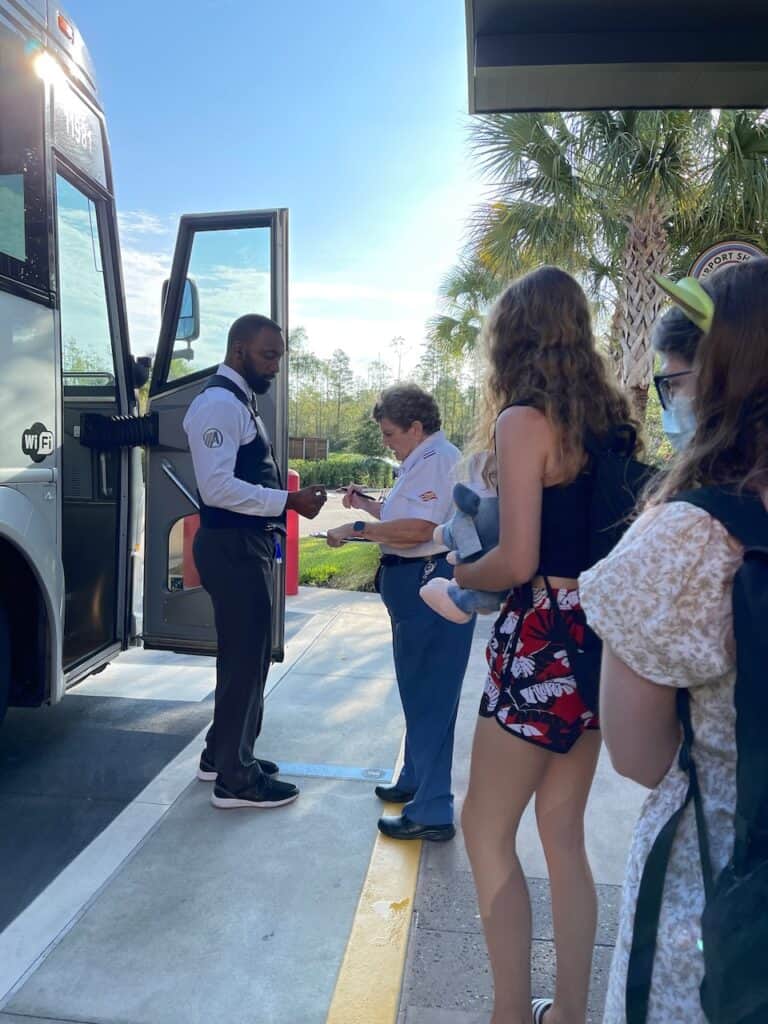 Arriving at Port
By 10:10, we had our first glimpse of the Disney Fantasy. When we arrived at the terminal, they separated the guests that still needed to test from those who had uploaded their results. (Note we travelled in August 2022, and the covid rules have since changed, check the know before you go on the DCL website for the latest rules.).
We were at the terminal and off the bus by 10:16. From there, we went into a nearly empty security line. It took only a few minutes to go through. My sister had a cinnamon roll from Magic Kingdom that she had to throw out because it was open (you can't bring fresh or unsealed packaged foods on the ship). I think we must have been on one of the first buses to arrive at the terminal.
Checking In
After leaving the security area, we headed to the terminal waiting area at 10:30. Our boarding group was #3. The B2B passengers were waiting in the terminal, we were even asked if we were part of the B2B group. You can see how empty the terminal was.
The family sitting next to us was chosen as the family of the day—a bonus for arriving so early. We boarded at 11:50, so it was a bit of a wait, but we were comfortable, and the time went by quickly. While we waited to board, we had a chance to look at the navigator and see what activities were available. You can also find out your dining rotation and when the staterooms will be available.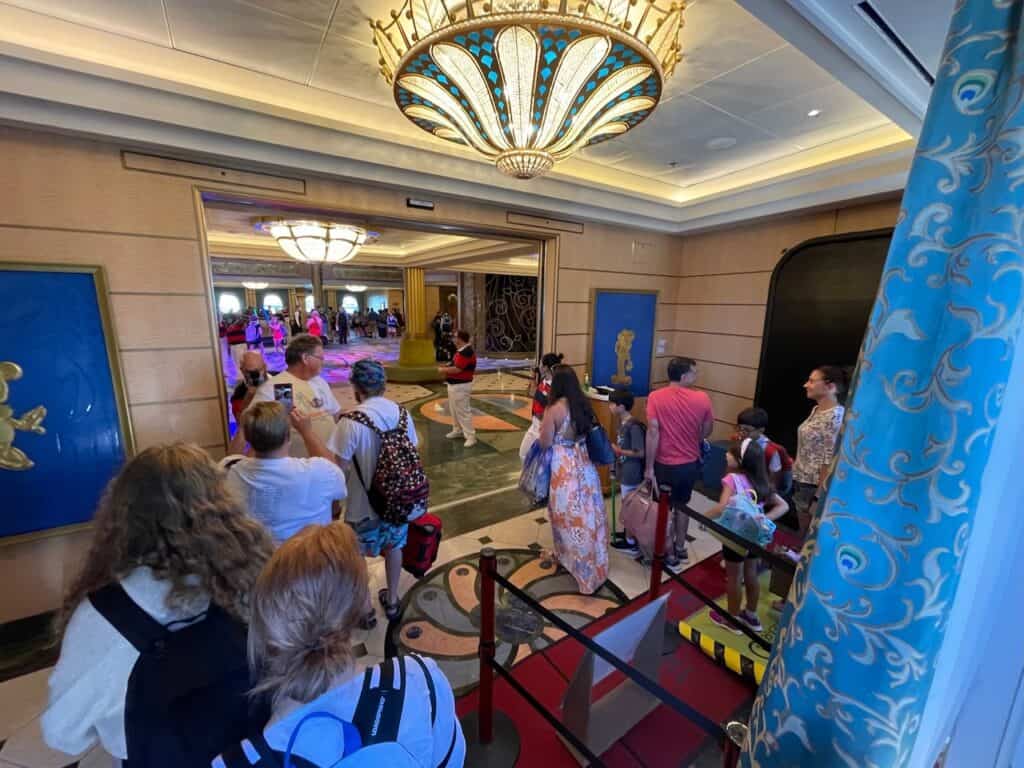 Transfers Port to Airport
We also booked transfers back to the airport at the end of the cruise. Our flights were not until after 1pm, so we didn't need to rush off the ship. They will want you off the ship by 9:30. Usually, they will call you to disembark based on the luggage tag you were given last night. On this cruise, they called open disembarkation before we finished breakfast.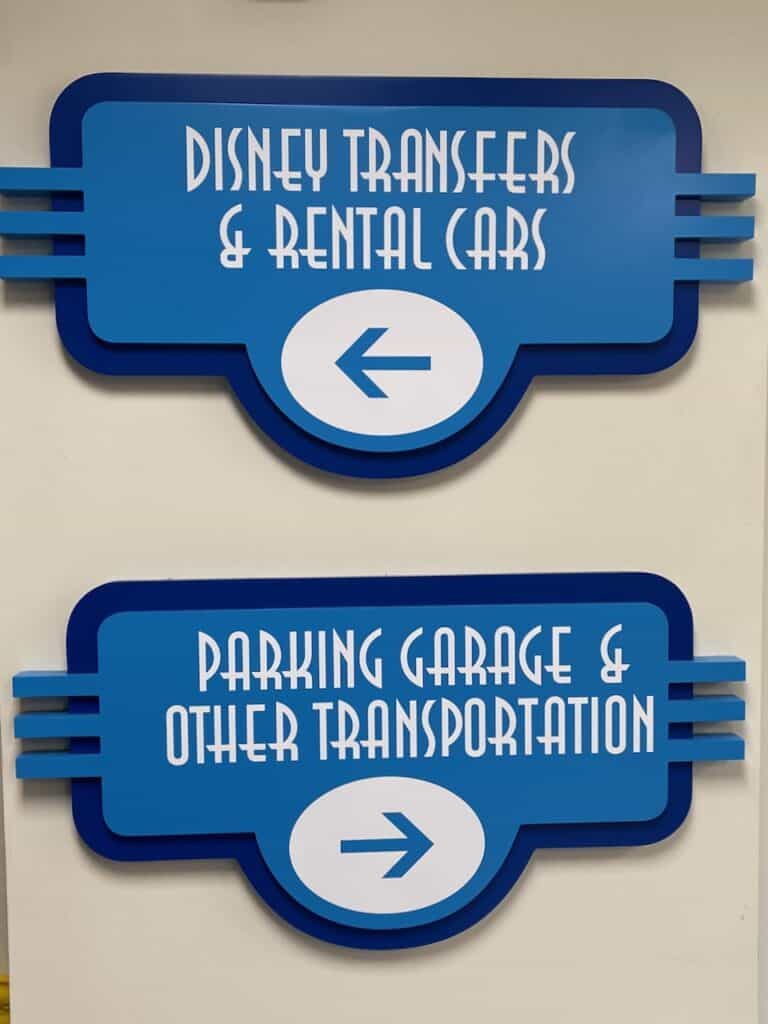 We picked up our luggage and went through border control. Once we were through the secure area, we followed the signs to Disney Transfers. There are lots of Castmembers along the way to ask for directions. We boarded to bus around 9:15, and the bus was on its way by 9:30.
Pros of Taking DCL Transfers
Disney takes care of your luggage
You arrive at the port early
You are dropped off inside the secure port area
Disney knows you are on the bus and will wait for the bus to arrive
It feels like you have already started your vacation once you are on the bus
Worry-free
Cons of taking DCL Transfers
The cost, if you are a larger family, the price of the transfers can really add to the cost of the cruise, there may be cheaper options
It was an early start when they came to get our luggage at the resort. We were excited to get going, so it may not be a con for everyone.
Hopefully, this has given you an idea of what to expect if you take Disney transfers from Port Canaveral. You can read about our experience taking transfers from London and learn more about the current cost of transfers at each port.
If you want to see our latest tips and tricks, sign up for our newsletter. As well as tips and tricks, you will receive the latest news and discounts.
---
This post may contain affiliate links. Meaning, that if you make a purchase through my links, I will earn a small commission at no additional cost to you. Thank you for your support of this site.