Disney Cruise Transportation to Dover is offered from Gatwick and Heathrow airport. It is also offered from a few Hotels in London if you book your hotel room through Disney Cruise Lines. But, did you know you can book Disney Cruise transportation from London to Dover without staying in a Disney booked hotel? You can. We booked the London City Centre pick-up for the westbound transatlantic cruise. I could not find any information about taking the DCL bus to Dover before we cruised. Here is the information about using this Disney Cruise Transportation option.
The Basics
The cost per person from London City Centre to Dover is $60USD. It is the same price for cruises in 2019 too. To book, you can contact DCL or your travel agent to make the arrangements.
The pick-up point is the Doubletree Hilton London Victoria near Victoria Station. We were told to arrive by 10:00 am and that the trip would take about two and a half to three hours with a 10 minute stop for a bathroom break.
Boarding Day
Boarding day was finally here. We got up early because we wanted to get on the earliest bus possible. I checked our cruise group page and saw a post that the Disney Cruise Transportation cast members had begun to take luggage and assign buses, this was at 7:00 am. If you are staying at the Doubletree Hilton you will get a bit of a jump on others taking the bus. The first bus was leaving at 9:15am.
We were finally ready and left our hotel just before 8:00am. We had a taxi pick us up at our hotel. By 8:25 we arrived at the Doubletree Hilton. The process was super simple. Directly in front of the hotel entrance, the Disney Cruise Transportation cast members were checking names, giving out bus assignments and taking luggage. A cast member quickly took care of our luggage and we were told that we were on the second bus leaving at 9:45am. Disney had set up a meeting room on the second floor for guests to wait for their bus. Refreshments were available including coffee, tea, juice, water and pastries. It was a nice surprise since we didn't stop to eat breakfast.
The meeting room filled up quickly after we arrived. After enjoying a pastry and drink we waited for about 30 minutes, wi-fi from the hotel was available to use. We made our way back to the lobby about 15 minutes before our bus time they were just beginning to call for Donald tickets.
The Ride to Dover
The bus was a comfortable motor coach and had a bathroom. The luggage racks were small if you have a larger carry on, like we did, you will need to stow it under the bus. In no time the bus was nearly full and we were on our way before 9:45am.
The trip was quicker than we were led to believe and there was no stop at the rest stop. At 11:45 the bus pulled up to the cruise port and we were on our way to the check-in desk.
Dover Cruise Port
Boarding had not yet started when we arrived in the building. It started around 5-10 minutes later while we were still at the check-in desk. The cast member checking us in gave us boarding number 11. We went and sat down in the waiting area where they were already calling boarding group 7. Ten minutes later we were heading aboard the Magic.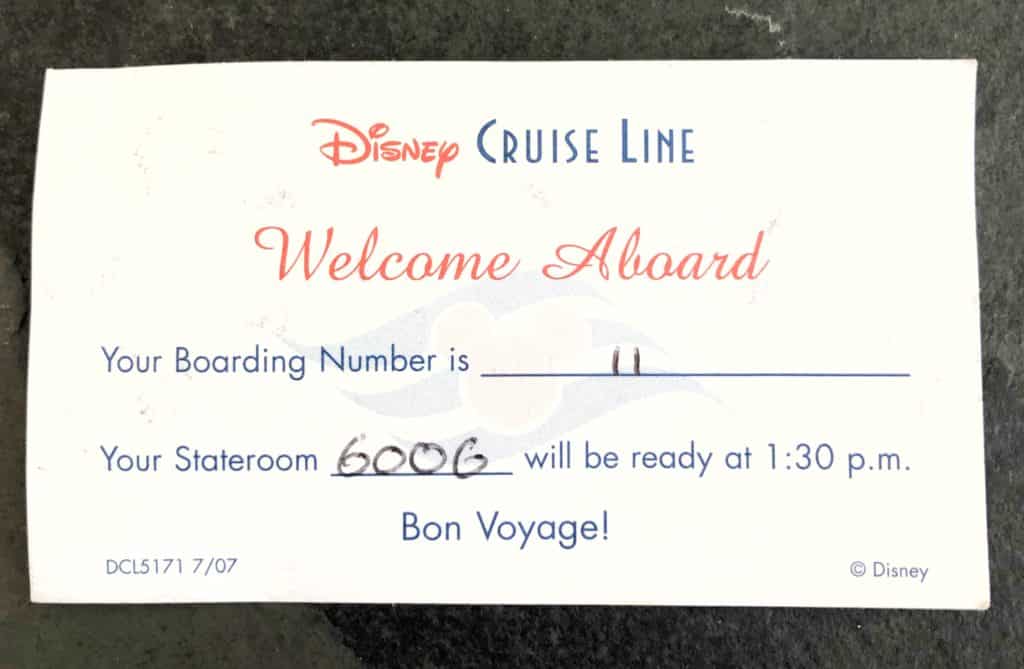 Final Thoughts
Taking the bus from London to Dover was extremely easy, but does cost much more than the train. We felt it was worth the money. We are only three and for us it was worth the convenience. The direct train runs from St Pancras to Dover, we would have had to take a cab to the train station and then when we arrived in Dover a cab to the cruise port. Although I did read that Disney Cruise is offering a shuttle from the train station to the port for $10 per person added to your onboard account.
This year, we are staying in Canterbury prior to our cruise and will take the train the morning of the cruise. If we were staying in London until Sunday I would not hesitate to take Disney Cruise transportation again.
Make sure you check back for my next post our first day on the cruise. If you are just joining my trip report make sure you check out my previous posts.
---
This post may contain affiliate links. Meaning, that if you make a purchase through my links, I will earn a small commission at no additional cost to you. Thank you for your support of this site.