Have you ever wondered what type of meal Disney offers on a special holiday like Thanksgiving? Her is the menu from the Disney Wish's first Thanksgiving.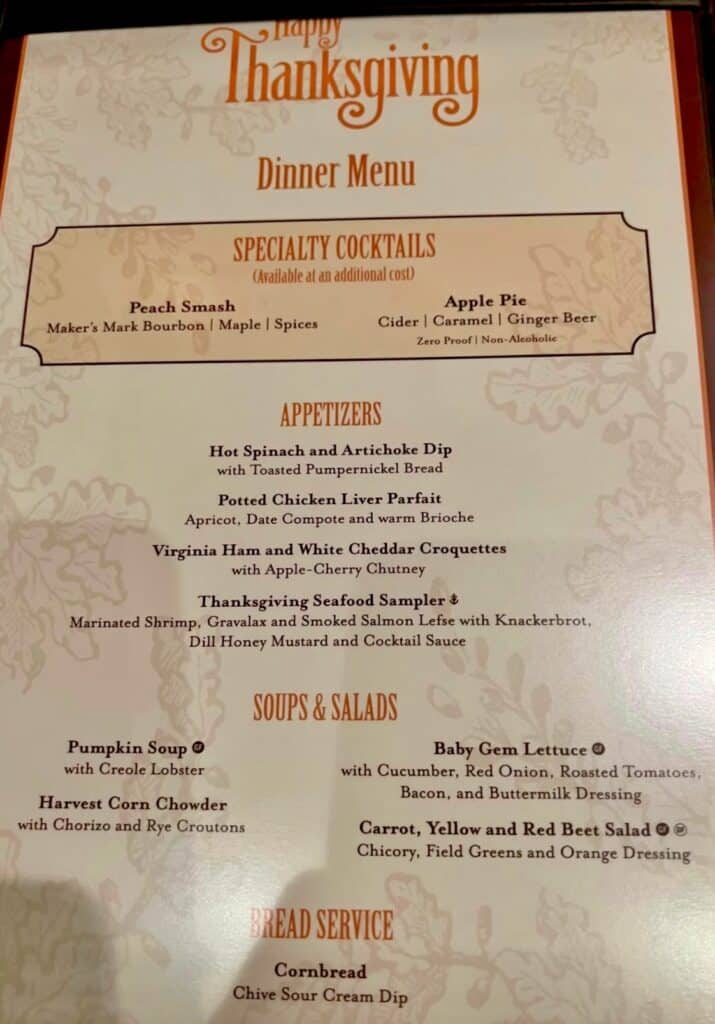 Thanksgiving Dinner Menu
SPECIALTY COCKTAILS
(Available al an additional cost)
Peach Smash Maker's Mark Bourbon, Maple, Spices
Apple Pie Cider, Caramel, Ginger Beer
APPETIZERS
Hot Spinach and Artichoke Dip with Toasted Pumpernickel Bread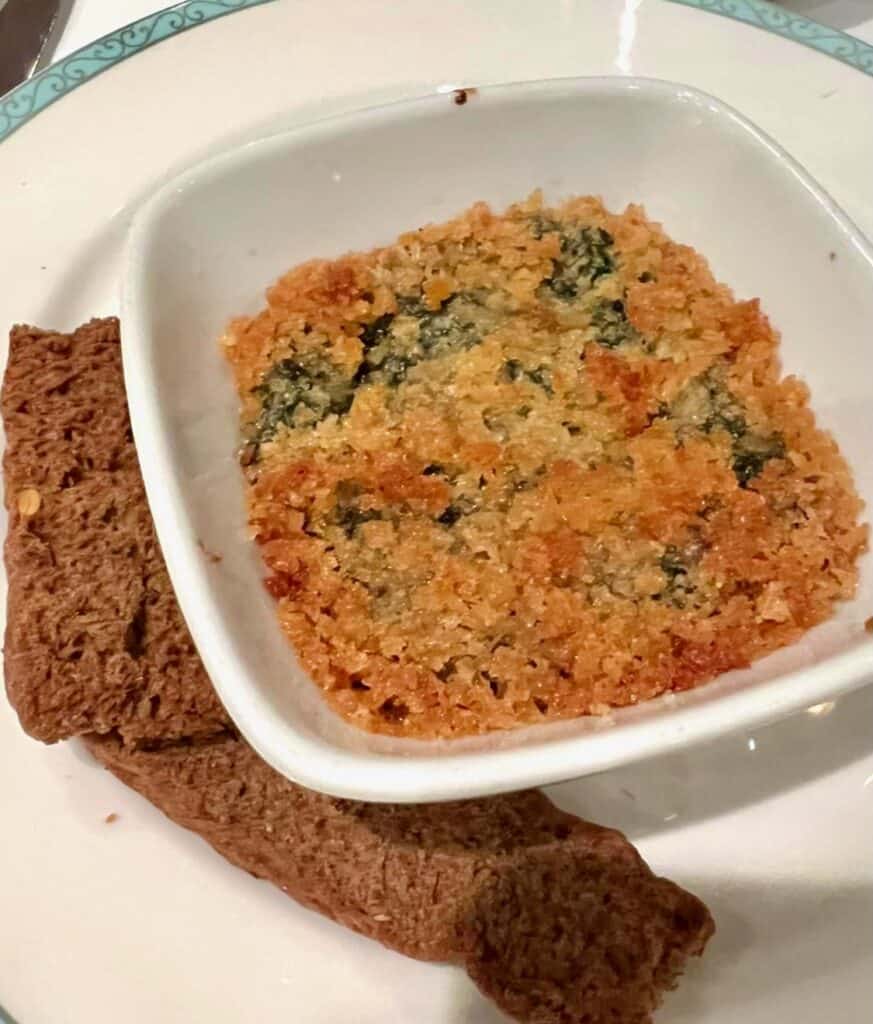 Potted Chicken Liver Parfait Apricot, Date Compote and warm Brioche
Virginia Ham and White Cheddar Croquettes with Apple-Cherry Chutney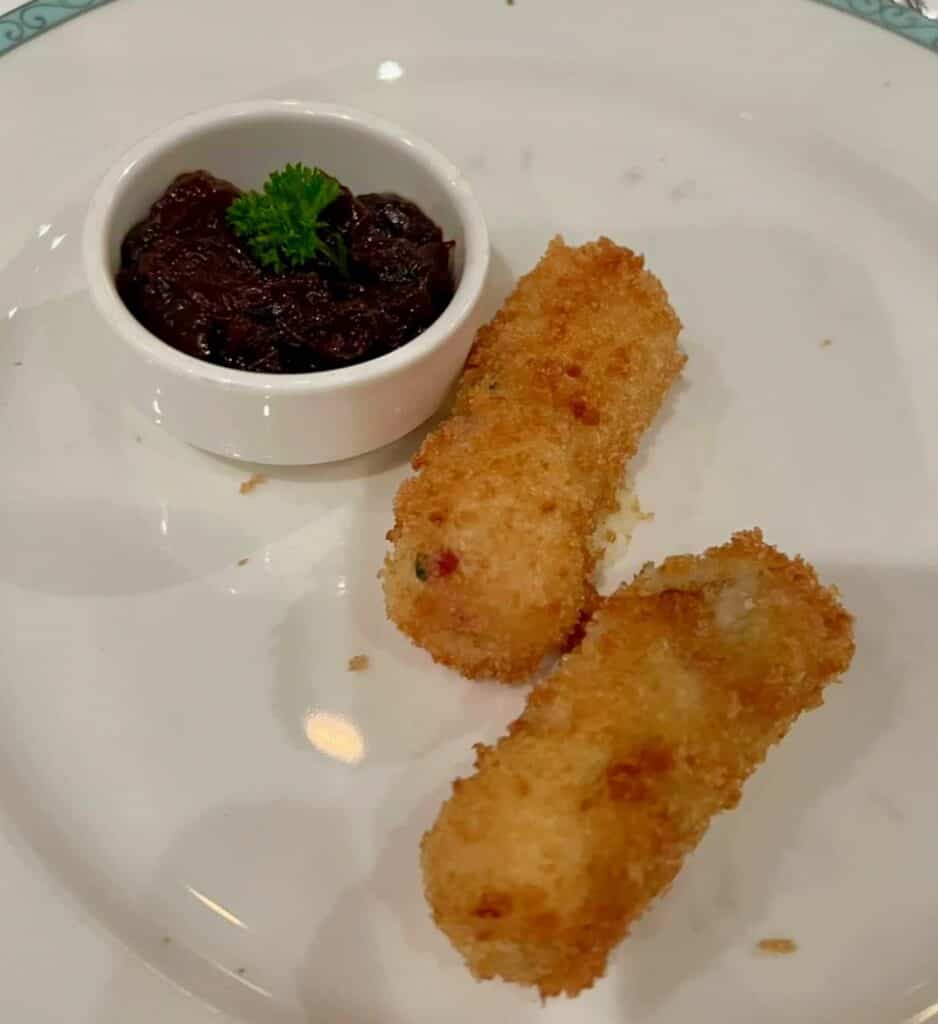 Thanksgiving Seafood Sampler Marinated Shrimp, Gravalax and Smoked Salmon Lefse with Knackerbrot Dill Honey Mustard and Cocktail Sauce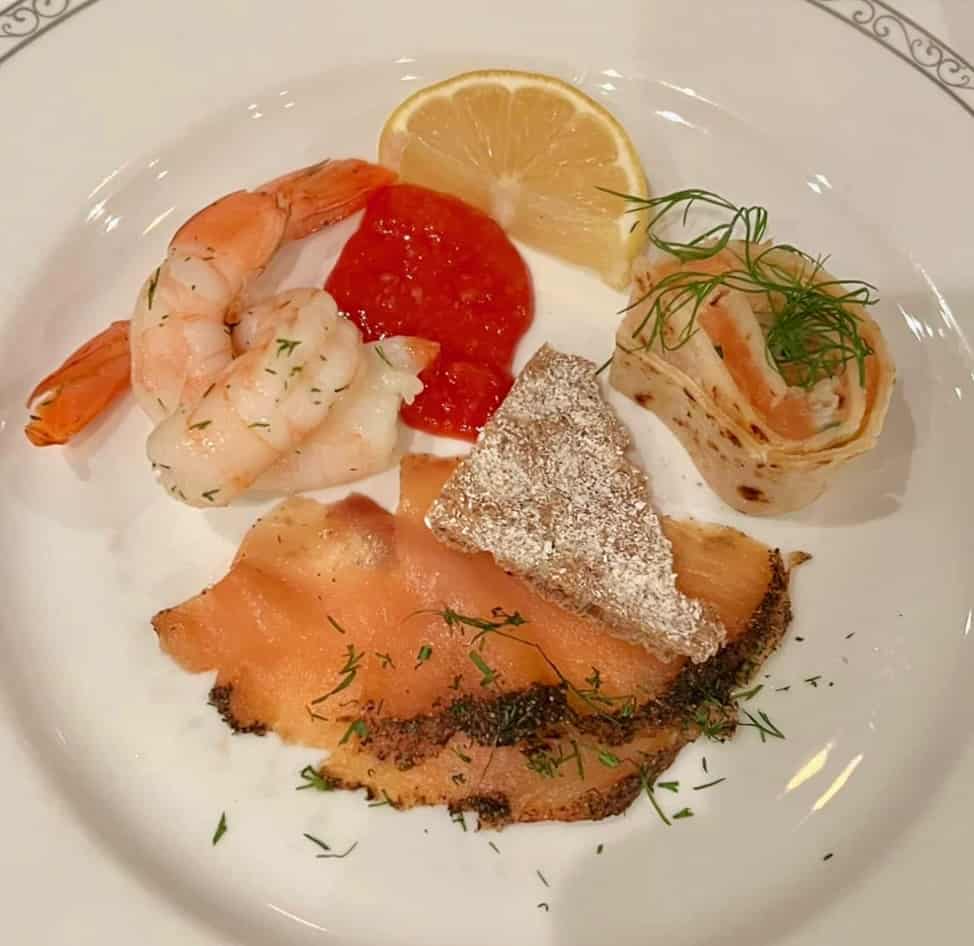 SOUPS & SALADS
Pumpkin Soup with Creole Lobster
Harvest Corn Chowder with Chorizo and Rye Croutons
Baby Gem Lettuce with Cucumber, Red Onion, Roasted Tomatoes, Bacon, and Buttermilk Dressing
Carrot, Yellow and Red Beet Salad Chicory, Field Greens and Orange Dressing
BREAD SERVICE
Cornbread Chive Sour Cream Dip
ENTREES
Bacon wrapped Chesapeake Bay Cod Savoy Cabbage Hash, Sautéed Spinach and Wholegrain Mustard Sauce
Pumpkin and Mascarpone Ravioli Rosemary, Grated Asiago Fresco and Black Truffle Olive Oil
Veal Loin topped with pulled Maryland Crab Meat and Béarnaise Glaze On Buttered Spinach and Creamy Polenta served with a Burgundy Red Wine Veal Reduction
Governor Bradford's Roasted Turkey Carved and served with Turkey Stuffing, Mashed Sweet Potatoes with Honey and Crushed Pecans, Roasted Vegetables, Pan Roasting Juices, and Cranberry Sauce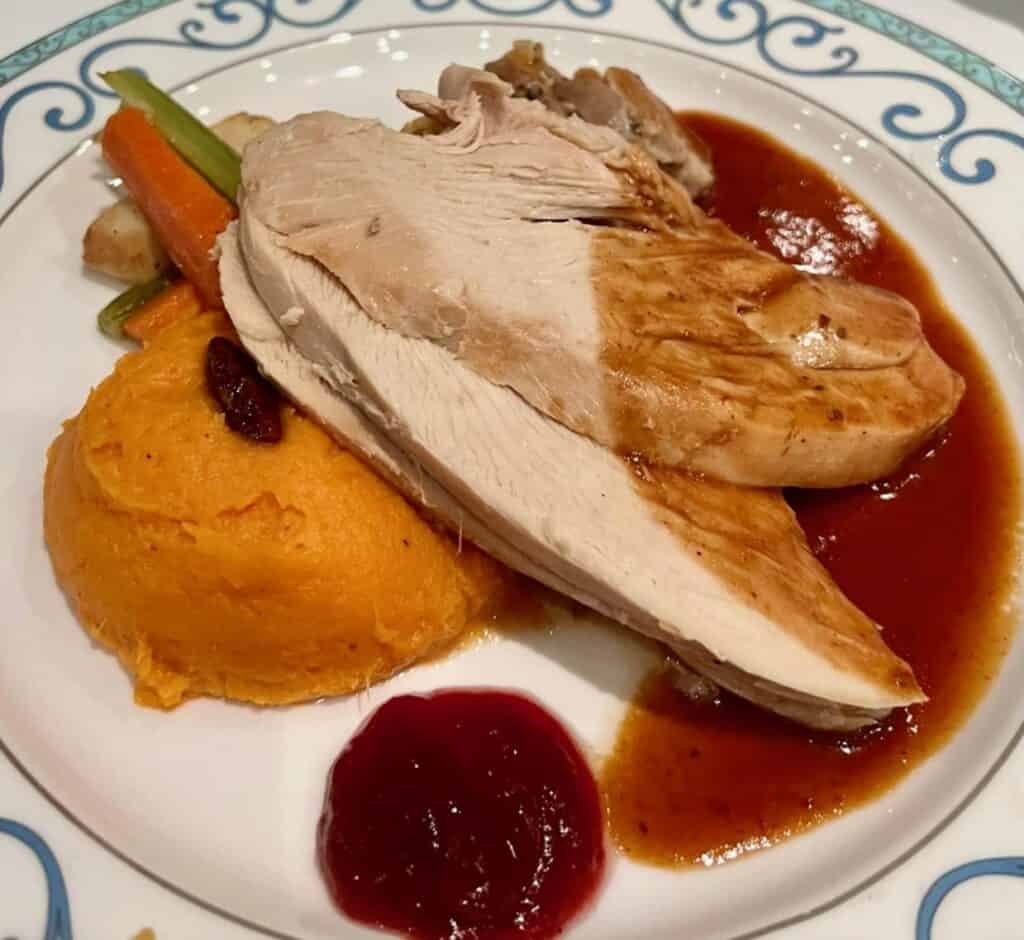 Black Pepper-crusted Standing Rib Roast Roasted Red Onions, Sugar Snap Peas, Thyme Potato Gratin, and glazed Claret Wine Sauce
VEGETARIAN
Pumpkin Curry with Brown Lentils and Apples with Basmati Rice
Pretzel and Cashew Crusted Tofu with Sweet Onion Chutney
LIGHTER NOTE OFFERINGS
Honey Glazed Duck Breast On Red and Napa Cabbage Salad with Braeburn Apples and Spiced Pecans
Grilled Grain-fed Sirloin Steak
Slow Roasted Breast of Chicken
Oven Baked Fillet of Salmon
The above three entrées are served with Garden Vegetables and your choice of Steamed White Rice or Baked Potato
DESSERTS
Pilgrims Pumpkin Cheesecake Vanilla Baked Cheesecake, Spiced Pumpkin, Raspberry Sauce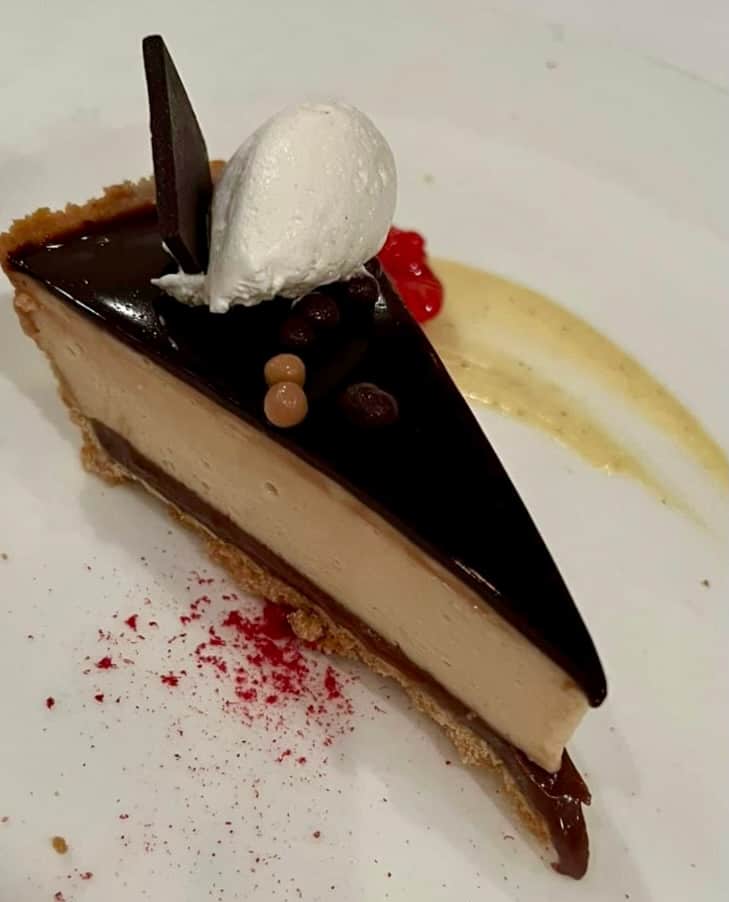 Dark Chocolate Cranberry Bar Flourless Chocolate Cake, Lemon Cranberry Crème, Chocolate Velvet
Apple Pie A La Mode Granny Smith Apples, Sweet Crust, Vanilla Bean Ice Cream
Thanksgiving Sundae Rocky Road Ice Cream, Marshmallow, Crushed Walnuts, Chocolate Sauce, Whipped Cream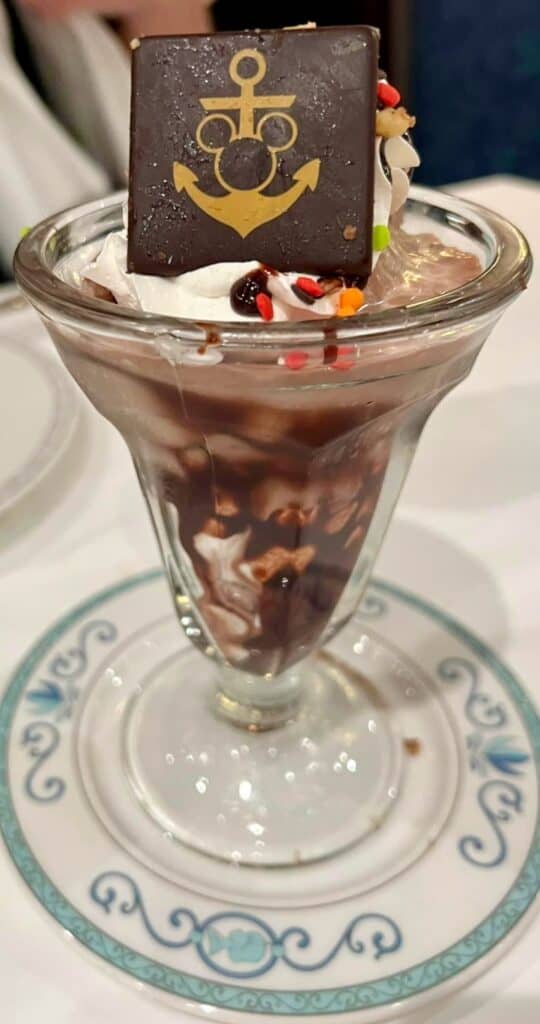 SIGNATURE DESSERT
American Peanut Butter Fudge Pie Peanut Butter Mousse, Milk Chocolate Fudge
NO SUGAR ADDED DESSERT
Roasted Chestnut Panna Cotta Chestnut Puree, Chocolate Glaze, NSA Chocolate Shavings
Check the other menus on the Disney Wish. Don't miss our tips and tricks and to receive the latest Disney Cruise news sigh up for our newsletter.
---
This post may contain affiliate links. Meaning, that if you make a purchase through my links, I will earn a small commission at no additional cost to you. Thank you for your support of this site.