Candy is dandy, but Minnie's Sweet on You takes vintage ice cream parlours to a deliciously animated level! Featuring scenes from classic Mickey Mouse shorts, this brand-new dessert emporium dishes out 20 hand-crafted gelatos, 16 incredible ice cream flavours, 32 tempting toppings, icy milkshakes and signature sundaes sure to make your sweet tooth sing. Sweet on You opened on Disney Fantasy in 2017.
Signature Sundae
Includes 3 scoops of Ice Cream, 5 Toppings, Whipped Cream and a Cherry. Served in a take home, souvenir Mickey or Minnie Cup $12.99
Milkshake of the Day $ 7.25
Toppings
You can add toppings to your ice cream or gelato. The toppings include:
Roasted Almonds
Roasted Pecans
Strawberry Compote
Maraschino Cherry
Popping Pearls
Guimms Bears
Rainbow Non-Pareils
Mini Reese's Pieces
Jelly Beans
White Chocolate
Mini M&M's
Skittles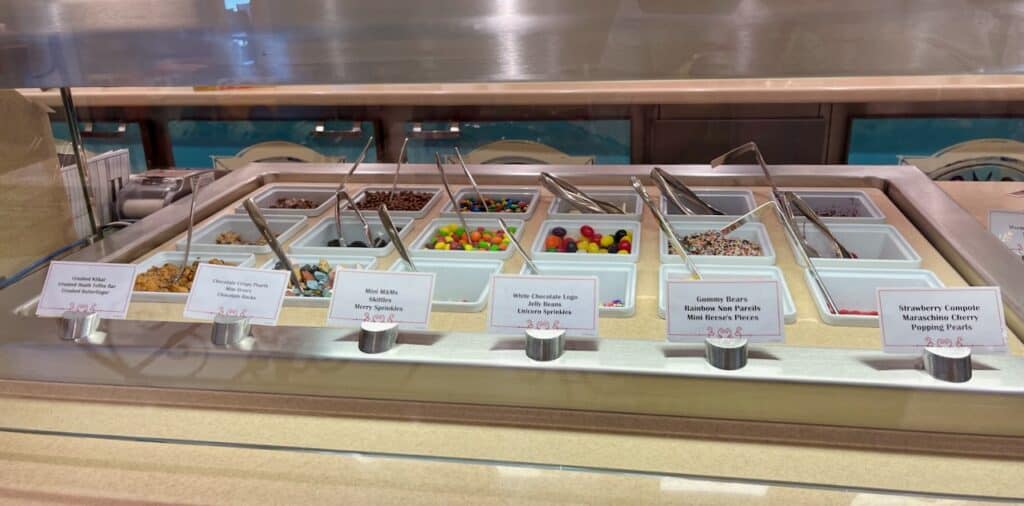 Gelato
Ice Cream
Sweet Treats
In addition to ice cream and gelato, you can also buy some other treats.
These include:
Chocolate Dipped Oreos
Captain Mickey and Minnie Cookies
Chocolate Dipped Marshmallows
Cupcakes
Macarons
Brownies
We had some gelato that was good and a nice alternative to the soft serve, although the gelato does have an additional charge. We also tried one of the squares and a macaron. The square was good but similar in quality to the free treats you can get at the Cove Cafe and my daughter thought the macaron was not good. The Disney Dream, Vanellope's Sweets & Treats, and Wish, Joyful Sweets, both have the additional charge sweet shop but the Disney Magic and Wonder do not.
What is your favourite treat on the Disney ships?
---
This post may contain affiliate links. Meaning, that if you make a purchase through my links, I will earn a small commission at no additional cost to you. Thank you for your support of this site.