Looking to trade in white snow for white sand beaches? If so, Disney Cruise Line provides the perfect tropical setting for your family holiday getaway. With two brand-new entertainment experiences, Disney characters dressed in jolly new looks and fun-filled activities for the whole family, the high seas will be brimming with the spirit of the holidays later this year.
New Tree Lighting Ceremony
On the first night of all Very Merrytime sailings, you can gather around the three-deck-tall tree in the ship's atrium for a brand-new tree lighting ceremony. Mickey Mouse, Minnie Mouse and Goofy will invite your family to sing along to classic holiday tunes, followed by a countdown that will not only make the tree merry and bright but also introduce the guests of honour for the cruise (Santa!? I know him!).
"Deck" the Halls at Mickey and Minnie's Holiday Party
Mickey and Minnie's Holiday Party, another brand-new experience on these specialty sailings, will invite your family to the upper decks for a one-of-a-kind celebration at sea filled with tidings of good cheer. This high-energy deck party – thrown by Mickey and Minnie – will feature favourite Disney friends as they celebrate friendship, love and family with a fresh mix of classic and original holiday songs.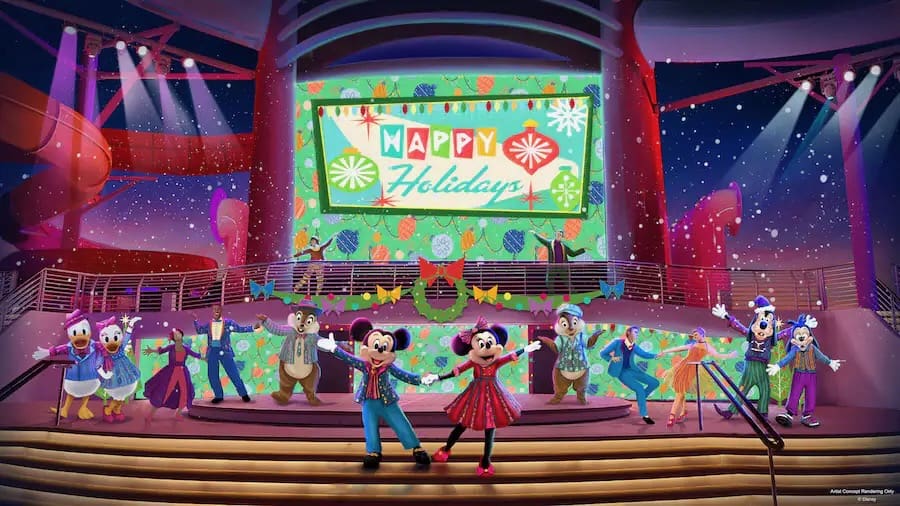 Can't get enough holiday décor? In addition to these new entertainment offerings, the Disney Cruise Line decks and halls will be filled with boughs of holly from bow-to-stern during Very Merrytime cruises. Aboard these seasonal sailings, guests will also find beloved Disney characters debuting new holiday attire, themed Very Merrytime activities for the entire family, carolers singing contemporary versions of songs that celebrate various holidays, commemorative merchandise and festive food and beverage items.  If you are sailing in June, you can get a sneak peek of the treats for the Halfway to the Holidays celebrations.
With cruises from Florida and California, adults and children alike will discover the wonder of the holidays at sea in 2023.
Disney Cruise Line will set sail from a new South Florida home in Fort Lauderdale, offering four- and five-night Very Merrytime cruises aboard the Disney Dream to tropical locales in the western Caribbean and Bahamas. Also from Florida, the Disney Wish and Disney Fantasy will continue sailing from Port Canaveral to The Bahamas and the Caribbean. The Disney Magic will set sail to Baja and the Mexican Riviera from San Diego for holiday sailings before wrapping up the season in Galveston, Texas, with Very Merrytime cruises to the western Caribbean.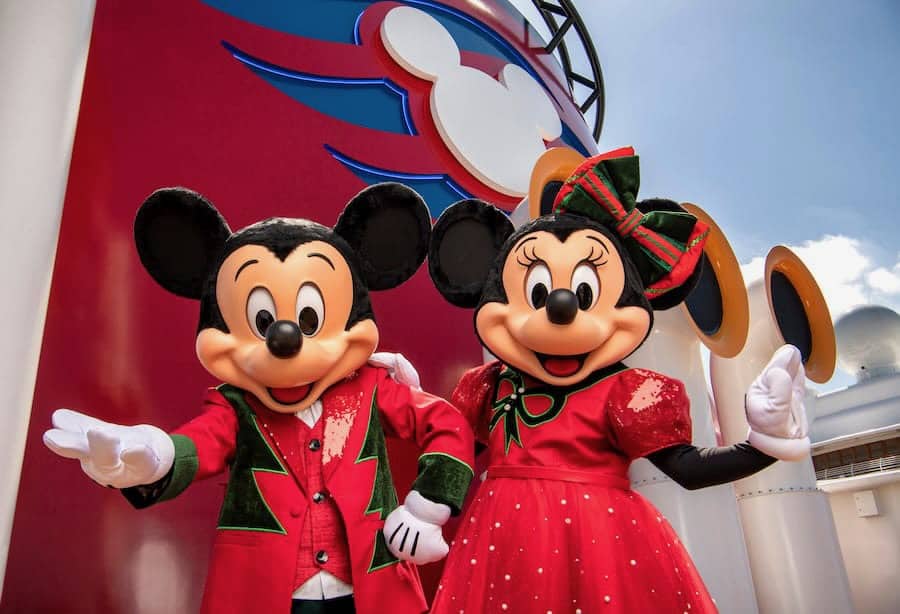 More Holiday Merriment in 2024
The holiday magic of Disney Cruise Line will also return next year as part of the just-announced itineraries in late 2024.
From mid-November through December 2024, your family can spend the most wonderful time of the year with Disney Cruise Line from two home ports in Florida and a selection of cruises from Galveston, Texas.
Short holiday getaways will be offered from both home ports in the Sunshine State, with a selection of three- and four-night Bahamian Very Merrytime voyages on the Disney Wish from Port Canaveral and four- and five-night cruises to The Bahamas and the Caribbean from Fort Lauderdale aboard the Disney Dream.
The Disney Fantasy will embark on various four-night Very Merrytime sailings to The Bahamas and longer six- and seven-night itineraries in November and late December. Select voyages on the Disney Dream and Disney Fantasy will include a day of fun in the sun along the white sand beaches of Disney Cruise Line's newest destination at Lighthouse Point during the holiday season. Located on the island of Eleuthera at Lighthouse Point, this vibrant beach retreat will be a unique celebration of Bahamian culture brought to life with the quality and service of a Disney vacation.
Cruises from Galveston aboard the Disney Magic will range from four to six nights, allowing your family to celebrate the holiday season together while visiting tropical ports of call throughout the Caribbean.
Additional Fall 2024 Sailings
And speaking of the holidays … Halloween on the High Seas will return in mid-September through October 2024, bringing the fun of Halloween to Disney Cruise Line during a season of extra-eerie sailings. If you haven't been on one of these sailings, they are a must if you enjoy Halloween (aka start planning your costumes now)!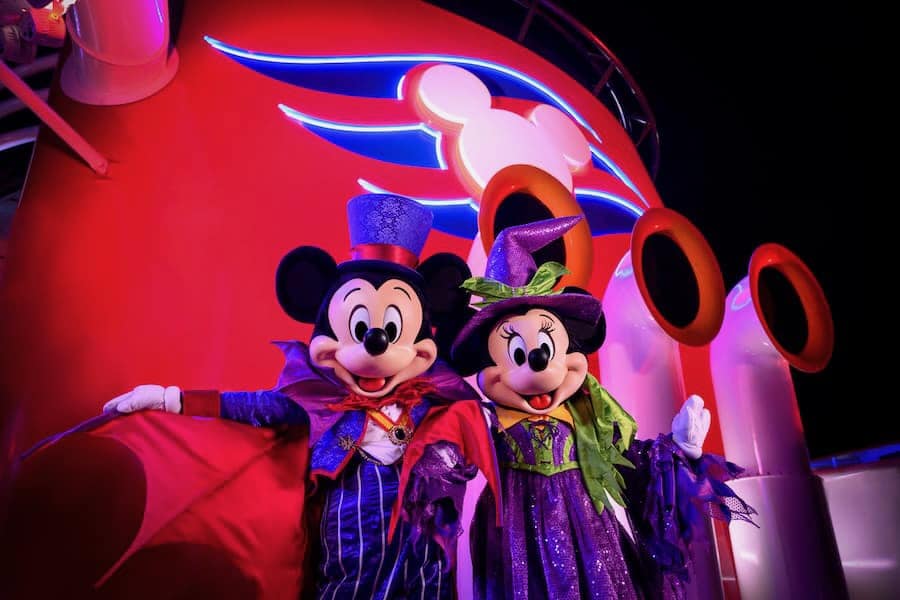 From Port Canaveral, Florida, the Disney Wish will sail three- and four-night Bahamian voyages full of frightful fun in fall 2024, while the Disney Fantasy will offer these special themed cruises with lengths varying from four, six and seven nights. Four-night sailings on board the Disney Fantasy will take families to The Bahamas, while six- and seven-night escapes will transport guests to fan-favourite destinations throughout The Bahamas and the Caribbean.
Also, in fall 2024, the Disney Magic will depart from Fort Lauderdale, Florida, on vacations ranging from three to five nights to tropical destinations in The Bahamas and the Caribbean.
Special Sailings to Hawaii and the South Pacific
When Disney Cruise Line sails to Hawaii, guests will discover the breathtaking beauty of the Hawaiian Islands, including the famous beaches of Waikiki on Oahu; unforgettable views from high atop the summit of Haleakala Crater on Maui; the lush tropical gardens and waterfalls of Kauai; and the diverse natural wonders of Hawaii Island.
In addition to the festive-themed sailings, Disney Cruise Line will sail an array of bucket-list itineraries in late 2024. The Disney Wonder will sail from Vancouver, Canada, to Honolulu, Hawaii, in late September, with stops on Kauai, Maui and Hawaii before arriving in Oahu. From Hawaii, the Disney Wonder will embark on a transpacific voyage to Sydney, Australia, that will take families through the South Pacific to visit once-in-a-lifetime destinations such as Fiji, American Samoa and New Caledonia.
Bookings for fall 2024 itineraries are open to Cataway Club members begining June 19, 2023, and to the public June 26, 2023, and holiday sailings for 2023 are available now!
---
This post may contain affiliate links. Meaning, that if you make a purchase through my links, I will earn a small commission at no additional cost to you. Thank you for your support of this site.