Of all the ports the Disney Magic westbound transatlantic cruise was stopping at Cobh is the one I was most excited about. There are lots of options for excursions from Cobh and many you can do on your own.
We wanted to do the Titanic Experience and found a company that offers the Titanic Trail Walking Tour and the Titanic Experience for one price. Disney had a similar sounding excursion that they were charging $99/person. On our own, it was €17 for adults and €11 for our daughter. She was twelve at the time of the cruise and no longer considered a child by Disney. The decision was easy. We opted to tour on our own and booked the 11:00am tour.
Breakfast before visiting Cobh
The all ashore for this port was 9:15am. Our Titanic Trail Tour began at 11:00am, so we had time to have breakfast in the Main Dining Room. Be sure to check your Navigator or app for the times that Lumiere's is open for breakfast and lunch. I had the French Toast and Pineapple Stack and loved it. If you like pineapple I recommend trying this dish. It was one of my favourite breakfast dishes.
Cobh
Once we were all fuelled up we headed out to visit the beautiful town of Cobh. Its name was briefly changed to Queenstown to honour Queen Victoria in 1849 to commemorate her visit to the town. It is well known for its association with two nautical disasters. It was the last port of call for the Titanic and is where the survivors and the dead were brought from the Lusitania. If you are interested in learning more about the Lusitania check out Erik Larson's book Dead Wake. Many Irish left Ireland for North America leaving from the Port of Cobh.
Cobh is a very pretty town and easy to walk around.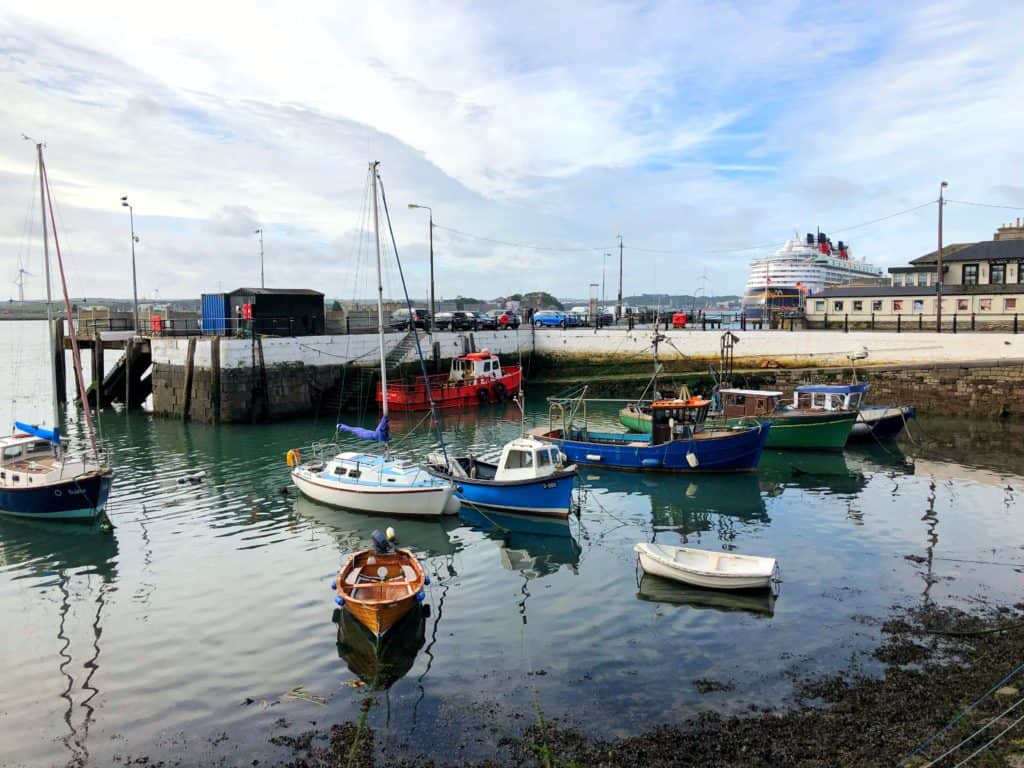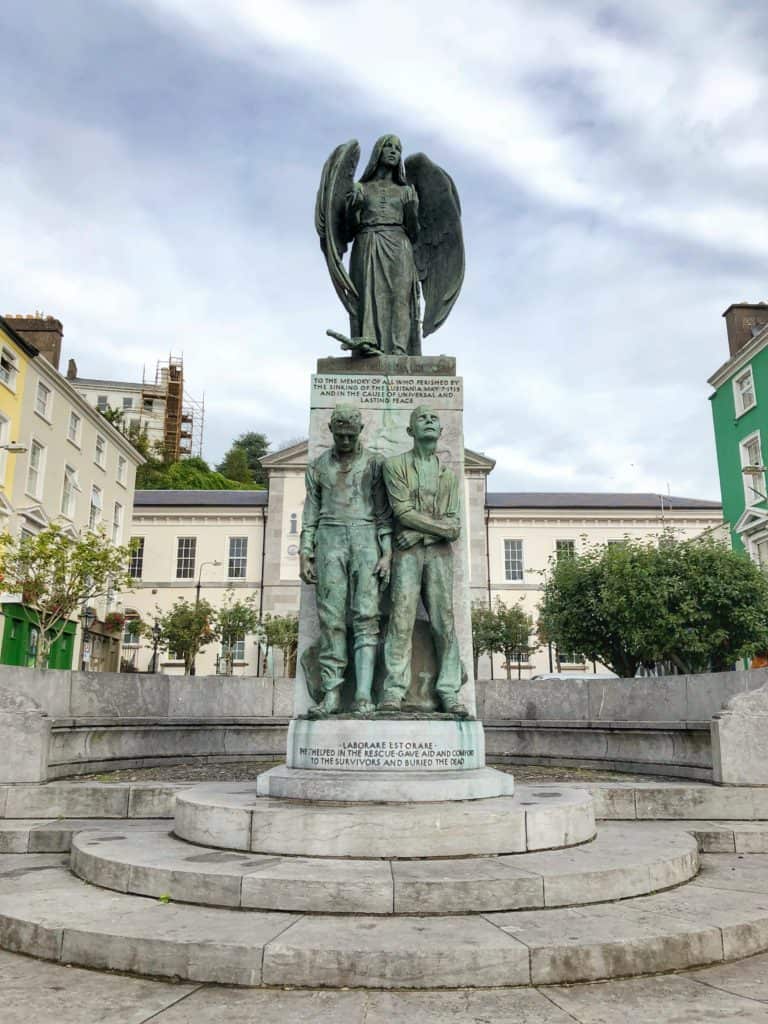 The Titanic Trail Walking Tour
Just before 11am, we made our way to the meeting point for the tour. There were around 20 people on the tour including us. Almost everyone was off the Disney Magic. The tour guide was good and had a lot of interesting information about the area. As we were touring we kept meeting up with the group on the DCL excursion. Both the private tour and the DCL tour followed the same route. If you are thinking about taking the tour I do recommend you do it on your own and save some money.
The tour made its way up to St. Colman's Cathedral. A beautiful cathedral that overlooks Cobh Harbour. Consecrated on 24 August 1919 it houses the famous 49 bell Carillon, the largest in Ireland and Britain. The tour ended there and we had a few minutes to visit the Cathedral before we made our way back down to visit the Titanic Experience.
The Titanic Experience Cobh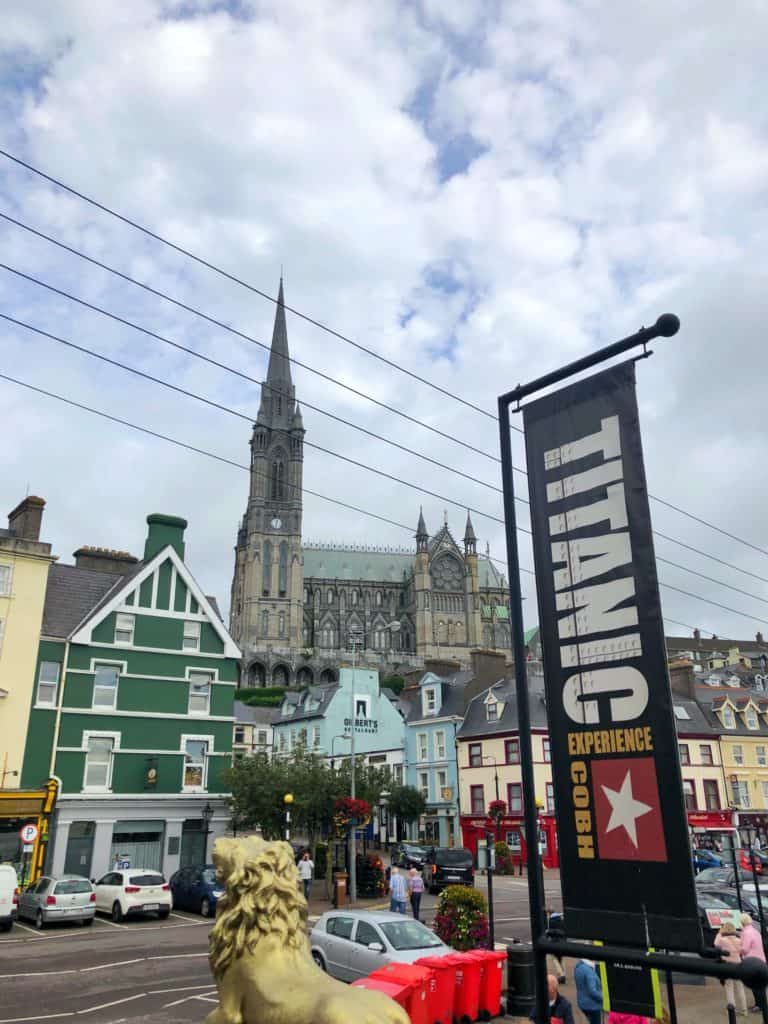 There was some confusion when we arrived at the Titanic Experience. A line was outside but it was very unclear as to whether we needed to stand in the line or not. It turned out we were not supposed to wait in line and eventually made our way by for our tour. I enjoyed the tour. If you are planning on staying in Cobh it is a must do. You can book it separately and don't need to do the tour of Cobh to go in.
After the Titanic Experience and a stop in the gift shop we wandered around Cobh for a little bit longer taking in the town. The weather was a little cool and the skies were threatening rain most of the day. We decided to head back to the ship.
Back on Board
Georgia went to the Edge, and Jay and I decided to stop into the Cove Cafe before we sailed away. It was still fairly quiet onboard. At the Cove Cafe I ordered the Hot Cocoa Wonder. They bring out a glass with a solid chocolate ball in it and pour hot milk over it. The ball of chocolate melts and reveals that it was full of mini marshmallows. If you are looking for a fun drink to warm you up it is a good choice. Jay chose a glass of scotch to warm him up.
It was getting close to sail away time, so we headed to deck four and deck ten to get some last pictures of Cobh as we sailed away.
Dinner
The show tonight was John Charles. We have seen his show on past cruises and decided to skip it on this cruise, instead, we went and watched the Incredibles 2 in the theatre. I think it was a good decision. Before dinner, we stopped at O'Gills for movie quotes trivia. We love trivia and it was very popular on this cruise often standing room only. Sadly we did not win this one.
Starters
Dinner tonight was in Lumiere's and was the Lumiere's menu. Lumiere's isn't my favourite restaurant and the menu is okay. I think it could use a bit of a revamp. I am pretty sure it hasn't changed since our first cruise.
Georgia had the Duck Confit, Jay had the Escargot and I had the Iced Lobster and Jumbo Shrimp. I wasn't a fan. Even though iced is in the title I am always surprised how cold it is, I don't think it is the best temperature to enhance the flavour. Next time I will follow either Georgia or Jay's lead and get the duck or escargot.
Entrees
For our entrees, Georgia had the Crispy Roasted Duck Breast and I had the Chateaubriand Roasted Filet Steak. Mine was good but not memorable. Georgia loves duck as you may have guessed and enjoyed her meal. Jay was going to order the Conchiglie Pasta, but our served warned him that it was not the best choice, so he ordered the Roasted Rack of Lamb. Raphael, our server, bought out the Conchiglie Pasta for Jay to try. It did have an odd taste that didn't mesh well with the lobster. I wouldn't order it, Raphael said that it was often sent back. Trust your server's recommendations.
Dessert
For dessert, Georgia opted for the classic Opera cake. The ship was rocking a fair amount at this point and I was feeling unwell so I skipped dessert and headed back to the room.
After dinner, Georgia headed to the Edge to meet up with her friends. Jay came back to the room to check on me. I have always been prone to motion sickness and the combination of our room location, so far forward, and the rough seas, I was seasick. Luckily it was the only time I felt that bad and was much more careful about taking my anti-nausea medicine. I have found that the roughest part of the journey on a transatlantic cruise is when we are near land. We have had no trouble out in the Atlantic Ocean, so far.
Coming up next our first of many sea days! If you are just joining this trip report make sure you check out our planning, our time in London, and how we got to the port from London. See the next post about our first sea day here.
---
This post may contain affiliate links. Meaning, that if you make a purchase through my links, I will earn a small commission at no additional cost to you. Thank you for your support of this site.