Our trip in August was our second time on the Disney Fantasy. The first cruise was in 2012—Disney Fantasy's inaugural cruise year. On our first cruise on the Fantasy, we visited Palo, but never went to Remy. When we booked this cruise I knew we would want to try Remy. Remy is one of two adult-only restaurants on the Disney Fantasy, both have an additional charge to eat there and a dress code to dine there. You have three ways to dine at Remy: dinner, brunch and the Pompidou Dessert Experience. We booked the Dessert Experience for our first sea day and brunch on our second.
Disney's website describes the Desert Experience as follows: "Treat your taste buds to a delectable 5-course dessert menu served with coffee. This adults-only event features an in-depth discussion with Remy's Executive Chef and Pastry Chef, who will take turns explaining the history and evolution of each sweet selection."
Remy proudly presents your Pompidou Dessert Experience
Crème Brûlée Vanille
Forêt Noire
Paris Brest
Fraise Calamansi
Chocolat Croquant
Citron
Dessert Experience $60 (per person) Wine Experience $28 (per person)
Crème Brûlée Vanille
Our first dessert was the Crème Brûlée Vanille. I would not normally order a Crème Brûlée as a dessert at a restaurant, although I did the night before at Royal Court. The two Crème Brûlée were miles apart. The Remy Crème Brûlée has a delicate pastry shell, in place of the usual ramekin dish. The custard filling was light and had a lovely vanilla flavour. As you can see the top of the Crème Brûlée Vanille had a lightly browned top. I dislike an overly browned Crème Brûlée so I thought it was perfect.
The executive chef, Max, expalined the origins of the Crème Brûlée. It was paired with Castelnau de Suduiraut Sauternes 2016
Forêt Noire
I was disappointed when I saw the Forêt Noire listed on the menu. I am not a fan of Black Forest cake. This was like no black forest cake I had before. It was a masterpiece to look at.
The Forêt Noire has a layer of chocolate cake topped with cherry jelly. The jelly was topped with a crème diplomate, it was surrounded by a chocolate mousse and covered with a chocolate mirror glaze. The flavour combination was amazing. It was one of my favourite desserts. I was really surprised at how much I liked it.
Paris Brest
I was looking forward to trying the Paris Brest. Again the executive chef let us know the background of this dessert. It was created by Louis Durand, a pâtissier from Maisons-Laffitte, France, and was an homage to the Paris-to-Brest bike race. The circular shape of the dessert represents the wheel of a bicycle.
The Paris Brest choux pastry was crispy and filled with hazelnut cream. I thought the dessert was very nice but lacked the wow factor of the Forêt Noire. The hazelnut filing was the highlight.
The next wine in the pairing was Disznoko Tokaji Aszu 5 Puttonyos 2013.
Fraise Calamansi
I had no idea what to expect with this dessert. It was a strawberry roulade with a calamansi sauce. The calamansi is a hybrid fruit—part kumquat, part citrus. It is a bit sour and very refreshing. I loved this dessert, I wish I could have another serving of it right now.
Chocolat Croquant
The next dessert was another chocolate dessert. This was a thin crispy chocolate cylinder filled with cream, and chocolate drizzled over the top of the dessert. Again this was a very nice dessert and would be a stand out on its own but was not my favourite of this tasting. Normally, I would gravitate more towards a chocolate dessert and it would be a favourite.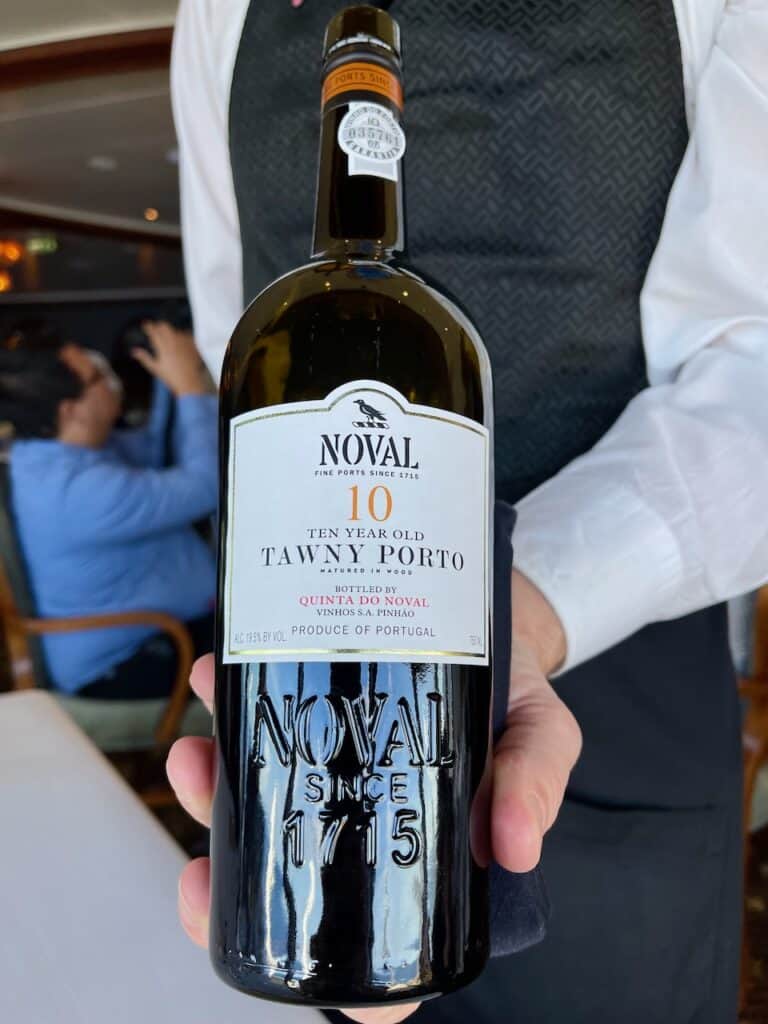 Noval Ten Year Old Tawny Porto was the next wine in the wine pairings.

Citron
I saw the final dessert online when I looked up the Dessert Experience before booking it. And, while it looks interesting, I wasn't that excited about eating it. The executive chef told us about the amount of work that goes into the making of this dessert including boiling the peel multiple times and using a mould to make the lemon shape. Dipping it in white chocolate, warming it to get a lemon-pocked skin appearance and spraying it for the perfect colour. The Citron was amazing. I would redo the dessert experience just to have this dessert again.
I really can not explain how perfect this dessert was. It was exquisite.
Ranking
If I was to rank the desserts from my favourite to least favourite I would put the Citron on the top. I would follow it with the Fraise Calamansi. Both desserts had a fresh citrus flavour. My next favourite was the Forêt Noire—it was delicious. The first three were all outstanding. The last three I would rank Chocolat Croquant, Crème Brûlée Vanille, and the Paris Brest. While they were still very good they were not showstoppers.
Is it worth the cost?
A question often asked about different experiences on the ship is whether it is worth the cost. In my opinion, it was. The variety of the desserts was really good and they were all excellent. If you like a well-made dessert this is for you. The desserts offered in the rotational dining rooms tend to be mediocre so it was a real treat to enjoy desserts of this calibre. All of the dessert flavours were well balanced, and nothing was overly sweet. If you have the time available and can get a reservation I would recommend doing the dessert experience. It costs a little less than brunch and dinner it also takes place at 3:30pm so you won't miss any meals with the family. We will definitely do it again.
Make sure you keep checking back for the latest news like the changes to pre-cruise Covid testing, menus, and the newest discounts. We also visited Remy for brunch and I will post that soon.
---
This post may contain affiliate links. Meaning, that if you make a purchase through my links, I will earn a small commission at no additional cost to you. Thank you for your support of this site.