There are a couple of updates for the Disney Wish today. Guests onboard are reporting that Disney Uncharted Adventure is available to play. It is showing as an option in My Plans in the Disney Navigator. Disney Uncharted Adventure was supposed to debut on the Maiden Voyage but was delayed.
Disney Uncharted Adventure
From Disney Cruise Lines "Disney Uncharted Adventure, is a first-of-its-kind interactive experience that will lead guests aboard the Disney Wish on a journey from bow to stern and beyond the stars. Just announced today, this fantastical journey will be a brand-new way to explore and experience the enchantment of a Disney cruise ship.
Using innovative technology like augmented reality and physical effects, Disney Uncharted Adventure will take classic Disney storytelling into an all-new realm of immersive family fun as guests embark on a multidimensional voyage into the worlds of Moana, Tiana, Peter Pan, Nemo and more."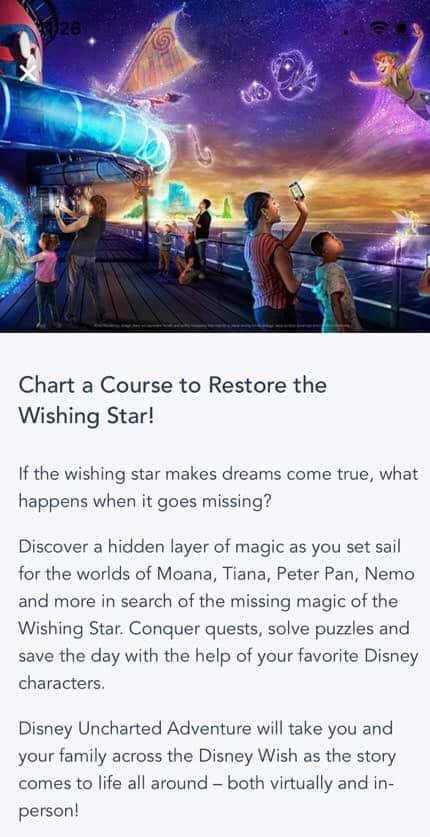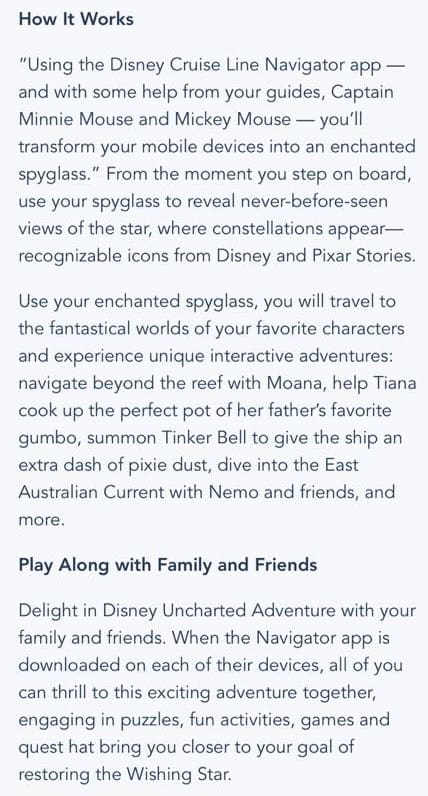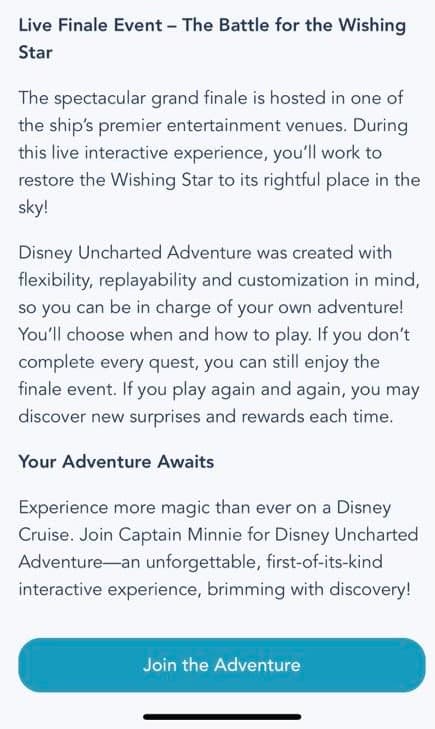 Hyperspace Lounge
Guests aboard the Disney Wish also report that reservations are no longer required for the Hyperspace Lounge. There is still a 45-minute time limit to staying at the lounge.
Disney Cruise made some exciting announcements in the past few weeks. The name of the sixth ship was released, the Disney Treasure. Disney Wonder will be sailing Transpacific Cruises in 2023 and 2024, as well as sailings from Australia and New Zealand. Make sure you sign up for our newsletter to keep up with the latest Disney Cruise News.
---
This post may contain affiliate links. Meaning, that if you make a purchase through my links, I will earn a small commission at no additional cost to you. Thank you for your support of this site.