Disney Cruise Line has added some new options to improve the user experience and provide more flexibility for guests planning a Disney Cruise.
Special Requests Onboard
Disney Cruise Line now offers a Special Requests page for adding any additional requests prior to sailing. Previously many of these requests would have to be called in.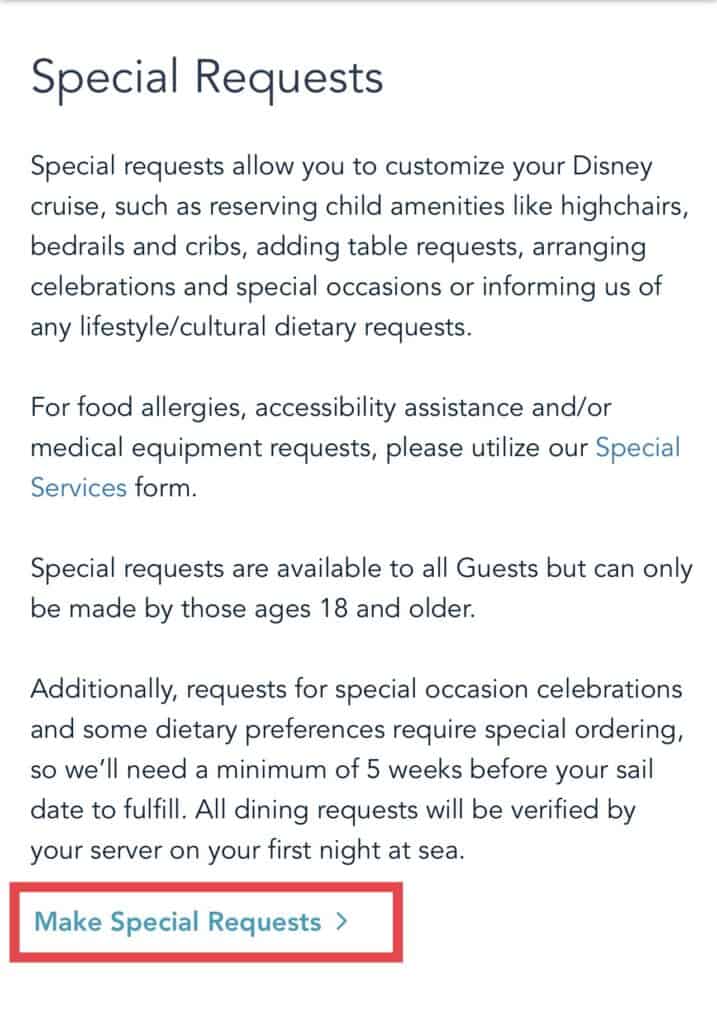 Table Requests
A new online special request is Table Requests. Guests are now able to ask to be seated in a preferred area or request a private table. Choices include near a window, in a quieter location, near a screen for entertainment, at a private table, and near the center of the dining room.
Parents are also able to request a booster seat or highchair.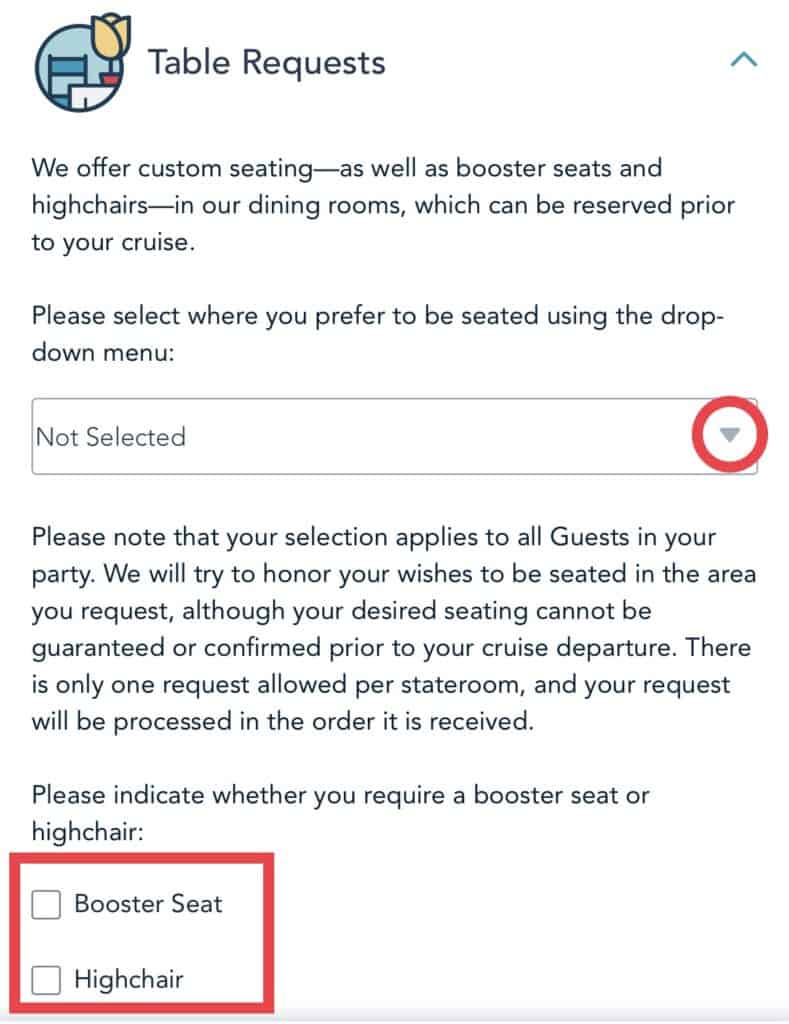 Dietary Preferences
Disney has always had a spot to request dietary preferences, but they have added some new choices. Lactose-free, low-fat, vegetarian, and vegan meals were available before. The new choices are low-salt and Halal and Kosher meals. Both Halal and Kosher requests need to be made at least 5 weeks prior to the sail date.
Celebrations
Celebrations have received an update too. Anniversary, Birthday, and Honeymoon were available before this update. Disney has added retirement, engagement, reunion, and graduation to the list.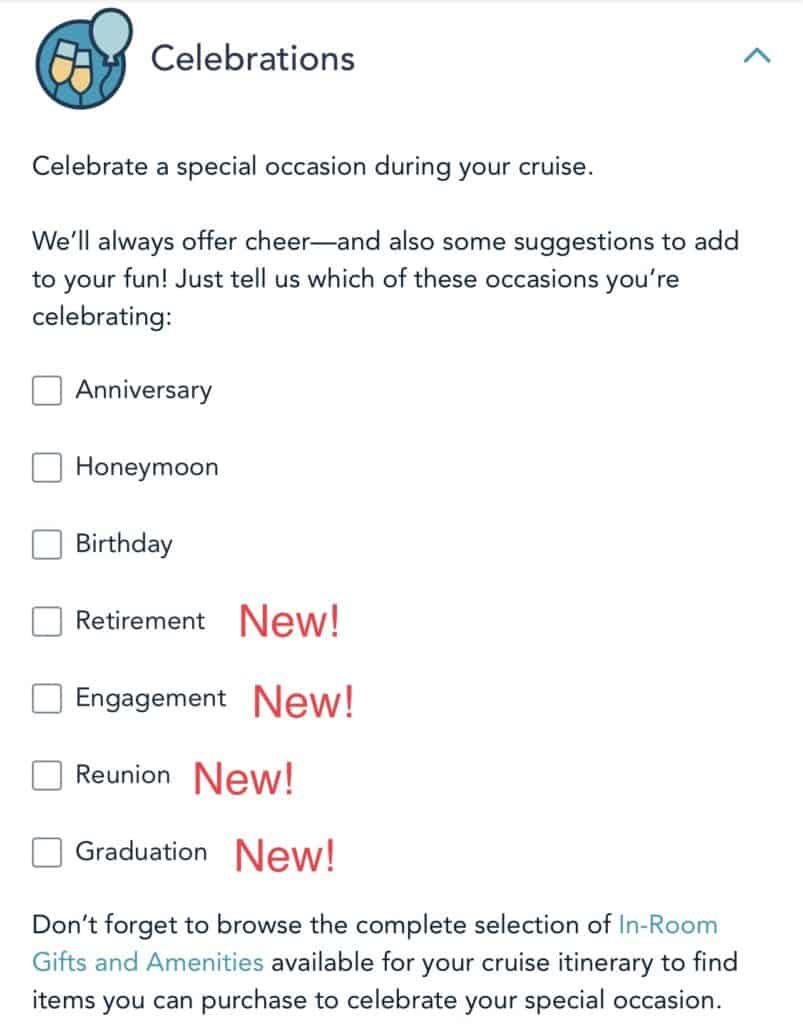 Child Amenities
There has not been much change to the child amenities, it is easier to find. The choices are Pack 'n Play Crib and Bed Rails. When you board you can ask your stateroom host for a diaper genie, bottle warmers, and bottle sterilizers. A limited number of strollers are also available at guest services.
All complimentary services and amenities are offered on a first-come, first-served basis.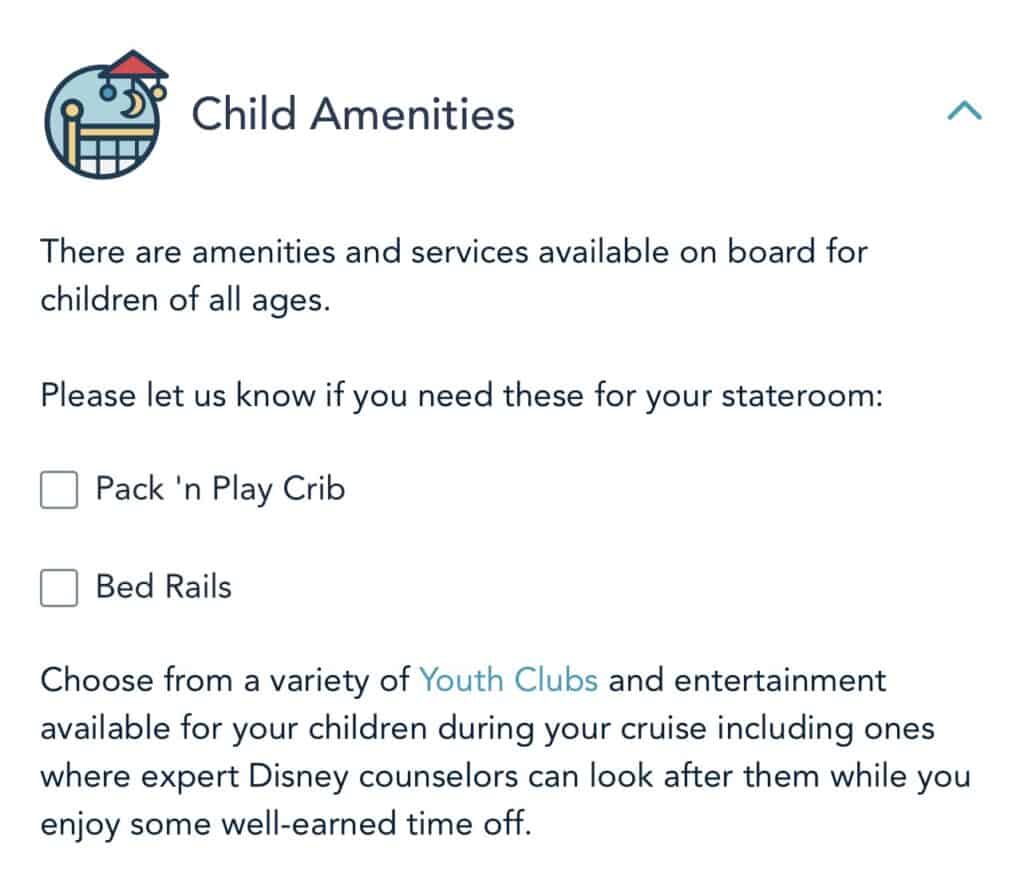 The amenities available are unique to each ship and must be added three days prior to sailing.
Pre-paid Gratuities
Pre-paid gratuities are now available online for existing Disney Cruise Line reservations. The new functionality will be available up to 3 days prior to your sailing's departure date. Stateroom gratuities are per night for each guest in the room.
If you booked your cruise through a travel agent your agent will need to modify any pre-paid gratuities if needed.
Check out the latest cruise discounts, download your guide to the Magic or Wonder, and learn about the latest tips and tricks to make your cruise even better. Make sure you check our step-by-step guide to check in for your Disney Cruise.
---
This post may contain affiliate links. Meaning, that if you make a purchase through my links, I will earn a small commission at no additional cost to you. Thank you for your support of this site.