Today Disney Cruise Line announced that Singapore will be the home port for the new ship they acquired late last fall.
Singapore will be Disney's first exclusive home port in Southeast Asia. The unnamed ship will be the eighth and largest in the Disney Cruise Line fleet and also the largest cruise ship welcomed to Singapore's shores, said Minister-in-charge of Trade Relations S Iswaran at the official announcement.
"By all accounts, this is a major milestone in the evolution of our cruise industry," said Mr. Iswaran.
Disney Cruise Line had announced in November that it would acquire Genting Hong Kong's Dream Cruises' unfinished ship, after the latter filed for bankruptcy through its holding group. It will be this ship that will call Singapore home.
The ship's construction is projected to be completed at a shipyard in Germany under the management of Meyer Werft, the same company that built three other Disney Cruise Line vessels.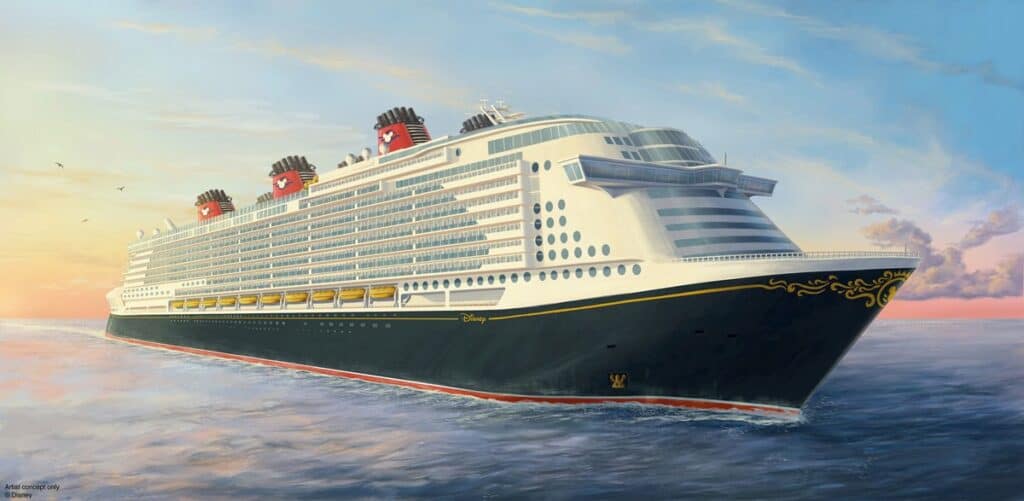 This new ship will have an estimated passenger capacity of about 6,000 with about 2,300 crew members. The 208,000-gross-ton ship is expected to be among the first in the cruise industry to be fueled by green methanol, one of the lowest emission fuels, said STB and the cruise line in a joint press release.
"Disney Cruise Line's decision to home port in Singapore affirms our position as the region's premier cruise hub and a major player in cruise tourism," said Mr. Iswaran. 
"It is also significant that Disney has chosen Singapore to home port its first cruise ship in Southeast Asia. It speaks volumes of our region's significant potential for cruise tourism and to become, as some have described it, the Caribbean of the East." 
"As we like to say, Disney Cruise Line is where magic meets the sea. For many guests, our ships, are the true destination," he added. 
Passengers can look forward to themed restaurants, Broadway-style shows with interactive characters and Disney kid clubs. The ships also feature Mickey Mouse-inspired colours and signature red funnels. 
Cruising in Singapore and Southeast Asia
Singapore's strategic location, world-class air connectivity and port infrastructure make it a thriving cruise hub in Southeast Asia, a diverse region that is home to over 40 UNESCO World Heritage Sites. The addition of a Disney Cruise Line ship in Singapore has the potential to add millions of local and foreign cruise passengers across the five-year period, including fly-cruise passengers who arrive in Singapore by air. It is also expected to bring about significant spillover benefits for the broader economy. These include greater demand for port and ship-related services, as well as on-ground spending in Singapore for the lifestyle and hospitality sectors.

More details about the maiden voyage of the Singapore-based ship, itineraries and onboard experiences will be announced later.
The next new ship to sail will be the Disney Treasure expected mid to late 2024. The summer 2024 itineraries were released earlier this week.
---
This post may contain affiliate links. Meaning, that if you make a purchase through my links, I will earn a small commission at no additional cost to you. Thank you for your support of this site.