As you may know, Disney Cruise Lines has another new ship. The Disney Treasure setting sail next year. We have begun to get some information about the new ship.
Keel Laying Ceremony
On March 30, an important milestone in the construction of Disney Fantasy. The Keel laying ceremony at Meyer Werft shipyard in Papenburg, Germany. The keel-laying ceremony is a long-held maritime tradition. A newly minted coin, in this case, a Captain Minnie Mouse coin, is placed under the keel to bring the ship good fortune.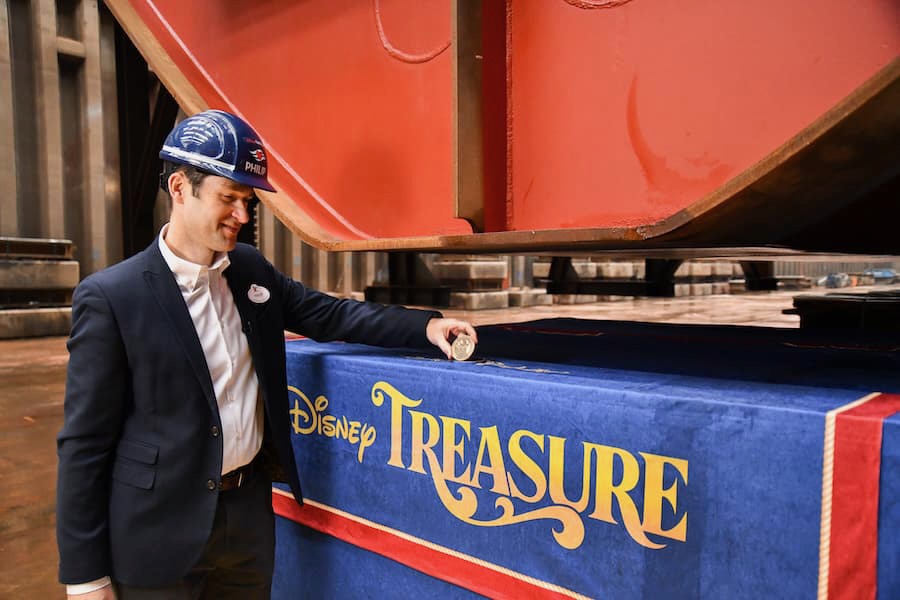 Treasure Itineraries and Booking
The other Disney ships set sail between 13-17 months after the keel-laying ceremony. The Wish had its keel-laying ceremony on April 8, 2021, and its Maiden Voyage was on July 14, 2022. Could we see the Treasure start sailing in July 2024? It is likely. Disney released the summer itineraries for the other ships on March 23, 2023, but did not include the Treasure. The Disney Treasure will likely sail 7-night cruises out of Port Canaveral.
Disney Cruise Line will probably release the sailing dates for the Treasure after May 1, 2023, and that is the date that the Pearl Cataway Club starts. The release will likely be similar to the Wish, and the booking for the Wish opened for the Disney Wish on May 27, 2021. Guests who have taken the most voyages on Disney Cruise Line will get the first dibs on the Maiden Voyage.
Adventure-themed Ensemble for Captain Minnie Mouse
Last week Disney released a video of Captain Minnie's new adventure outfit.
Embodying the spirit of exploration and discovery, Captain Minnie Mouse revealed a new adventure-ready ensemble created exclusively for the new ship.
All-New Bow Artwork for the Disney Treasure
After releasing Captain Minnie's new ensemble, Disney also released the new bow art for the Disney Treasure, Captain Minnie in her adventure outfit. All the other ships have different bow art, Sorcerer Mickey on the Magic and Fantasy, Captain Mickey on the Wonder and Dream and Captain Minnie on the Wish.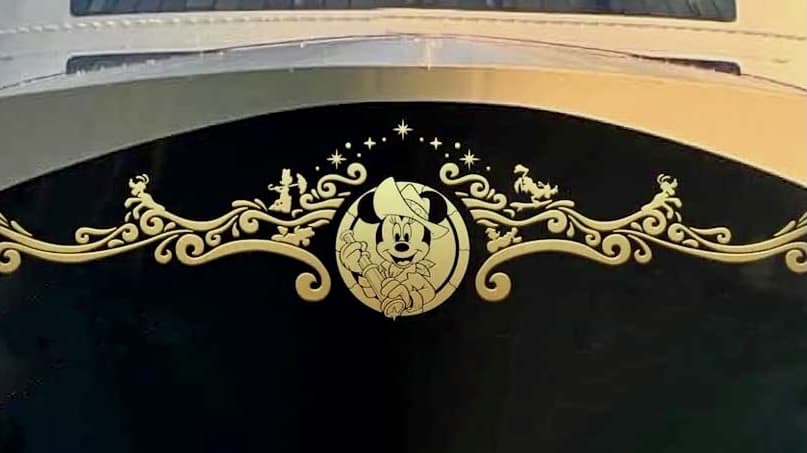 Are you hoping to sail on the Treasures Maiden Voyage? What would you like to see on the new ship? Sign up for our newsletter to keep up with the Disney Cruise news including the new itineraries for the Disney Treasure.
---
This post may contain affiliate links. Meaning, that if you make a purchase through my links, I will earn a small commission at no additional cost to you. Thank you for your support of this site.