Disney Cruise Lines newest ship the Wish has released its first Itineraries.
Booking starts on May 27, 2021 for the general public. Sailing Summer 2022. Castaway Club members can book earlier. See below for details. Bookings are 20% non-refundable deposits to be made by midnight on the day you book for the Maiden Voyage only. The Inaugural sailing will be a 5-night out Port Canaveral to the Bahamas.
You can find the itineraries here.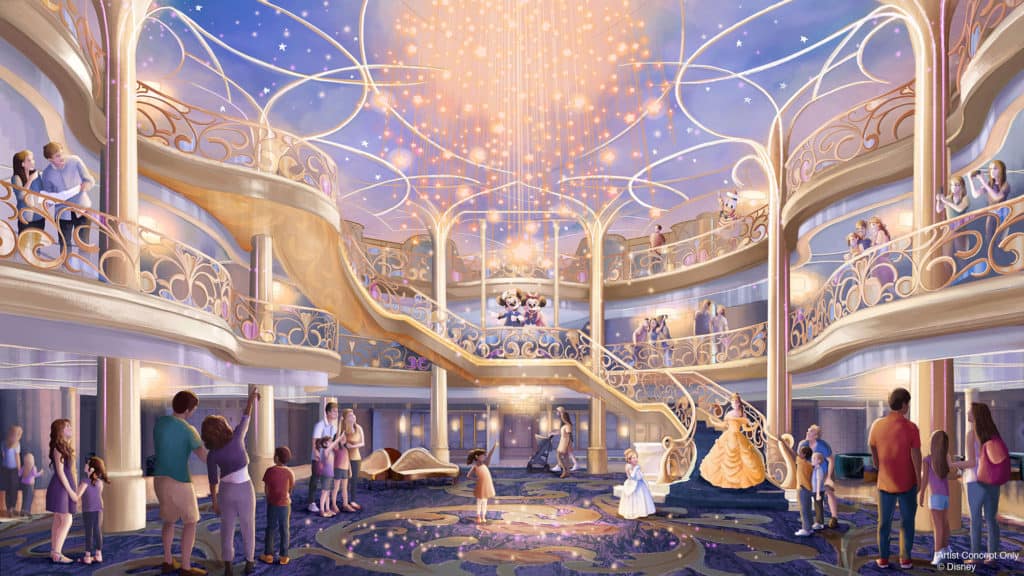 AquaMouse – The First Disney Attraction at Sea
Families will be immersed in "The Wonderful World of Mickey Mouse" animated shorts aboard AquaMouse, the first-ever Disney attraction at sea. Complete with show scenes, lighting and special effects, and splashtacular surprises, this first-of-its-kind water ride will send guests on a fun family adventure through 760 feet of winding tubes suspended high above the upper decks.
As the story goes, Mickey and Minnie are starting their very own seaside excursion company — aptly named "Port Misadventures" — on board the Disney Wish, and adventuresome cruisers will join them on an undersea excursion to Mermaid Lagoon that will inevitably (and hilariously) go awry.
The journey will begin when guests board their two-seater ride vehicles and ascend into a magical tunnel that will teleport them into the cartoon world of "Scuba Scramble," a new animated short that plays out through oversized virtual portholes. Along the way, they'll encounter curious sea creatures, familiar Disney friends and more than 60 water effects that bring the subaquatic hijinks to life – all perfectly synched to an original musical score by Emmy-nominated composer Christopher Willis ("The Wonderful World of Mickey Mouse").
At the height of the show, guests will blast out of the tunnel and embark on a wild water ride around the upper decks. First, they'll zip into the forward funnel through an enclosed tube surrounded by dazzling lighting effects, followed by a quick dash through a dark tunnel that opens up to reveal breathtaking views of the ocean.
They'll then jet up and down a series of speed blasters as they are propelled toward the grand finale: a soaring loop over the edge of the ship, with clear views down to the deep blue sea. With that, they'll splash down for a sendoff message from Mickey and Minnie – another successful tour in the books!
Fun in the Sun for the Whole Family
In addition to AquaMouse, families will have more pools, more deck space and more dining than ever before in an expansive pool district themed to Mickey and friends.
Located on decks 11 and 12 midship, this area will include six pools of various sizes and depths, spaciously staggered among tiered decks and surrounded by lounge chairs to provide families with space to stretch out and soak up the sunshine. Throughout the day, guests will enjoy a variety of poolside entertainment on Funnel Vision, a jumbo LED display that screens Disney movies, TV shows, live sporting events and more. For guests seeking a laid-back environment, another family pool will be available on deck 14 forward.
The Disney Wish will feature brand-new food and beverage offerings on the upper decks, including relaxed indoor dining and a fresh take on quick and casual fare with a festive character twist. More details on these experiences will be released at a later date.
A Whimsical Water Wonderland for Kids
Little ones will go to "swim"-finity and beyond in a new Toy Story-themed waterplay district designed especially for families with toddlers and young children.
Children will have a tub-full of fun in the Toy Story Splash Zone, a fantastical water playground where Woody, Buzz and friends will be adorably reimagined as larger-than-life rubber bath toys that move and spray water at kids' whim. Inspired by the Disney and Pixar short "Partysaurus Rex," this bathtub-themed splash zone will combine the Old West of Woody's Roundup with the intergalactic world of Buzz Lightyear, featuring two toddler-sized slides and pop jets, geysers and bubblers galore.
To complete the splish-splashing antics, everyone in the family will enjoy a trip down Slide-a-saurus Rex – a double-looping waterslide that sends guests plunging "down the drain" with the rest of the toys when the metaphorical bathtub overflows.
Other features of this playful pool district will include Trixie's Falls — a six-inch-deep wading pool with a small fountain and waterfall — and Wheezy's Freezies, a smoothie bar serving up refreshing fruit blends for the perfect cool-down treat.
Sun-Drenched Serenity for Adults
At Quiet Cove, guests ages 18 and older will find a secluded adults-only district dedicated to lounging, sipping and soaking. Set away from the bustle of family activities, this relaxing refuge at the back of the ship will offer breathtaking panoramic views of the ocean from a luxurious infinity pool.
While kids are hanging out with Disney characters in the coolest kids' clubs at sea, parents will be able to enjoy some much-needed "me time" with an escape to Quiet Cove. Here, they'll take a dip in the pool, unwind in a whirlpool spa, relax in a chaise lounge and indulge in a cool beverage from Cove Bar – an open-air watering hole offering beer, wine and cocktails.
Quiet Cove Pool District
At Quiet Cove, guests aged 18 and older will find a secluded adults-only district dedicated to lounging, sipping and soaking. Set away from the bustle of family activities, this peaceful refuge will offer breathtaking panoramic views of the ocean from a luxurious infinity pool.
While kids are hanging out with Disney characters in the coolest kids' clubs at sea, parents will enjoy much-needed "me time" with an escape to Quiet Cove. Here, they'll take a dip in the pool, unwind in a whirlpool spa, relax in a chaise lounge and indulge in a cool beverage from Cove Bar – an open-air watering hole offering beer, wine and cocktails.
A Disney Cruise Line guest favorite, Cove Cafe is a chic poolside lounge that will offer gourmet coffees, teas, specialty drinks and treats throughout the day. For the Disney Wish, the sophisticated yet casual spot will get a fresh new look that reflects the Oceania-inspired artistry of Disney's "Moana."
Senses Spa and Senses Fitness
Senses Spa is a tranquil oasis offering indulgent spa and beauty treatments, drawing on the serenity of natural elements to promote pampering and relaxation. The spa will feature private treatment rooms, lavish spa villas for couples, and steam and aromatherapy rooms designed to help guests decompress, rejuvenate and recharge both body and mind. In addition to a menu of massage, facial and acupuncture therapies, guests will be able to select from a menu of specialized treatments that are customized to their needs, such as pain management and sleep improvement.
The reimagined Senses Fitness will offer state-of-the-art exercise and wellness facilities, including a main room with exercise equipment, weightlifting machines and free weights, along with a dedicated cycle studio and an aerobics room. Complimentary, instructor-led fitness classes will be offered throughout the cruise.
Disney's Oceaneer Club
Children ages 3 to 12 will enter the captivating worlds of favorite Disney stories in the reimagined Disney's Oceaneer Club, a real-life wonderland of immersive spaces specially designed to unlock their imaginations.
Aboard the Disney Wish, this club will feature more themed spaces than ever, each filled with endless entertainment – from storytelling, arts and crafts, and dress-up to toys, games and watching Disney movies. It will also offer more opportunities for kids to have fun with their favourite Disney friends during an exclusive line-up of interactive games and programs where characters don't just stop by – they stay to play.
Marvel Super Hero Academy
Marvel Super Hero Academy is a high-tech Avengers headquarters where young "recruits" will train to be the next generation of Super Heroes with the help of their own real-life heroes, like Spider-Man, Black Panther, Ant-Man and the Wasp.
Kids will begin by choosing a super hero suit from a selection of power sets based on Marvel heroes like Iron Man and Captain Marvel, and watching their choices become nanotech forms around mannequins in real-time. Then it will be time for "Avengers: Mission Training," a gesture-based technology game where they put their new suits and skills to the test as they virtually battle bad guys.
Fairytale Hall
Fairytale Hall is a royal trio of activity rooms where kids will join some of their favourite Disney Princesses and Frozen Queens as they let their creativity shine at Rapunzel's Art Studio, read and act out stories at Belle's Library, and test newfound icy powers at Anna and Elsa's Sommerhus.
Inspired by her love of expression, Rapunzel's Art Studio will be a creative escape where kids will have the best day ever making their own arts and crafts projects, like floating lanterns and paintings.
Belle's Library will be a cozy corner for reading and acting out stories with the help of Disney characters. An enchanted painting above the fireplace will magically transform to bring the tales to life.
Anna and Elsa are never far from snow, even in their summer cabin. Here, kids will unlock icy powers during "Frozen Fun," a series of gesture-based games hosted by Olaf, which include snowball fights with friendly trolls and a hunt for mischievous Snowgies – the tiny, playful snowmen created by Elsa in the animated short "Frozen Fever."
Walt Disney Imagineering Lab
Walt Disney Imagineering Lab is a first-of-its-kind opportunity for kids to discover the secrets of world-renowned Disney Imagineers — the creative masterminds behind Disney theme parks, resorts and cruise ships — with hands-on activities and inventive experiments. Sorcerer Mickey, the ambassador of Walt Disney Imagineering, may even stop by to lend a wand to the newly minted magic makers. One of the most exciting things Imagineers get to do is design roller coasters. At the Ride Studio, kids will create a coaster along the lines of Big Thunder Mountain Railroad, Space Mountain or Matterhorn Bobsleds – and then climb into a capsule where they will virtually ride their imaginative masterpiece. More new spaces and experiences at Disney's Oceaneer Club will be revealed at a later date.
It's A Small World Nursery
For the littlest cruisers ages 6 months to 3 years, It's a Small World Nursery will offer babysitting services in a whimsical environment inspired by the beloved Disney attraction of the same name. Here, little ones will play games, make crafts, watch movies, read books and even spend time with special Disney friends under the expert care of Disney-trained counsellors. In the nursery, toddlers will take a playful trip around the world in the company of Disney, Pixar and Marvel characters reimagined as "it's a small world" dolls. Each section of the space is themed to different areas of the world, with characters grouped by their homelands. In the playroom, magical murals will feature interactive hand cranks that trigger delightful effects. Little ones will be able to spark a cascade of ice magic from Elsa's hand, send Aladdin and Jasmine swaying on the magic carpet, uncover Flynn Rider as he clings to Rapunzel's enchanted tresses, and more. A toy train will chug along the ceiling, filling the space with colourful lights, playful sounds and kinetic energy.
Edge and Vibe
Older kids ages 11 to 17 will chill and play in their own way aboard the Disney Wish, with trendy hangouts and counselor-led programming designed to engage the unique interests of tweens and teens. Featuring all-new looks that combine sophisticated design with youthful Disney touches, these clubs will offer customized fun and, for extra cool points, secret entry ways accessible only to the VIPs.
Edge
At Edge, tweens ages 11 to 14 will have fun, make friends and play games in a bright, colorful hangout inspired by a chic New York City loft. A faux-grass picnic area and graphic art displays called "photo walls" will provide ample opportunities for tweens to capture cool, shareable vacations pics that will be the envy of their friends back home.
Located on deck 5, the exclusive entrance to Edge will be hidden behind a framed piece of art that reimagines world-famous paintings in a pop art-inspired compilation of Disney characters, including Minnie as the 'Girl with the Pearl Earring' and Donald as Salvador Dali.
Vibe
At Vibe, teens ages 14 to 17 will meet new friends, watch movies, play games and participate in entertaining activities created just for them. Inspired by a Parisian artists' loft, this stylish space features classic architectural elements with an electric retro twist, with vibrant neon signs and funky pop art. Combine those with floor-to-ceiling windows overlooking the ocean, and every angle in Vibe will offer a selfie-worthy backdrop for the trendiest teens on the high seas.
Star Wars: Hyperspace Lounge
For the first time on a Disney ship, guests will embark on a space-jumping tour of the Star Wars galaxy at Star Wars: Hyperspace Lounge, a high-end bar styled as a luxurious yacht-class spaceship. This richly themed, immersive experience will be reserved for adults every evening, offering interactive tasting experiences and signature beverages inspired by the films.
The venue's sleek interior design and metallic detailing is inspired by lavish star cruisers similar to Dryden Vos' ship in "Solo: A Star Wars Story." While guests sip their galactic concoctions, this space-faring voyage will transport them to iconic locations from the eras of the Republic, Empire and First Order, employing hyperspace jumps to travel from planet to planet while sensational scenes unfold just beyond the ship's panoramic viewport at each stop.
Ranging from serene vistas to action-packed encounters, the spectacles seen through this virtual "window" into the galaxy will feature famous space ships from the films and fan-favorite locales like Batuu, Tatooine, Mustafar and Coruscant. The experience will be amplified by surround-sound audio and a holotube that presents holographic models of nearby ships.
In addition to Star Wars: Hyperspace Lounge, adults will enjoy a variety of relaxed bars and upscale lounges aboard the Disney Wish. More information will be released at a later date.
Exquisite Specialty Dining
Aboard the Disney Wish, guests will savor gourmet meals and exceptional beverages at Palo Steakhouse, Enchanté by Chef Arnaud Lallement and The Rose, an upscale suite of epicurean excellence exclusively for adults, inspired by the elegant icons of Walt Disney Animation Studios' "Beauty and the Beast."
Palo Steakhouse
Palo Steakhouse is an evolution of the Palo restaurant that Disney cruisers know and love, now combining the relaxed sophistication of authentic Italian dining with the classic refinement of a modern steakhouse in a genteel setting inspired by Cogsworth, the tale's majordomo-turned-enchanted-clock.
An elegant, welcoming environment with spectacular ocean views off the back of the ship, the venue has been designed with a warm, luxurious palette of rich woods and shining metals, along with artwork and details that evoke ornate clocks, pendulums and gears. A private dining room will be available for more intimate gatherings of up to 12 guests.
At Palo Steakhouse, guests will choose from a selection of exquisite Italian dishes and the world's best steaks, from the most elite American prime cuts to melt-in-your-mouth Australian wagyu to succulent Japanese Kobe and Miyazaki beefs. The show-stopping menu will be paired with the finest Italian wines and bold craft beers – and for dessert, a fan-favorite indulgence: signature Palo chocolate souffle, prepared fresh-to-order and served piping hot with luscious vanilla bean and chocolate sauces.
Enchanté by Chef Arnaud Lallement
Enchanté will offer the most luxurious dining experience on board, featuring a gourmet menu crafted by three-Michelin-starred Chef Arnaud Lallement — of L'Assiette Champenoise, near Reims, France — one of the culinary masterminds behind the French-inspired fine dining experience at Remy aboard the Disney Dream and Disney Fantasy.
Arendelle restaurant offers a Frozen theatrical-themed dining experience. A Hollywood-themed restaurant 1923. The year Walt started the Disney Company. Worlds of Marvel is the third restaurant, a Marvel cinematic dinner.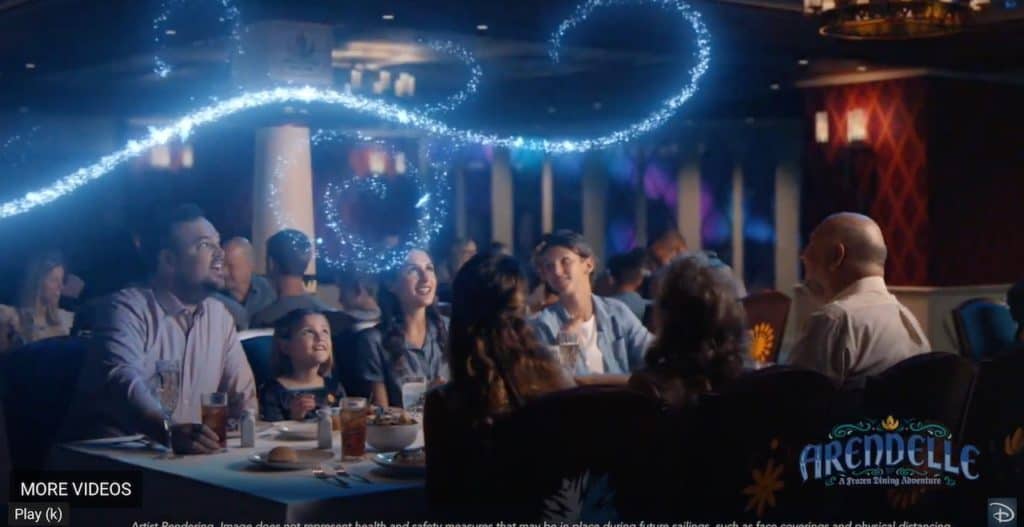 Arendelle: A Frozen Dining Adventure
Arendelle: A Frozen Dining Adventure is Disney's first "Frozen"-themed theatrical dining experience, bringing the kingdom of Arendelle to life through immersive live entertainment — featuring favorite characters like Elsa, Anna, Kristoff and Olaf — and world-class cuisine infused with Nordic influences.
Extending the "Frozen" Story
Only on the Disney Wish will families be invited to attend a royal engagement party for Queen Anna and Kristoff, picking up the story where Walt Disney Animation Studios' "Frozen 2" left off. Elsa and Olaf will host the celebration with catering provided by their friend Oaken's "Hearty Party Planning Service… and Sauna" and live entertainment by "local" musicians who specialize in Nordic renditions of familiar "Frozen" songs.
Throughout the meal, guests will enjoy live musical performances by these beloved characters and will even get the opportunity to join the festivities with fun table crafts, hilarious sing-alongs and a grand finale that'll have everyone in the audience on their feet.
Theatrical Dining
Designed in the style of a theater-in-the-round, this purpose-built entertainment venue will feature dining tables situated around a small center stage and all the theatrical bells and whistles needed to bring a story to life in 360-degree glory. Invisible fiber optics embedded in the ceiling will conjure Elsa's icy magic, and panoramic windows will magically transform from real-time ocean views to the colorful dancing lights of the Aurora Borealis.
Disney Cruise Line is developing brand-new looks for Anna and Kristoff, plus an all-new way to encounter Olaf through true-to-scale, cutting-edge puppetry that can talk and interact with families as they dine, lending his signature humor and charm to the merriment.
Nordic-Inspired Cuisine
The one-of-a-kind menu for Arendelle: A Frozen Dining Adventure combines traditional flavors and ingredients from the Nordic region with modern, family-friendly fare. Guests will delight in this scrumptious smorgasbord of superior seafoods, rustic game dishes and tasty nods to the "Frozen" story. And, last but not least, dessert! It wouldn't be Queen Anna's party without plenty of chocolate.
Worlds of Marvel
Worlds of Marvel is the first-ever Marvel cinematic dining adventure, where guests will play an interactive role in an action-packed Avengers mission that unfolds around them, complete with a worldly menu inspired by the Marvel Cinematic Universe.
This upscale-restaurant-meets-technology-showcase will up the ante on the traditional "dinner and a show" concept. Outfitted with state-of-the-art Pym Tech and decked out in signature Stark-itecture style, the venue offers surprises in all shapes and sizes, from the tiniest design "Easter eggs" to the larger-than-life story that takes place.
True to its name, Worlds of Marvel will take families on a flavorful tour of the real and fictional settings of the Marvel Cinematic Universe, with dishes inspired by legendary locales like African Wakanda, Eastern European Sokovia and the Avengers' home base of New York City.
Worlds of Marvel will feature an original storyline starring fan-favorite Avengers and an infamous foe. More information will be announced at a later date.
1923
Named for the year The Walt Disney Company was founded, 1923 is an elegant celebration of the company's legacy, paying homage to the golden age of animation and offering a tasteful tribute to its Californian heritage.
Combining classic Hollywood glamour with a dash of Disney whimsy, 1923 features two lavishly appointed dining rooms, aptly named for the men behind the magic of the original film studio – Walt and Roy Disney. The rooms are adorned with more than 1,000 drawings, props and other tools of the trade, providing an inside look at the evolution of Disney animation from "Snow White and the Seven Dwarfs" to "Frozen 2."
At 1923, guests will enjoy sophisticated dishes designed with families in mind and inspired by the fusion of cultural flavors found throughout the Golden State. The diverse menu will mirror the region's unique blend of Asian, European and South American cuisines and will feature local ingredients like fresh produce, wild honey and earthy pistachios. All paired, of course, with a superlative selection of world-famous Napa Valley wines.
A Disney Cruise Line Tradition
The Disney Wish will continue Disney Cruise Line's innovative family dining concept, where guests experience one of three imaginative restaurants each night accompanied by a dedicated service team that is assigned to their family throughout the voyage. With exceptional attention to detail, guests will enjoy a variety of dining experiences with friendly, familiar, personalized service every evening.
In addition to elaborately themed, upscale restaurants, the Disney Wish will offer a variety of dining options ranging from quick bites, casual dining and 24-hour room service to specialty treats, gourmet cafes and premium dining exclusively for adults.
A New Twist on Bedtime Stories
New for the Disney Wish, Walt Disney Imagineers have imbued every stateroom with the soft, dreamlike worlds and restful imagery of enchanted Disney fairytales through glittering gold-leafed headboard murals and framed pieces commissioned exclusively for the Disney Wish.
In line with the ship's overall design motif of enchantment, stateroom artwork will represent classic and contemporary Disney stories that capture the essence of wish fulfillment and dreams come true, such as Cinderella (whose maxim "a dream is a wish your heart makes when you're fast asleep" is particularly fitting).
Beyond the artwork, every detail has been designed to tell a story, from pixie-dusted furnishings to delicate linen embroidery inspired by the fleet's signature golden filigree. This even extends into the corridors, where exquisite decoration serves the greater purpose of wayfinding: Richly themed carpeting, softly colored accent walls, magical lighting and unique adornments will provide guests with an intuitive yet artful cue to know they've arrived at their home away from home.
Dreamy Details and Wished-For Features
Every stateroom aboard the Disney Wish has been designed with ample room for families, plenty of storage space and upscale amenities. Most of the ship's 1,254 staterooms will offer an ocean view — including 877 (70%) with a spacious verandah — and there will be 451 connecting doors that adjoin rooms to accommodate larger families. Some connecting staterooms will have a partition between verandahs that may be opened to create a bigger, shared balcony.
Most staterooms will feature Disney Cruise Line's signature split-bathroom concept, with a sink and shower in one room and a sink and toilet in a separate room. All will include a bathtub – perfect for giving children a bath.
Enhanced storage options, roomy closets and elevated bed frames with generous under-bed space will provide plenty of places to store suitcases and other bulky items essential to family travel.
Little ones will delight in a secret starfield hidden above pull-down beds, with original artwork revealing a constellation of Fairy Godmother overhead.
Other exceptional amenities and highlights will include a 43-inch TV, USB and USB-C ports, large vanity, mini drawer refrigerator, full-length mirror, mini safe, hair dryer, privacy divider, queen and pull-out sofa beds, deluxe toiletries, plush robes, and lavish bed linens and duvets.
Concierge Staterooms, Suites and Service
The Disney Wish will elevate the concierge experience with 76 concierge staterooms and suites – more than double the number available on other Disney ships.
Accommodating up to five guests, these rooms will feature spacious living areas, king beds, luxurious finishes and premium amenities. Most will include a generous private verandah, and most have been designed with the rich color palette and distinctive iconography of Walt Disney Animation Studios' "Tangled."
One-bedroom concierge suites will have a separate living room, walk-in closets, two 43-inch TVs and two bathrooms (including a master bathroom with rain shower, bathtub and double vanity).
Seven exclusive oceanview rooms are Disney's first-ever staterooms located above the bridge. These will have extended living areas with breathtaking views of the ocean through floor-to-ceiling windows that overlook the bow.
The Disney Wish will also debut four royal suites that celebrate the gilded world of Disney Animation's "Sleeping Beauty," with two Princess Aurora Royal Suites and two Briar Rose Royal Suites. Each pair includes a single-floor option and a two-story configuration, the first of their kind for the Disney fleet.
Royal suites will feature extravagant details, upscale furnishings and first-class amenities, including an extensive living area, open dining salon, sizeable pantry and private hot tub on the oversized verandah.
Each suite has two master bedrooms — each with its own opulent bathroom featuring a double vanity and either a rain shower or bathtub — as well as a double sleeper sofa in the living room and a third bathroom with a shower.
The two-story royal suites will boast floor-to-ceiling windows and stunning statement pieces, like an elegant spiral staircase and a spectacular two-deck-high bespoke stained-glass frieze.
All concierge guests will receive a premium level of dedicated service and access to exclusive areas and amenities throughout their voyage. The Concierge Lounge will be more than triple the size from previous Disney ships and will offer a full bar, delicious light bites, special kids' area and an outdoor terrace with incredible views. From the lounge, concierge guests will have access to a private sun deck with two whirlpools, a wading pool, a bar, lush lounge furniture and the superlative service of a pool deck host.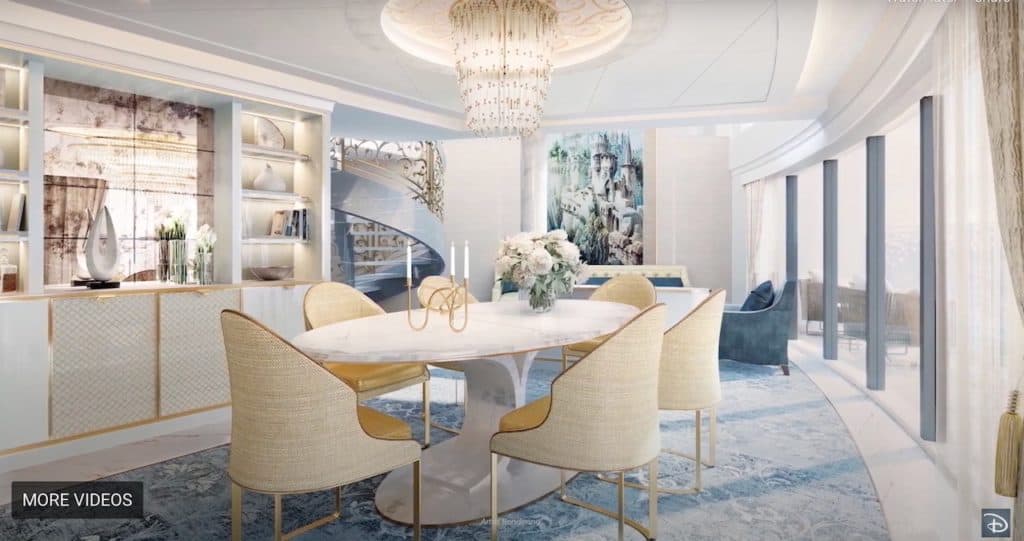 Good luck to all those booking!
---
This post may contain affiliate links. Meaning, that if you make a purchase through my links, I will earn a small commission at no additional cost to you. Thank you for your support of this site.