On the fifth night of the transatlantic cruise, the Frozen menu and the dress code for the night was cruise casual.
Frozen Specialty Cocktails
Pearfection Absolut Vodka, Rekorderling Pear, fresh Lime Juice, Vanilla Sugar
Midnight Linie Aquavit, Midori Melon Liqueur, fresh Banana, and fresh Orange and Lime Juice
Ice Palace Mango Purée, fresh Pineapple and Banana, Zico Coconut Water Served in a souvenir glass (Non-Alcoholic)
*Available at an additional fee
Appetizers
Duke of Weselton's Favorites Assorted Meats and Cheese with Knäckebröd, Pumpernickel and Pickles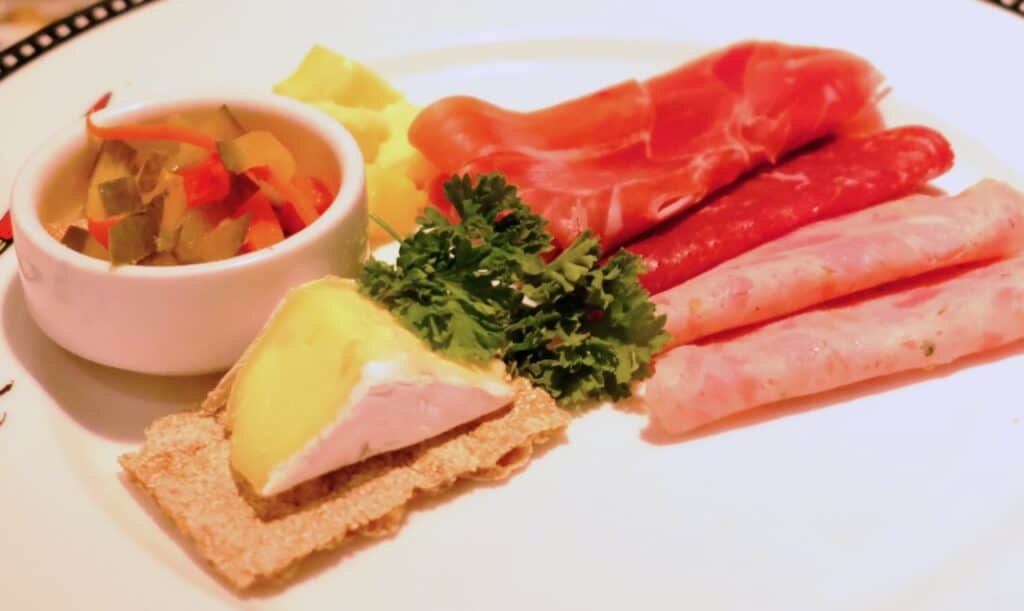 Arendelle Gravlax With Apple Chips, Lingonberries and Crème Fraîche
Fried Perogies With with Caramelized Onions, Sour Cream and Caviar
Jarlsberg Cheese Tart with Thyme in Shortcrust Pastry on Creamed Leeks
Soups & Salads
Oaken's Red and Yellow Beetroot Salad With Asparagus, Pickled Radishes, Cornichons, and Mustard Dressing
Andersen's Baby Field Greens With Vanilla, Apricots, Brioche Croutons, Candied Walnuts, and Lingonberry Dressing
Sven's Carrot Soup With Caraway and Cream
Split Green Pea and Ham Soup With Thyme Croutons
Bread Selection
Knäckebröd, Dark Rye Bread With Liver Pâté Dip
Main Courses
Herb Roasted Chicken With Roasted Fennel Seed Potatoes, Seasonal Baby Vegetables and Port Wine Sauce
Anna's Honey-Mustard Marinated Salmon With Sautéed Spinach, New Potatoes and an Aquavit-Sour Cream Sauce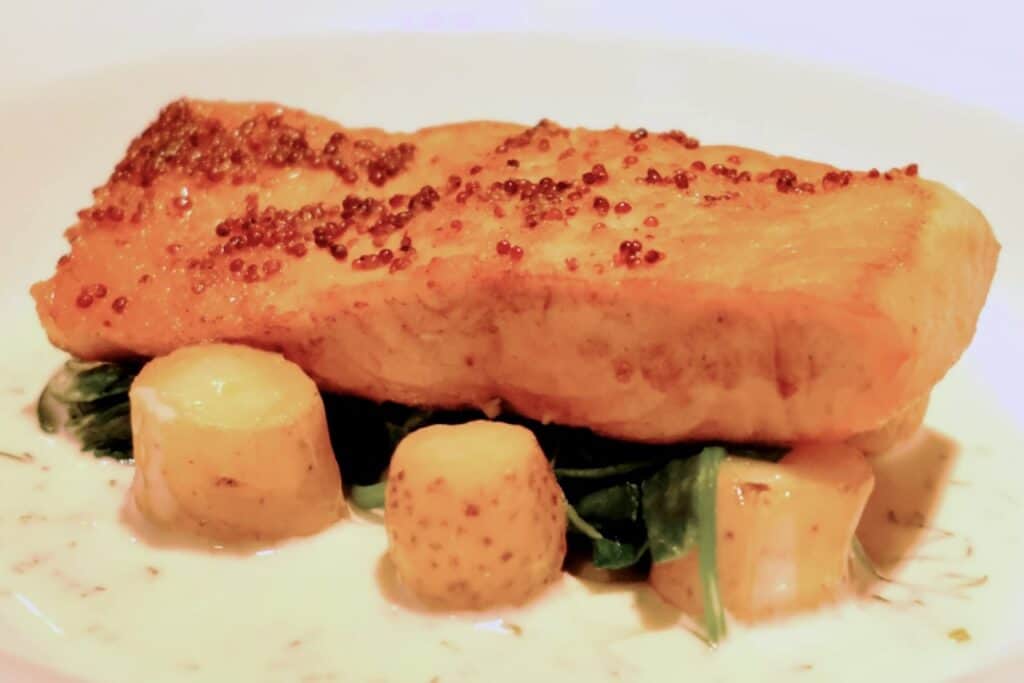 Hans's Juniper-marinated Pork Tenderloin With Spätzle, Kale, Baby Roasted Turnips, and Wild Mushroom Cream Sauce
Lobster Ravioli With Ricotta Cheese, Spinach, and a Lobster Tarragon- Riesling Wine Sauce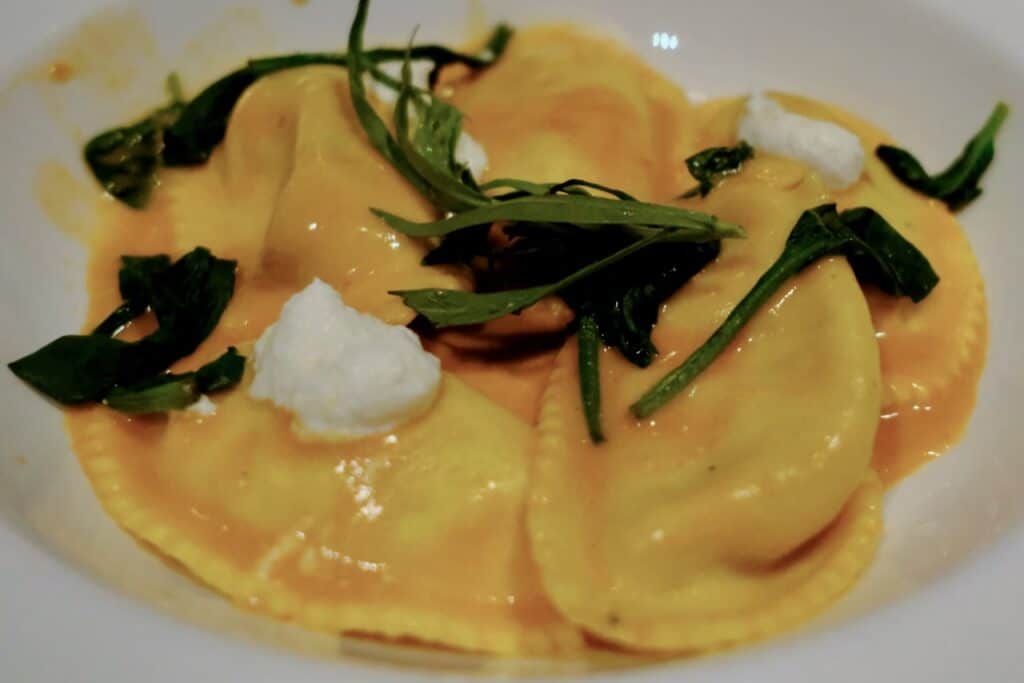 Kristoff's Rosemary Marinated Strip Loin With Crushed Red Bliss Potatoes, Buttered Green Beans and a Cabernet Jus
Vegetarian
Pabbi's Stuffed Cabbage Roulades Savoy Cabbage stuffed with Brown Rice, Asparagus, Leeks, Carrots, and Lingonberry served with a Dill Cream Sauce.
Bulda's Vegetable Turnover Celeriac, Carrots, Spinach, and Shallots baked in Puff Pastry served with a White Wine-Thyme Cream Sauce.
Lighter Note Offerings
Alesund Smoked Trout Salad Flaked Smoked Trout with Roasted Carrots and Parsnips, Sour Cream, Beetroot, and Walnut Vinaigrette
Grilled Grain-fed Sirloin Steak Served with Garden Vegetables and your choice of Steamed White Rice or Baked Potato
Slow-roasted Breast of Chicken Served with Garden Vegetables and your choice of Steamed White Rice or Baked Potato
Oven-baked Fillet of Salmon Served with Garden Vegetables and your choice of Steamed White Rice or Baked Potato
Desserts
Oaken Warm Apple Pudding Cake Served with Butterscotch Cinnamon Sauce and Vanilla Bean Ice cream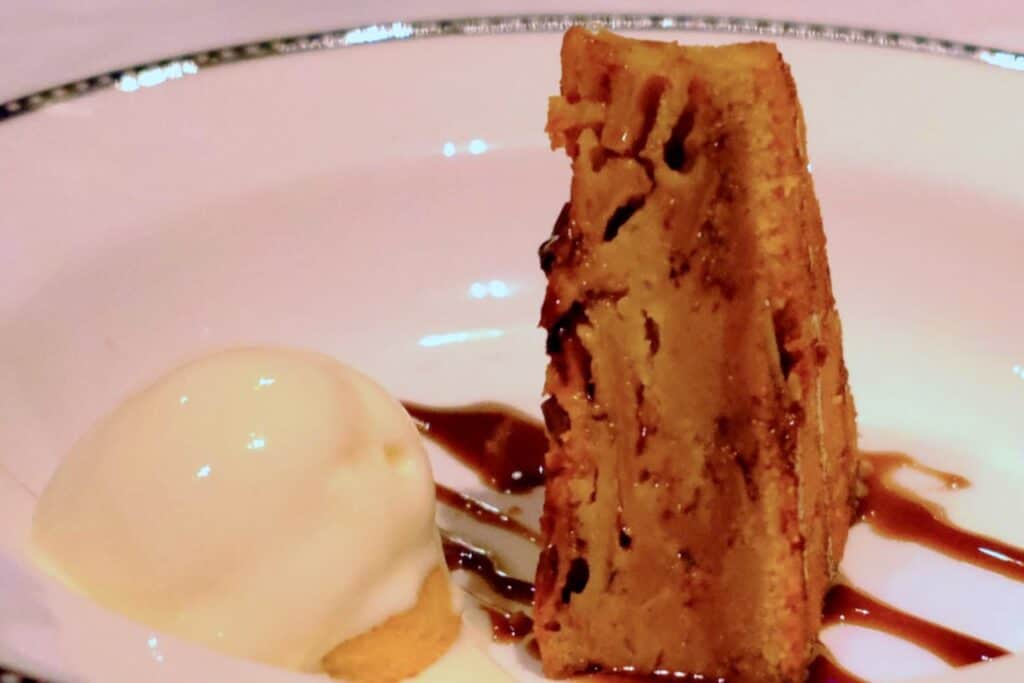 Olaf's White Chocolate Floro Dome Centered with Carrot Cake, Norwegian Cardamom Cookie, and Whipped Cream
Pannekaken – Norwegian Pancake Pancakes rolled in with a Sweetened Lingonberry Cream Cheese
Frozen Yogurt Romanoff Sundae Fresh Strawberries marinated in Cointreau, Vanilla. Frozen Yogurt and Chopped Pistachio Nuts
Signature Dessert
Elsa's Chocolate and Raspberry Tart Layered with fresh Raspberries, Chocolate Ganache and Chocolate Truffle Mousse brushed with Raspberry Paste.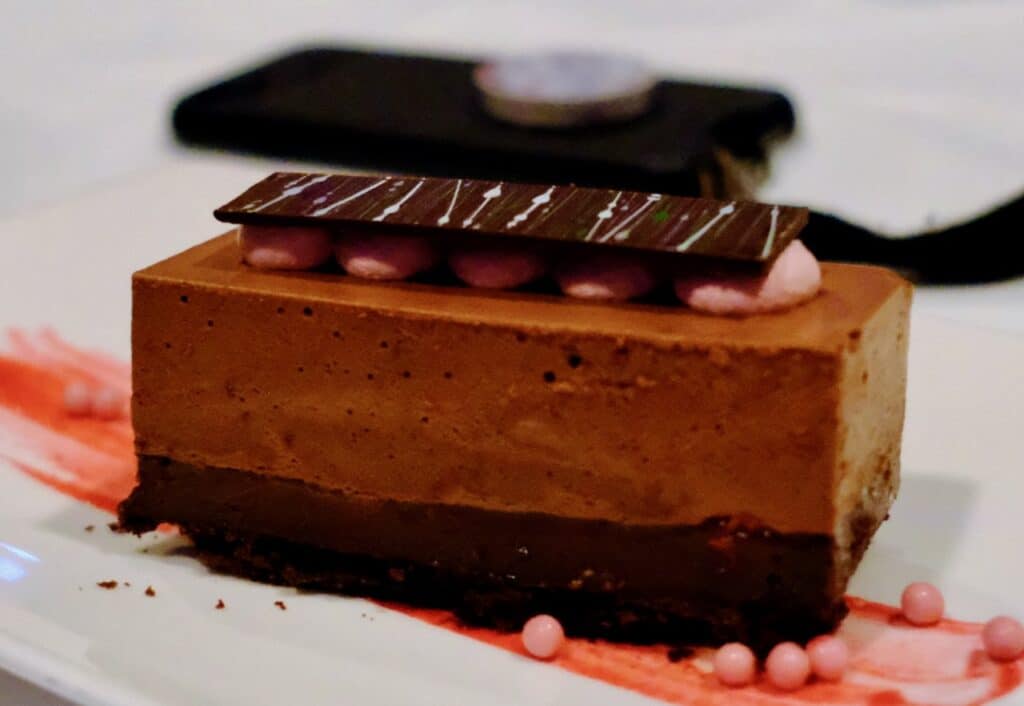 No Sugar Added Dessert
Sitron's Mousse Light Creamy Lemon Mousse served with Rhubarb Purée.
Sign up for our newsletter to get the latest Disney Cruise news. Check back to see the rest of the Disney Dream transatlantic cruise menus. Going on the Disney Wish? You can find the menus here.
---
This post may contain affiliate links. Meaning, that if you make a purchase through my links, I will earn a small commission at no additional cost to you. Thank you for your support of this site.