For the second formal night on the Disney Dream Transatlantic cruise, the World of Flavor menu was served.
Specialty Cocktails
Ship of Lights Casamigos, fresh Lime Juice, Rekorderlig Strawberry-Lime Cider
Rose-Berry Raspberry Purée, Vanilla, fresh Banana (Non-Alcoholic)
*Available at an additional fee
Appetizers
Vietnamese Spring Rolls With Shrimp, Noodles, Cilantro, Cucumber, Basil, and Bibb Lettuce served with a Soy-Tamarind Dipping Sauce.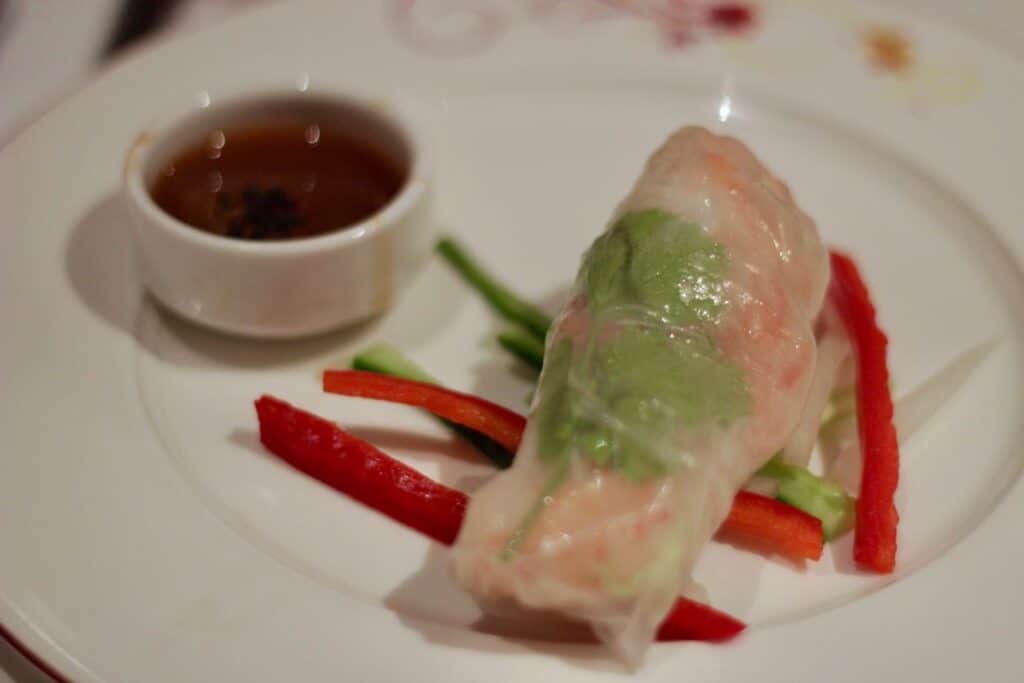 Italian Bresaola With Goat Cheese, Grape Tomatoes and Virgin Olive Oil (GF)
Argentinian Empanadas, Spiced Beef wrapped in Flaky Pastry served with Chimichurri Sauce.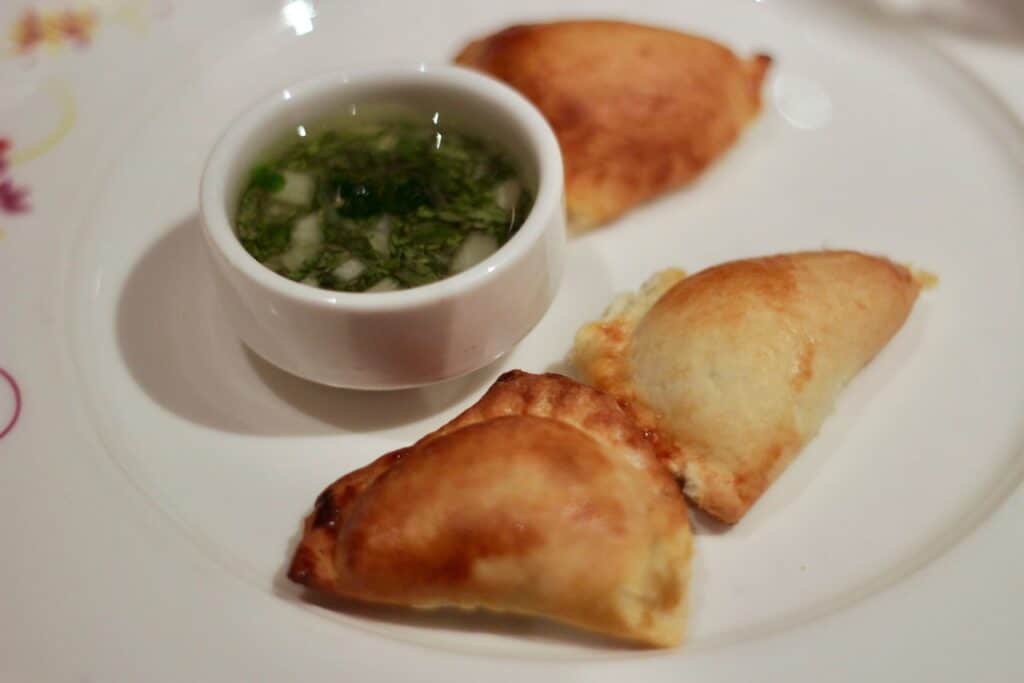 Norwegian Trio of Salmon Smoked Salmon, Gravlax, and Smoked Salmon Lefse with Dill, Asparagus, Caviar and a Honey-Dill Mustard
Soups and Salads
Canadian Cheddar Cheese Soup With Bacon Bits and Chives
Dutch Green Pea Soup With Knockwurst and Potatoes
Greek Salad With fresh Tomatoes, Onions, Cucumbers, Capers, Kalamata Olives, Feta Cheese, Virgin Olive Oil, and Red Wine Vinegar Dressing (GF)
American Iceberg Wedge Salad With Tomatoes, Red Onions, and Blue Cheese Dressing (GF)
Bread Service
Pretzel Sticks With Liverwurst Spread
Main Course
Indian Prawn Curry Shrimp flavoured with Coconut and Curry over Jasmine Rice.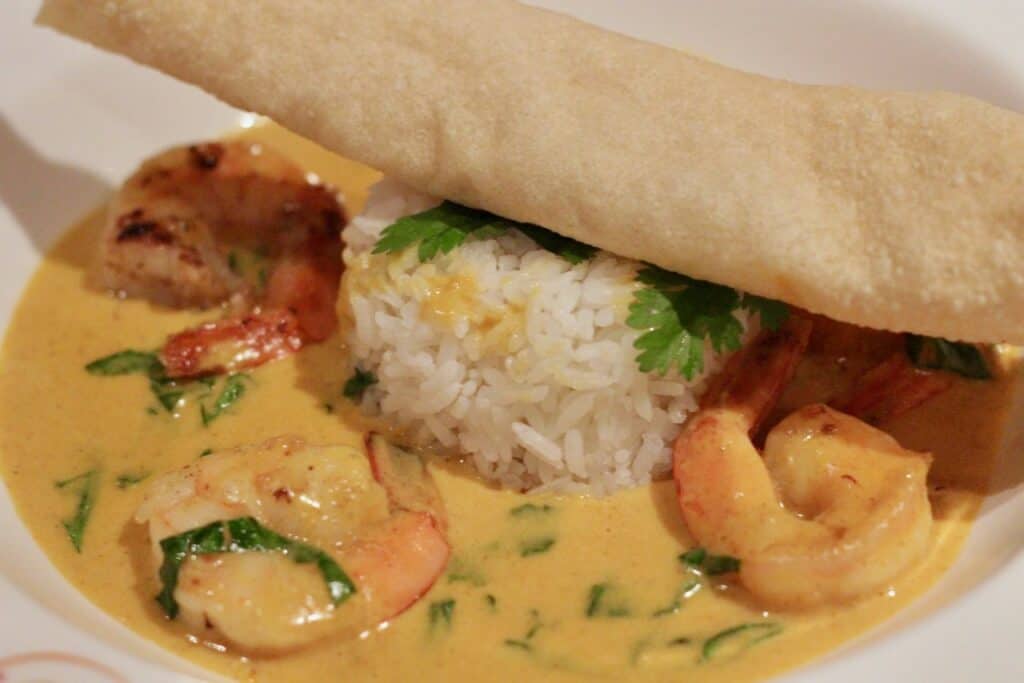 English Cod "Bristol" Roasted Filet of Cod on Crushed New Potatoes with Spinach and a Whole-Grain Mustard Sauce
Chicken Breast "Kiev" Stuffed Chicken Breast with Parsley and Garlic Butter coated with Breadcrumbs served with Snow Peas and Roasted Potatoes.
Swiss Pork Tenderloin Medallions On Spätzle with a Cognac Wild Mushroom Sauce, Broccoli, Roasted Onions and Sour Cream
USA Prime Rib of Beef Served with a Loaded Baked Potato, Corn on the Cob, Veal Jus, and Horseradish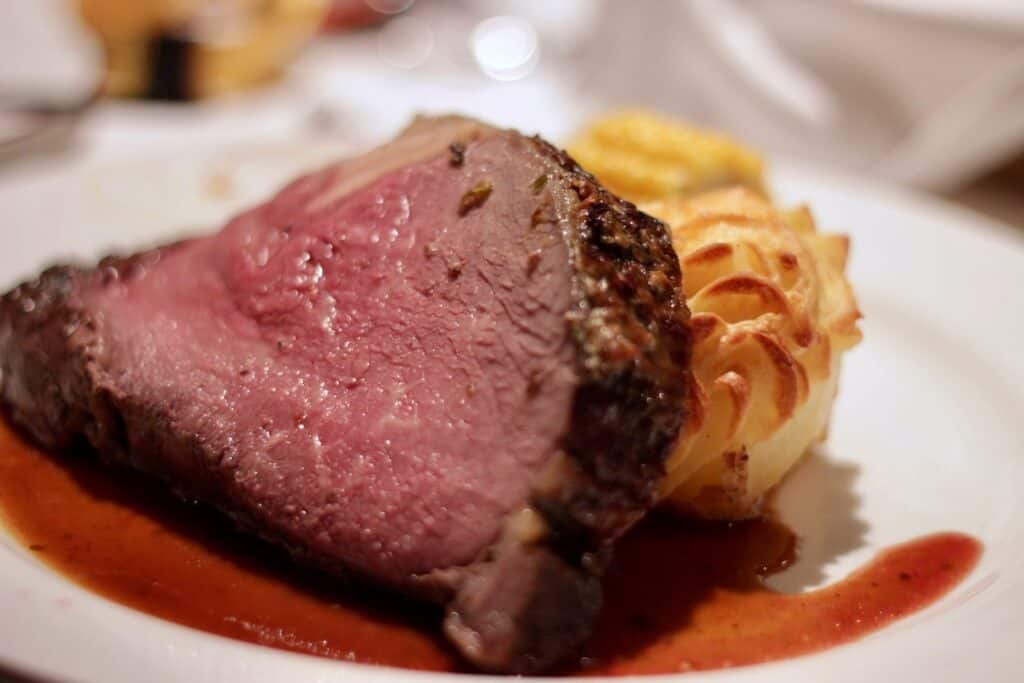 Vegetarian
Danish Vegetable Turnover Pastry Turnover baked and stuffed with Goat Cheese, Asparagus, White Cabbage, Peas, Cipollini Onions and Chard served with White Onion Sauce.
Pad Thai Rice Noodles with Bean Curd, Shallots, Eggs and Chives in a Sweet and Sour Sauce Garnished with crushed Lime Wedges and Roasted Chili Powder (DF)
Lighter Note
Disney Cruise Line® Salad Market Fresh Greens, Cucumbers, and Tomatoes, Garnished with Sliced Beef Tenderloin and Garlic Shrimp with a Balsamic Vinegar Reduction
Grilled Grain-fed Sirloin Steak Served with Garden Vegetables and your choice of Steamed White Rice or Baked Potato (GF) (DF)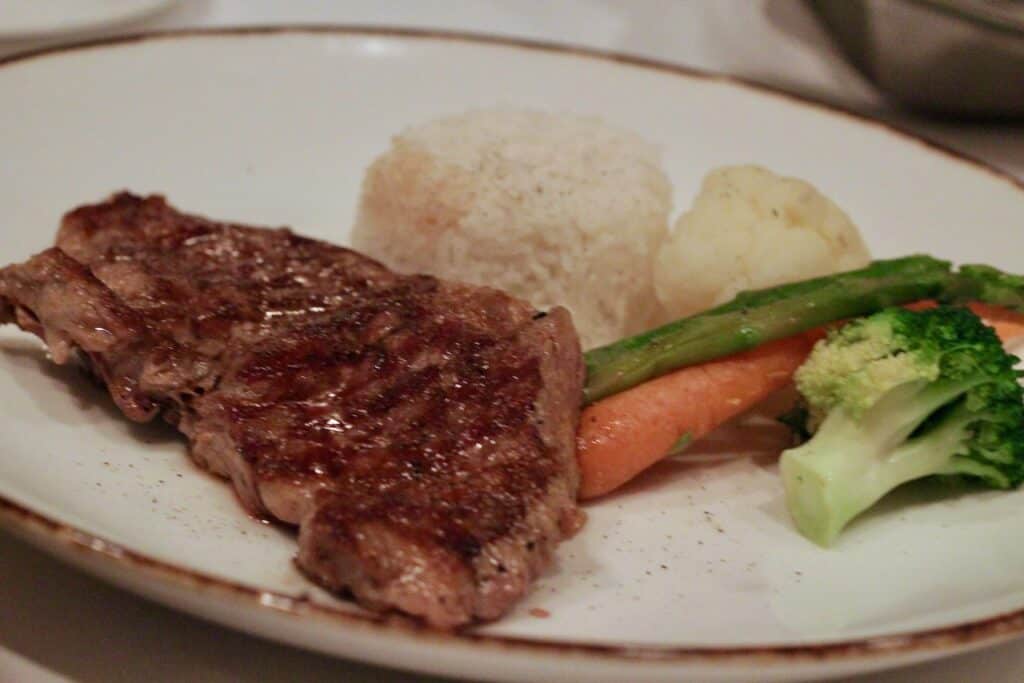 Slow-roasted Breast of Chicken Served with Garden Vegetables and your choice of Steamed White Rice or Baked Potato
Oven-baked Fillet of Salmon Served with Garden Vegetables and your choice of Steamed White Rice or Baked Potato
Desserts
Warm Braided Apple Strudel Puff Pastry, Granny Smith Apples, Vanilla Sauce, Butter Pecan Ice Cream
Chocolate Pear Tart Chocolate Frangipane, Poached Bosc Pear, Praline Crème
Tiramisu Layered Coffee-infused Ladyfingers with Mascarpone Cheese
Ice Cream Sundae
Pecan Pie Ice Cream Sundae Butter Pecan Ice Cream, Pecan Pie Bites, Butterscotch Sauce, Whipped Cream
Signature Dessert
Strawberry Cheesecake Baked Cheesecake, Strawberry Berry Compote, Whipped Cream
No Sugar Added Dessert
Greek Frouta Ke Yaourti Seasonal Fruits, Vanilla Greek Yogurt
Sign up for our newsletter to get the latest Disney Cruise news. Check back to see the rest of the Disney Dream transatlantic cruise menus. Going on the Disney Wish? You can find the menus here.
---
This post may contain affiliate links. Meaning, that if you make a purchase through my links, I will earn a small commission at no additional cost to you. Thank you for your support of this site.