Specialty Cocktails
Red Carpet Jim Beam, Cranberry Juice, Fresh Lime Juice
Tuxedo Ketel One, Chambord and Moët Ice
Star-Night Passion and Pineapple Fruit Juice, Strawberry Purée, and Club Soda (Non-Alcoholic)
*Available at an additional fee
Appetizers
Aged Prosciutto Served with Sun-dried Tomatoes, Parmesan Cheese, and Roasted Garlic
Marinated Tiger Shrimp With Celery Hearts and Rémoulade
Lightly Breaded Baked Eggplant Filled with Sweet Ricotta and Mozzarella served on Toscano Sauce drizzled with Aged Balsamic.
Oysters Rockefeller on the Half Shell With Spinach, Onions and Bacon, topped with Buttered Breadcrumbs
Soups & Salads
Braised Oxtail Soup With Spinach and Roasted Garlic Tortellini
White Onion Soup With Caraway and Smoked Salmon
Lemon Fennel Salad With Green Peas, Smoked Salmon, Smoked Trout, and Crème Fraîche
Beef Steak Tomato and Vidalia Onion Salad With Baby Greens, Spring Onions and a Cabernet Wine Vinaigrette
Bread Selection
Sourdough Bread Roasted Red Pepper Dip
Main Course
Oven-Baked Lobster Tail With Sun-dried Tomato, Lemon-Pesto Mash and Roasted Asparagus
Roasted Red Snapper Served on a bed of Fennel, Olives, Sweet Peppers, and Yukon Gold Potato Ragoût with Saffron Broth.
Fettuccine with Parmesan Crusted Chicken Chicken encrusted in Parmesan Cheese, with Sweet Peppers and Mushrooms in a Cheddar Cheese Sauce
Pan-Seared Venison Medallions With Marinated Red Cabbage, Potato Croquettes and a Port Wine and Juniper Reduction
Oven-Roasted Pork Tenderloin Over Creamy Cheese Polenta with Sautéed Wild Mushrooms and Merlot Reduction
Vegetarian
Thai Red Pumpkin and Coconut Curry With Steamed Bok Choy and Sticky Rice
Green Pea and Fava Bean Risotto Drizzled with Pesto Sauce and Toasted Pine Nuts
Lighter Note
Smoked Duck Breast Salad Frisée, Lollo Rosso, Radicchio Leaves with Walnuts and Shredded Apples topped with Smoked Duck Breast and a Creamy Lemon Dressing.
Grilled Grain-fed Sirloin Steak Served with Garden Vegetables and your choice of Steamed White Rice or Baked Potato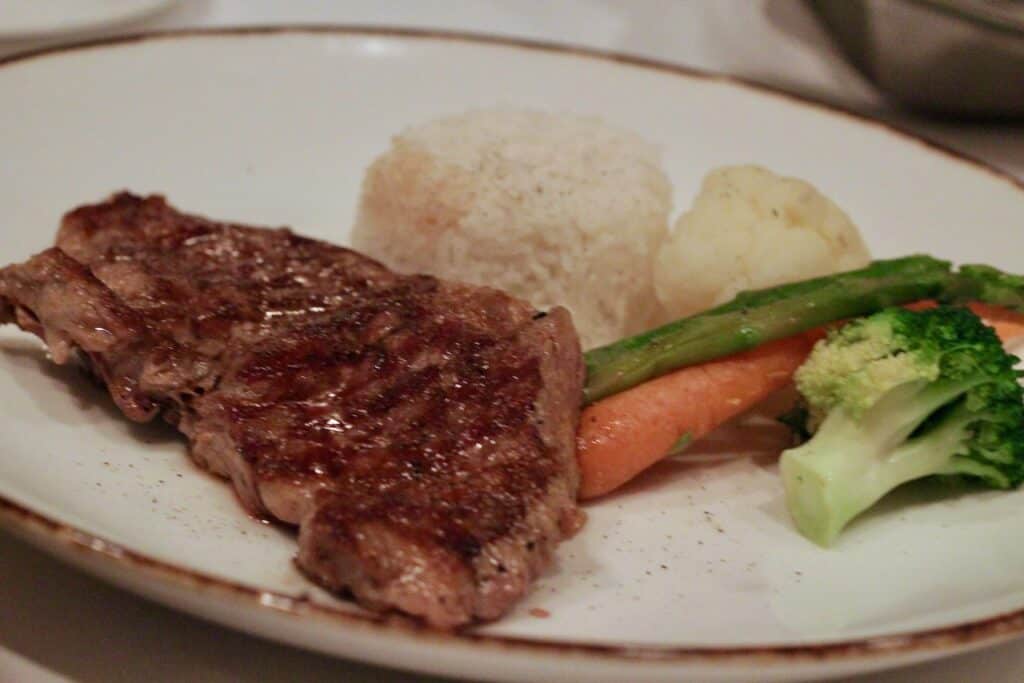 Slow-roasted Breast of Chicken Served with Garden Vegetables and your choice of Steamed White Rice or Baked Potato
Oven-baked Fillet of Salmon Served with Garden Vegetables and your choice of Steamed White Rice or Baked Potato
Desserts
Raspberry Vanilla Crème Brûlée With Lemon Madeleines (Gluten Free without Madeleines)
Apricot Trio Vanilla Cheesecake with Apricot Compote, Apricot Tart-Tatin, and Apricot-infused Cream
Chocolate Lava Cake Served with Double Chocolate Sauce and Vanilla
Ice Cream
The Captain's Table Sundae Mint Chocolate Chip Ice Cream topped with Chocolate Sauce, Whipped Cream and crunchy Meringue
Signature Dessert
Old Fashioned Apple Pie Served warm with Vanilla Ice Cream.
No Sugar Added Desserts
Chocolate Cheesecake Baked Cheesecake over a Chocolate Chiffon Sponge Base
Sign up for our newsletter to get the latest Disney Cruise news. Check back to see the rest of the Disney Dream transatlantic cruise menus. Going on the Disney Wish? You can find the menus here.
---
This post may contain affiliate links. Meaning, that if you make a purchase through my links, I will earn a small commission at no additional cost to you. Thank you for your support of this site.