On the Disney Cruise Line you can have breakfast at the buffet restaurant or if you prefer you can have a sit-down meal in one of the restauarants. On the Disney Wish in is served in 1923.
Good Morning! Please ask your Server about a selection of Coffee, Custom Blend Teas, Fruit Juices and Cold Cereals
Chilled Out
Smoked Salmon, Cream Cheese, Onions and Capers
Sliced Mango, Papaya, Melon, Strawberries and Blueberries
Sliced Rosemary Ham, Sopresetta Sausage, Mortadella, Edam Cheese and Brie
Chilled Grapefruit
Yogurt Parfaits
Strawberry, Plain Yogurt, Honey and Granola
Kiwi Fruit, Plain Yogurt, Dried Banana and Cornflakes
Blueberries, Raspberries, Plain Yogurt, Toasted Oatmeal and Granola
Pineapple, Mango, Papaya, Plain Yogurt, Passion Fruit Drizzle, Coconut and Granola
Children of all Ages
Goofy's "Get Up and Go" Scrambled Eggs, Grilled Sausage and Tomato with Diced Fruit
Peanut Butter and Jelly Typhoon large Pancake with Peanut Butter swirl, drizzled with Red Jelly, served with fresh Fruit
Captain Jacks Melon Boat on a sea of Strawberry-flavoured Yogurt
Mickey Waffles with Strawberry Cream and Fresh Fruit
Fresh from the Griddle
Buttermilk Pancakes A choice of Plain, Blueberry, Dried Cranberry or Chocolate Chip Pancakes Served with Maple Syrup and Whipped Butter
Belgian Waffle Blueberry Compote and Strawberry Cream
Eggs
Two Fresh Eggs cooked as you please
Scrambled Eggs
Soft Boiled Egg
Eggs Benedict Two Poached Eggs on Toasted English Muffins coated with Hollandaise Sauce, Served with a choice of Grilled Canadian Bacon, Rosemary Ham and Tomato, or Smoked Salmon and Arugula
Hot Cereals
Oatmeal, Cream of Wheat or Grits Served with a choice of Brown sugar, Maple syrup and or Toasted Pecans
Omelets
Plain or Egg White please choose filling(s) from below
Mushrooms, Ham, Chorizo Sausage, Chicken, Cheddar Cheese, Mozzarella Cheese, Spinach, Bell Peppers, Jalapeño, Tomatoes, Zucchini, Onion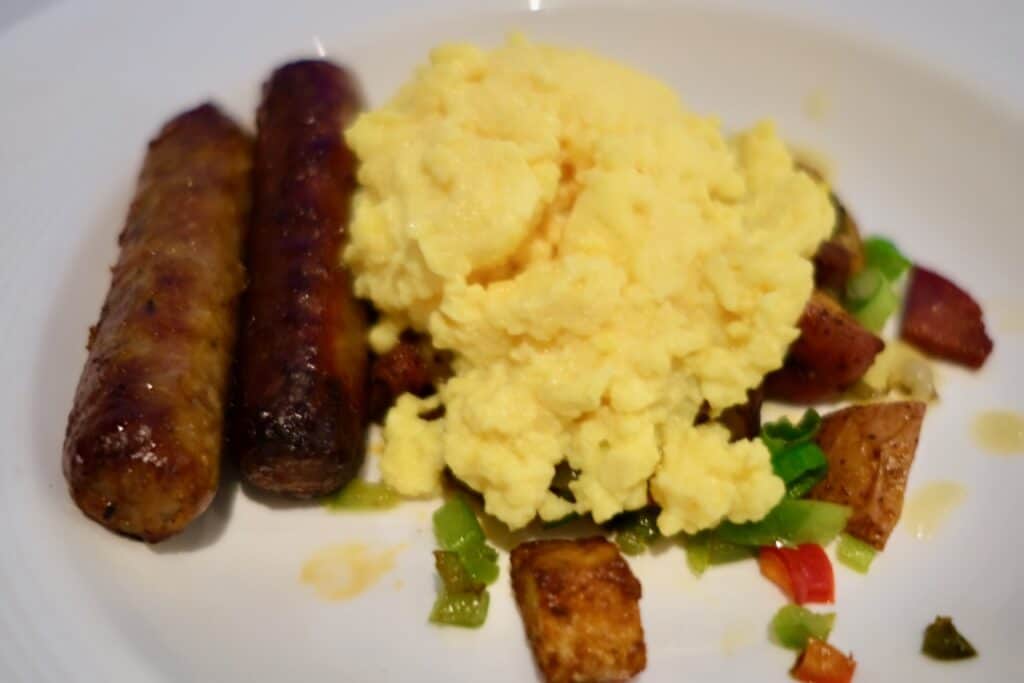 Signature Breakfasts
DCL Express Scrambled Eggs, crisp Bacon, Grilled Sausage, Hash Browns and Grilled Tomato
Southern Hash Two Eggs of your choice on fresh Hash-Brown Potatoes with Chorizo Sausage, Cilantro, Green Onions and Peppers with melted Jack Cheese
Very Very French Toast Batter-soaked Brioche griddled until Golden-Brown served with Whipped Butter and Cinnamon Sugar
Power Crépe Buckwheat Crépe filled with Scrambled Egg Whites, Soy Marinated Tofu, Spinach, Broccoli, Mushrooms and Green Onions served with Pico de Gallo
Additions
Half-Grilled Tomato
Hash Browns
Corned Beef Hash
Crisp Bacon
Grilled Link SausagesDiced Sweet Melons
Toasted Bread and Preserves
Check out the other menus for the restaurants on the Wish. Make sure you keep checking back or sign up for our newsletter for the latest Disney Cruise News and the latest discounts.
---
This post may contain affiliate links. Meaning, that if you make a purchase through my links, I will earn a small commission at no additional cost to you. Thank you for your support of this site.