Disney Cruise Lines has released the signature menus for the Disney Wish. The first menu is for 1923. Named after the year The Walt Disney Studios was founded, this sophisticated dining establishment celebrates the unwavering spirit of the original studio that started it all.
Travel back in time as you dine amid storyboards, sketches and props that illustrate the early animation process while delighting in some of the tantalizing flavours found throughout the Golden State.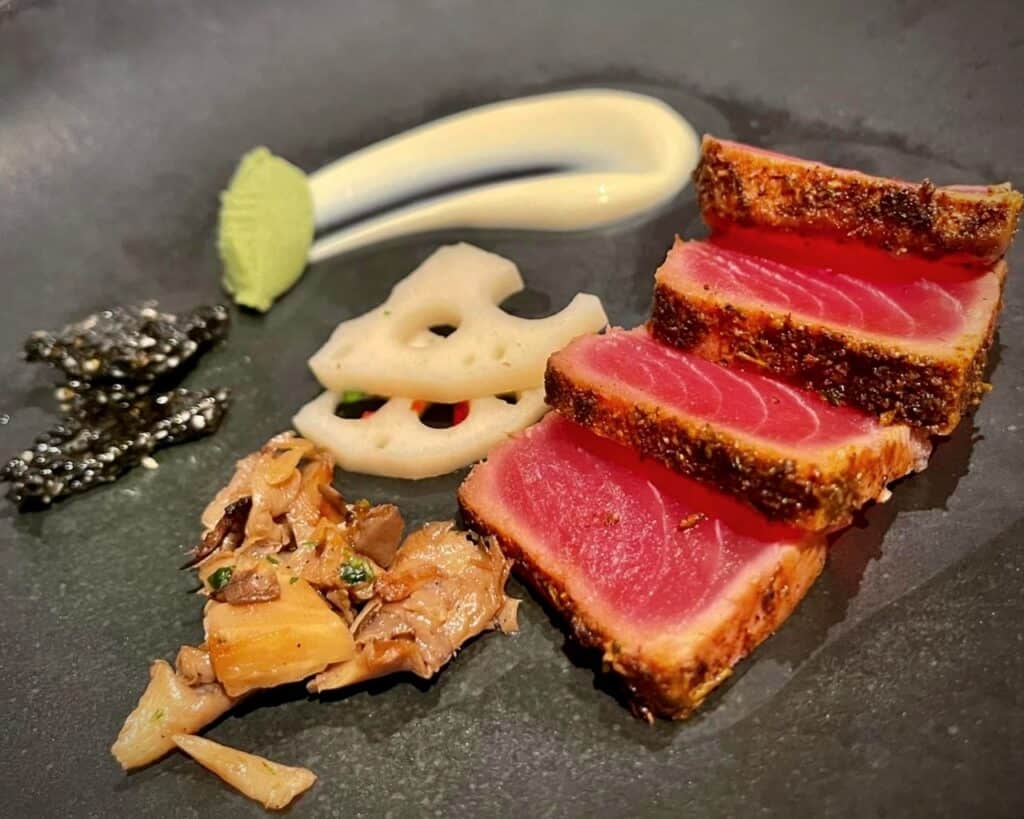 Cocktails
The Buena Vista Boulevardier Woodford Chocolate Rye, Campari, Lillet Rouge $12.00
The Riverside Old Fashioned Old Forester 1920, Bourbon Barrel Maple $12.00
The Hyperion Highball Glenmorangie Nectar D'Or, Ginger Beer $10.00
Lillet Experience Lillet Blanc, Lillet Rosé, Lillet Rouge. Walk back in time and discover the classic flavours of the French aperitif, all paired with some exciting bites. $18.00
Appetizers
Alameda Porcini Spiced Ahi Tuna Pickled Lotus Root, Oyster Mushroom, Black Sesame Brittle, Wasabi & Yuzu Mayonnaise
Hyperion Four-Cheese Tri-Color Tortelloni Meyer Lemon, Artichoke, Sun-dried Tomato, Baby Spinach Burrata Mozzarella Cheese & Prosciutto di Parma Crisp Cranberry and Sunflower Seed Phyllo, Charred Blood Orange
Kingswell Duck Confit Pastilla Dates, Apricot, Ginger, Red Pepper, Saffron, Black Raspberry Jam Salads Fennel, Bartlett Pear and Tatsoi Salad Manchego Cheese, Walnuts, Sherry Dressing
Split Napa Baby Romaine Lettuce Caesar Dressing, Heirloom Grape Tomatoes, Parmigiano-Reggiano, Ciabatta Garlic Croutons
From the Kettle
Pulled Guinea Hen Corn Chowder Yukon Gold Potato, Cilantro, Smoked Bacon GF
Roasted Roma Tomato Soup Sourdough Purple Basil Crostini
Bread Service
Fig and Olive Bread With Honey Butter Dip
Entrées
Tortiglioni Pasta Prosecco Cream, Pancetta, Shallots, Cremini Mushrooms, Lemon Thyme
Seared Verlasso Salmon Filet Californian Wild Honey Parsnip Purée, Orange Fennel Essence, Sautéed Black Garlic Rapini GF
Riverside Roasted Green Circle Chicken Leek Rondels, Brussels Sprouts, Yukon Potato Fondant, Honeycrisp Apple Chutney, Cabernet Sauvignon Reduction
Italian Flat Parsley and Rosemary-Crusted Rack of Lamb Dauphinoise Potato, Roasted Petite Turnip, Carrot and Zucchini, Zinfandel Rosemary Sauce
1923 Peppered Filet Mignon Buttered Long Green Beans, Smoked Bacon, Crushed Fingerling Potato Hash, Pink Pepper Café Au Lait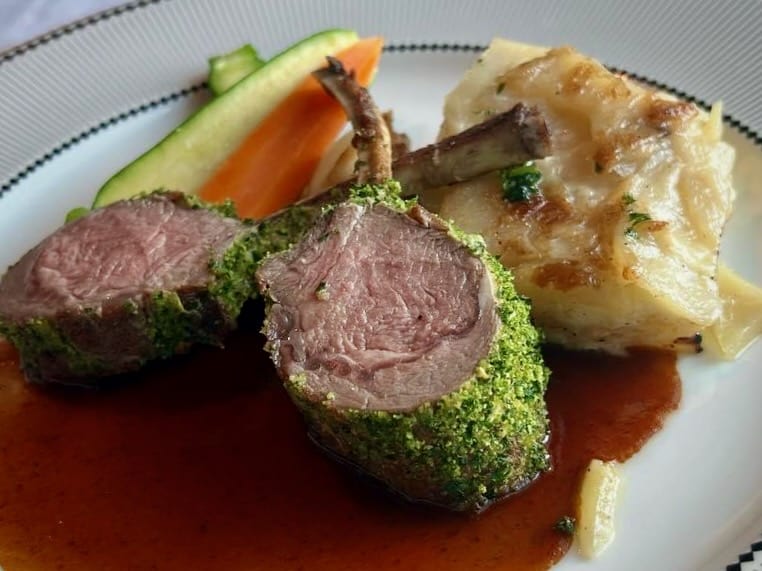 Vegetarian
Moroccan-Spiced Roasted Kabocha & Butternut Squash Zaalouk, Garbanzo, Cinnamon Brown Rice, Couscous, Cilantro, Arugula, Pita, Harissa Dairy-Free Yogurt
Buena Vista Soft Shell Tacos Coconut Oil Quinoa, Poblano, Sweet Bell Pepper, Salsa Fresca, Feta Cheese, Pickled Red Onions, Cashew Cream
Lighter Notes
Los Feliz Lobster Salad Baby Bibb, Endive Lettuce, Avocado, Jicama, Celery, Purple Potato, Tostones, Black Beans, Grape Tomatoes, Cilantro, Lime GF DF
Grilled Grain-fed Sirloin Steak Served with Garden Vegetables and your choice of Steamed White Rice or Baked Potato GF DF
Slow-roasted Breast of Chicken Served with Garden Vegetables and your choice of Steamed White Rice or Baked Potato GF DF
Oven-baked Fillet of Salmon Served with Garden Vegetables and your choice of Steamed White Rice or Baked Potato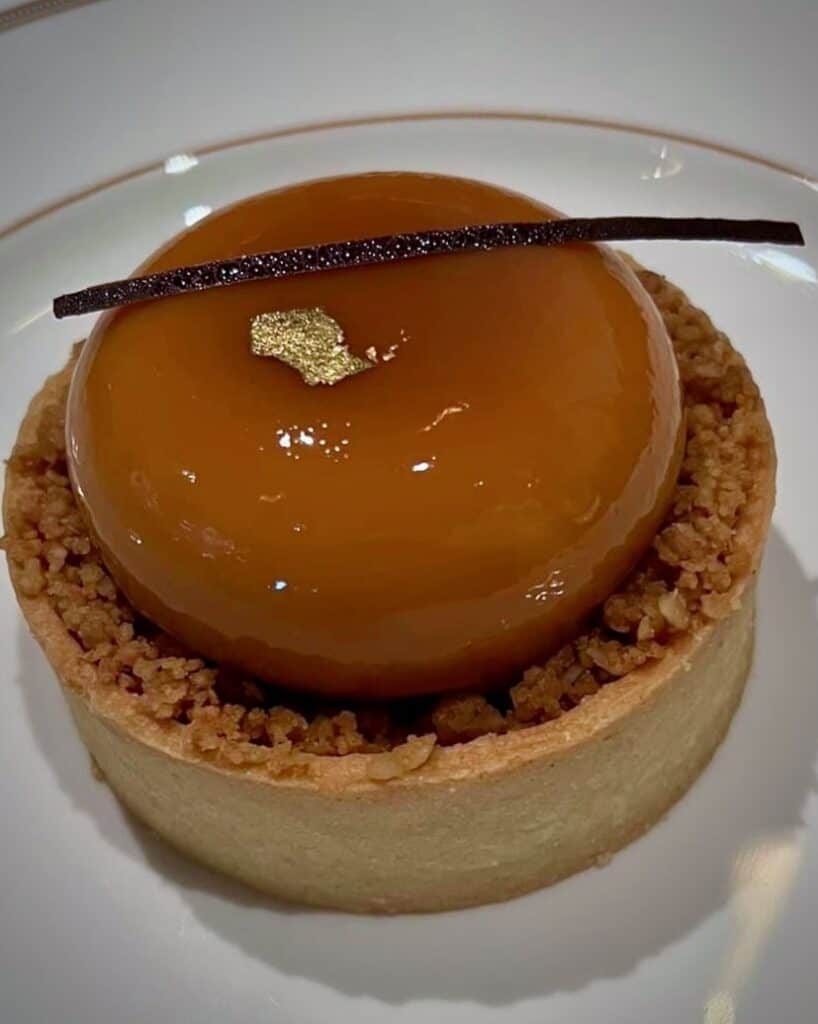 Desserts
Churros Calientes Sugar Spice Churros, Dulce de Leche Flourless Orange Almond Cake Guava Gel, Lychee Yogurt Crème GF
Atwater Fuji Apple Cheesecake Sweet Dough Shell, Caramelized Apples, Cinnamon Cheesecake, Rolled Oat Crumble
Signature Dessert
Burbank Blueberry-Lemon Bavarian Cream Ecuador Vanilla Bean, Lemon Rocks, Dried Raspberry Meringue
No Sugar Added Desserts
Coconut Tapioca Pudding Strawberry-Lime Salsa, Matcha Crumble
Ice Cream Sundae
Hollywood Hills Hot Chocolate Fudge SundaeVanilla Ice Cream, Fudge Brownie Bites, Fresh Whipped Cream, Glazed Cherry
Check out the menus for the restaurants on the Wish: Arendelle, Worlds of Marvel, Kid's Dinner Menus, Palo Steakhouse Brunch, Palo Steakhouse Dinner, Enchanté, Hyperspace Lounge, The Bayou, The Rose, Nightingale's and the pub menu for Keg and Compass. Here are the Spa treatments available on the Disney Wish.
---
This post may contain affiliate links. Meaning, that if you make a purchase through my links, I will earn a small commission at no additional cost to you. Thank you for your support of this site.