Disney Cruise Line has updated the Room Service Menu on the Disney Wish. Worlds of Marvel also recently received a menu update.
Savour breakfast, grab a quick between-meal snack or satisfy a late-night craving 24 hours a day from the comfort of your room—included in the price of your cruise.
Please note that an additional fee will be added to your stateroom for certain snacks, wines, beverages and beverage packages. Lunch and Dinner
Lunch and dinner options are available all day and night except during the morning hours when breakfast is served. Although subject to change, lunch and dinner menu items may include:
Custom-made sandwiches
Fresh salads and appetizers
Hearty burgers, pizza and hot dogs
Chef specialties, like grilled salmon
Scrumptious desserts, including cookies, ice cream and nuts
To order Room Service for lunch or dinner, select "In Stateroom Dining" on your stateroom phone.
Gratuity is not included, a tip of $1-$2 per item ordered is the norm. You can add the tip to your onboard account, just ask for a bill/slip to leave tip.
Appetizers, Soups and Salad
*Updated All Hands on Deck A special selection of international cheeses served with crackers featuring Mini Babybel® Snack Cheese.
Mixed Garden Salad Mixed Leaves with Tomatoes, Cucumber, Carrot, Peppers, Red onions with a choice of dressings (Ranch, Raspberry, Italian or Balsamic)
Arugula and Romaine Lettuce Salad With Yellow and Red Grape Tomatoes, Bocconcini, Balsamic Dressing
Grilled Salmon Salad Crisp Romaine and Iceberg Lettuce, Cherry Tomatoes, Vidalia Onions, Cucumber, Apple-Cranberry Kasha, and a Honey-Dijon Dressing
Cream of Tomato Soup With toasted Grilled Wisconsin Cheddar Cheese Sandwich
Chicken Noodle Soup Clear Chicken Broth, with Pulled Chicken, Egg Noodles, Carrots, Celery, Leek and Thyme. Served with Sourdough Baguette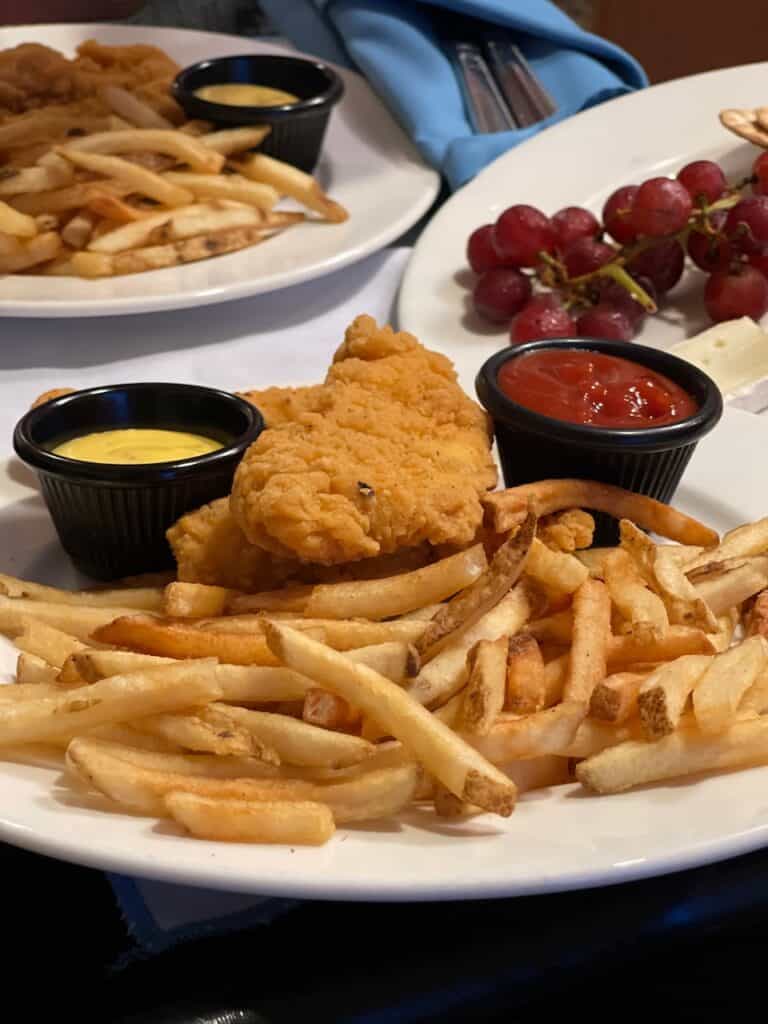 All-American Fare
Buffalo Chicken Wings With Celery and Carrots. Choice of Blue Cheese or Ranch Dip.
Crisp Breaded Chicken Tenders With French Fries and Barbecue Sauce
Crisp Plant-based Chicken Sandwich On soft toasted bun, Dill Pickle, shaved Iceberg Lettuce, Vidalia Onions, Plant-based Garlic Aioli and Sweet Potato Fries
Grilled Angus American Cheeseburger On Toasted Brioche Bun with shaved Iceberg Lettuce, Vidalia Onions, Tomato, Dill Pickle and French Fries
Flatbreads and Pasta Pides and Pasta
Penne Bolognaise Penne Pasta tossed in a rich Bolognaise sauce with grated Parmesan Reggiano Cheese and Garlic Crostini
Pepperoni Flatbread Rich tomato sauce on a crispy base with melted Mozzarella cheese and spiced Italian Sausage
*New Lamb and Beef Pide Flatbread Crust Baked with Ground Lamb and Beef blended with Peppers, Tomatoes and Cilantro
Margherita Flatbread Rich tomato sauce on a crispy base with melted Mozzarella cheese, Tomatoes and Basil
*New Spinach and Feta Pide Flatbread Crust Baked with Mozzarella, Baby Spinach, Vidalia Onions, Feta Cheese, and Roasted Cherry Tomato
Desserts
New York Cheesecake Raspberry Ganache, Fresh Whipped Cream
Chocolate Truffle Cake Chocolate Brownie, Truffle Mousse, Nutella
Chocolate Chip Cookie Baked Daily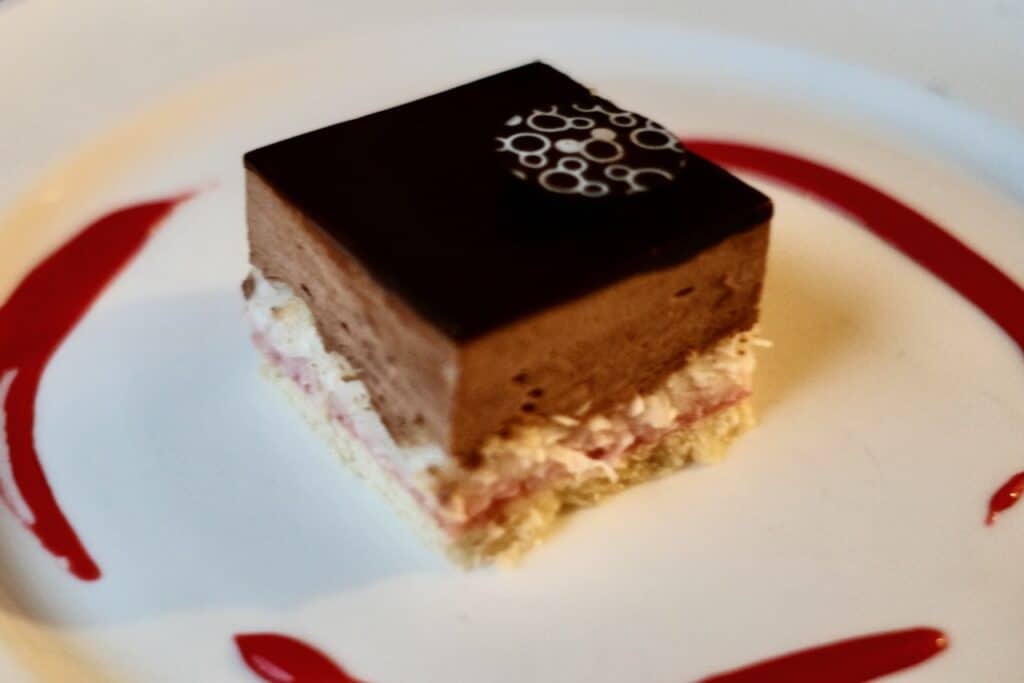 Baristas Favorites
Espresso (Single) $2.50
Espresso (Double) $3.50
Macchiato (single) $2.50
Macchiato (double) $3.50
Mocha (single) $3.25
Mocha (double) $4.50
Cafe Latte (Single) $3.25
Cafe Latte (double) $4.50
Cappuccino (single) $3.25
Cappuccino (double) $4.50
Add Flavor $0.75
Green Tea Matcha $5.50
Turmeric Latte $5.50
Beet Root Latte $5.50
Fresh From the Press
Booster Orange, carrot, lemon, ginger $5.25
Rejuvenate Beet Root, Carrot, Apple $5.25
Detox Kale, Spinach, cucumber, spirulina, Dasani $5.25
Juice 'N' GO
Juice Tonic: Rebuilding apple, banana, kale, spinach, chia seed, spirulina $6.25
Get Up: Restore banana, blueberry, strawberry, almond milk, sunflower seeds, turmeric powder $9.00
Add Protein Vanilla or Chocolate $1.50
To Go
Illy Cold Brew Cappuccino $5.00
Vita Coco Coconut Water $6.25
Core Power Strawberry Banana or Vanilla $5.00
Health-Ade Kombucha Pink Lady Apple or Pomegranate $6.25
Huzzah Probiotic Juicy Pear or Strawberry Hibiscus $5.00
Wine by the Glass
Moet & Chandon Ice Epernay, France $15.25
Tattinger Brut La FrancaiseReims, France $16.75
St. Francis Chardonnay Sonoma County, California, USA $9.75
Santa Margherita Pinot Grigio Trentino Alto Adige, Italy $11.00
Vanderpump Rose Cote de Provence, France $11.25
Cloudy Bay Sauvignon Blanc Marlborough, New Zealand $13.00
KIng Estate Pinot Noir Oregon, USA $12.00
Felino Malbec Mendoza, Argentina $9.50
Kendall Jackson Cabernet Sauvignon California, USA $9.50
Murphy Goode Merlot Sonoma County, California, USA $9.00
Beers and Seltzers
Classic Beers 6 pack special buy 5 get 1 free, any imported or domestic beer, any time $30.00
Signature Beers 6 pack special buy 5 get 1 free, any imported or domestic beer, any time $35.00
Daura Damm Lager Gluten Free 5.4% ABV $7.00
Heineken 0.0 Zero Proof Lager 0.0% ABV $6.00
White Claw Black Cherry, Mango, or watermelon – $6.00
Truly Pineapple or Wild Berry $6.00
Topo Chico Strawberry Guava $6.00
Cocktails
Acai – Pirinha Leblon Cachaca, Cedilla Acai – $10.00
K-Refresher – Empress 1908, Elderflower, White Claw Watermelon $12.00
Rum Mocha – Illy Cold Brew, SelvaRey Chocolate Rum, Kahlua $11.00
Zero-Proof Non-Alcoholic
Ink & Paint – Simply Lemonade, Butterfly Pea Tea, Strawberry $5.50
Warm Hugs – Coconut, Ice Cream, Strawberries, Illy Coffee $5.50
Make sure you keep checking back—or sign up for our newsletter—for the latest Disney Cruise News. News like the latest cruise discounts and the latest covid testing requirements. Are you sailing on the Disney Wish soon? Check out the menus and price lists for the different venues.
---
This post may contain affiliate links. Meaning, that if you make a purchase through my links, I will earn a small commission at no additional cost to you. Thank you for your support of this site.