A common question from people going on a Disney Cruise is can I carry on my own drinks? The answer is yes, but with some rules to follow.
Adult Beverages
Yes, you can bring on alcoholic beverages on your Disney Cruise. Every passenger over 21 years old may bring a maximum of 2 bottles of unopened wine or champagne (no larger than 750 ml) or 6 beers (no larger than 12 ounces) on board at the beginning of the voyage and at each port of call. These beverages must be packed in carry-on (not checked) bags or luggage.
Being able to carry on 2 bottles of wine or 6 beers at each port is great, especially on a long cruise. We have sailed on a couple of Westbound Transatlantic cruises. The ability to bring on wine at the port allowed us to have more than enough wine for the crossing.
Please note:
Alcohol packed in checked luggage will be removed and not returned and no compensation will be offered.
All alcohol brought onboard must be in an original unopened container. Partially used bottles and those in which the seal is broken are prohibited.
Any wine or champagne in excess of 2 bottles or beer in excess of 6 beers is prohibited and must be discarded prior to entry and no compensation offered.
Liquors or spirits or excess wine and beer purchased in ports of call will be stored until the end of the cruise.
Guests MUST retrieve stored alcohol at the end of the cruise. Items not retrieved will be discarded and no compensation will be offered.
Alcohol brought on board may not be consumed in any lounge or public area.
Please note that the Disney Cruise Line alcohol policy is subject to change without notice.
What About Water?
Yes, you can bring a case of water with you on the cruise, but the water must be carried on. As you can see in the picture below luggage gets piled up on top of one another. I wouldn't want to have someone's water bottles break open and soak the other luggage.
I Like Dr. Pepper Can I Bring it on With Me?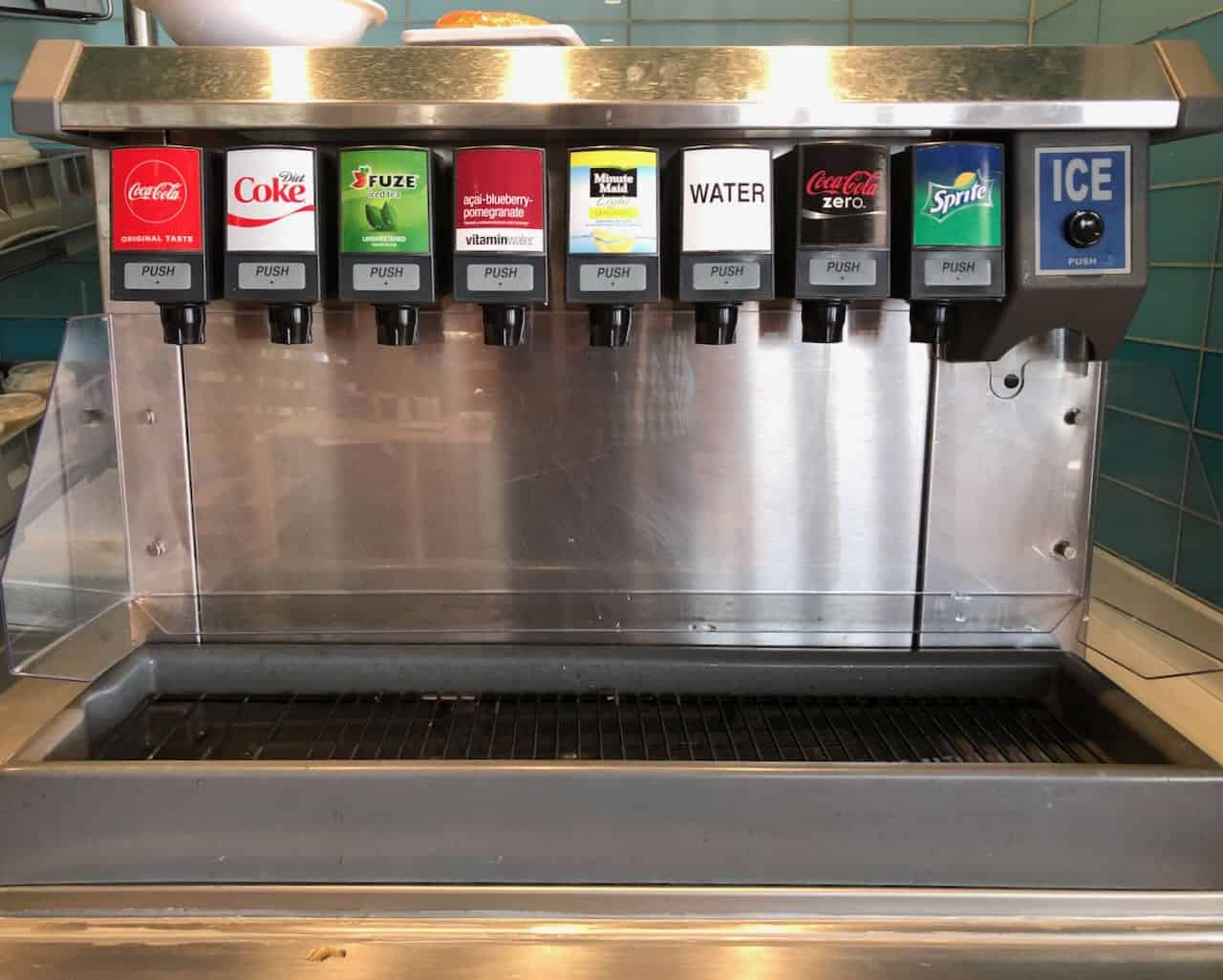 Yes, you can bring your own soft drinks on the cruise with you. Soft drinks are included in the cost of the cruise. You can get these soft drinks at the Beverage Station on Deck 9 of the Disney Magic and the Disney Wonder and on Deck 11 of the Disney Dream, Disney Fantasy and Disney Wish. Soft drinks are also available at the teens-only lounge, and are included at no extra cost with meals. If you don't like Coke products or want don't want to go to the beverage stations you can bring on all the soft drinks you can carry.
If you are sailing in Concierge you can request to have your favourite non-alcoholic beverages put in your mini-fridge.
Beverages like milk can be found on the buffet at breakfast. If you want you can take milk from the buffet and keep it in your fridge to have on hand. You can also order milk from room service or get it at the beverage station.
I Don't Want to Carry on Beverages
If you want water or soft drinks in your room but you don't want to carry them on you can order them from room service or order them ahead of time from Onboard Gifts. Wine, champagne, beer and cider can also be ordered through the onboard gifts.
If you don't want to carry any wine and beers on there are lots of opportunities to enjoy a reasonably priced adult beverage on the cruise from the drink of the day and alcohol beverage tastings.
Will you be carrying on your beverages?
For latest information about the Disney Wish, the latest discounts and deals and other Disney cruise news sign up for our newsletter.
---
This post may contain affiliate links. Meaning, that if you make a purchase through my links, I will earn a small commission at no additional cost to you. Thank you for your support of this site.