If you are sailing on a 4-night cruise on the Disney Wish will have a Pirate Night and a Pirate Dinner. Here is the menu, It is the same as on the other four ships, Magic, Wonder, Dream and Fantasy.
SPECIALTY COCKTAILS
Pirates Nest Starr Rum, Mango Ginger Green Tea and Ginger Beer
The Pearl Vanilla Ice Cream with Cherry and Lychee Fruits [Non-Alcoholic)
APPETIZER
Sri Sumbhajee's Vegetable Samosa with Potato, Peas, Garlic. Cumin and Ginger served with Tamarind and Mint Chutney
Angelica's Lime Marinated Shrimp with Chili. White Corn, Sweet Potato and Onion
Deep Fried Calypso Crab Cake with Cajun Remoulade, Green Onion and Lemon
Breann's Red and Yellow Beetroot Carpaccio with Asparagus, Pickled Radishes, Cornichons and Mustard Dressing
SOUPS & SALADS
Carrot and Cilantro Soup with Banana Bread Croutons
Chilled Mango Soup with Passion Fruit, Ginger and Coconut
Fennel. Orange and Quinoa Salad with Saffron, Pine Nuts and Pomegranate
Baby GemWith Blur Cheese, Radish, Cherry Tomato, Shallots, Sweet Pecans and Thousand Island Dressing
BREAD SERVICE
Johnny Cake with Mango Dip
MAIN COURSE
Jack's Treasure-of-the-Seas Grilled Shrimp and Seared Scallops served with Spinach, Strings of Pasta Tomato Provençal Sauce and black Tomato Pearls
Cortes Cilantro Marinated Caribbean Grouper Filet on Curried Rice served with a Mango, Lime, Avocado, Red Onion and Black Bean Salsa
Tia Dalma's Jerk Chicken 48-hour Jerk Marinated Chicken, Grilled and served with Rice and Peas Fried Plantains and a Pineapple-Chilli Salsa
Chevalle's Lamb Shank Rosemary Lamb Shank Slowly Braised in Red Wine Served with Buttered Green Beans and Parsnip Mash
King George's Roasted Privateer Strip Loin with Thyme Roasted Potatoes, Buttered Savoy Cabbage, Yorkshire Pudding with a Rosemary Wine Sauce
VEGETARIAN
Shanghaied Noodle Stir-fry Egg Noodles with Nori, Edamame Beans, White Soy Sauce, Marinated Tofu, Scallions, Peppers, Carrots and Sesame Seeds
Barbary Coast Falafel Fried Ground Cumin Chickpeas with Spiced Vegetables and a Mint Yogurt
LIGHTER NOTE OFFERINGS
Braised Barbecue Beef Rib Salad Slowly Braised Barbecue Beef Rib with Romaine Leaves, Spinach, Macadamia Nuts, Carrots, Roasted Corn Kernels and Shallots served with Cornbread and a Tomato Sour Cream Dressing
Grilled Grain-fed Sirloin Steak Served with Garden Vegetables and your choice of Steamed White Rice or Baked Potato
Slow-roasted Breast of Chicken Served with Garden Vegetables and your choice of Steamed White Rice or Baked Potato
Oven-baked Fillet of Salmon Served with Garden Vegetables and your choice of Steamed White Rice or Baked Potato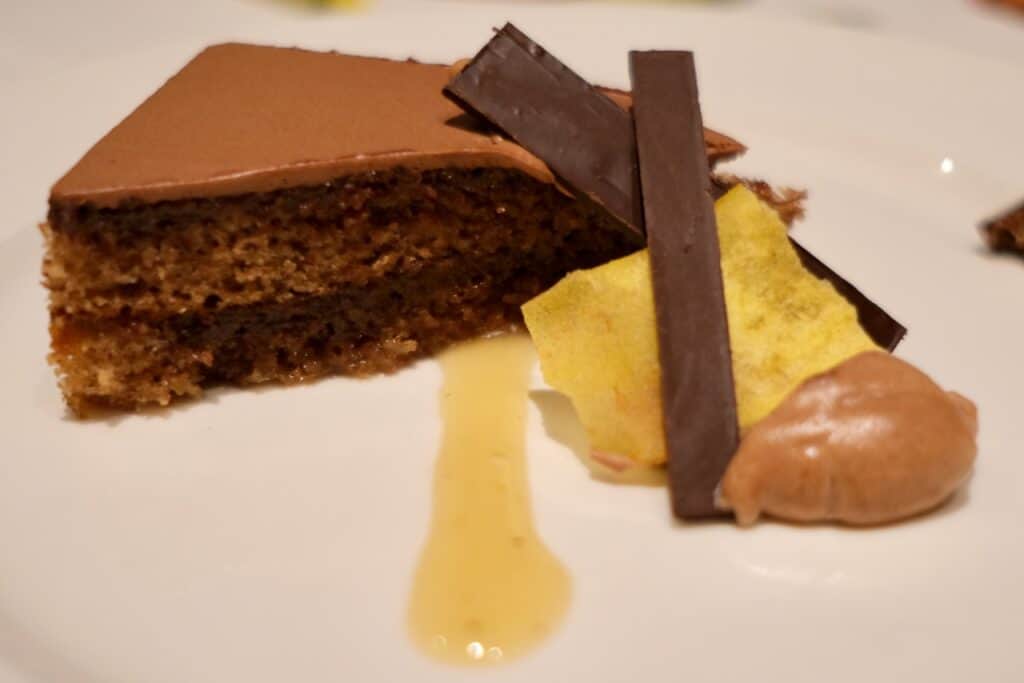 DESSERTS
Bounty Fruit Cobbler with Vanilla Ice Cream
Bananas in Paradise layered Banana Bread with Hazelnut Fudge filling served with a Banana Spice Purée
Rum-Soaked Chocolate Cake with Raspberry Glaze and Whipped Cream
Pirate's Treasure Sundae Rum and Raisin lee Cream, Pineapple, Whipped Cream and Florentine shard
SIGNATURE DESSERT
Caramel Macadamia Nut Cheesecake Tart served with Whipped Cream and Caramel Ganache
No Sugar Added Dessert
Coconut Crème Flan served with Tropical Fruits
Check out the other menus for the restaurants on the Wish. Make sure you keep checking back or sign up for our newsletter for the latest Disney Cruise News, like the return of pre-booking character meets, the current pre-cruise Covid testing, Disney Cruise rumours, and the latest discounts.
Fall 2023 itineraries have been released. Including two Panama Canal cruises. Is this your first cruise? Check out our Tips and Tricks.
---
This post may contain affiliate links. Meaning, that if you make a purchase through my links, I will earn a small commission at no additional cost to you. Thank you for your support of this site.