I have found the missing menu. The Disney Dream started the first night with the Let the Magic Begin Menu.
Specialty Cocktails
Key Lime Margarita Casamigos, Licor 43, Fresh Lime Juice, And Citronge
Mirage Fresh Yogurt, Blueberries, Blackberries, Raspberries, And Magic (Non-Alcoholic)
*Available at an additional fee
Appetizers
Prosciutto, Mozzarella, And Tomato Bruschetta With Fire-Roasted Bell Peppers And Balsamic Vinegar
Smoked Salmon Carpaccio With Capers, Finely Chopped Shallots, Pink Peppercorns, And A Dill Honey Mustard Dressing
Fried Spiced Calamari Served With A Lemon-Garlic Mayonnaise
Chicken Bastilla Moroccan Spiced Shredded Chicken Wrapped In Phyllo-Dough And Sprinkled With Powdered Sugar And Cinnamon, With A Vegetable Almond Slaw
Soups & Salads
Clam Chowder With Sourdough Croutons
Couscous Salad With Dried Cranberries, Toasted Almonds, Chickpeas, Cherry Tomato, Cucumber: Cilantro, And A Lime Dressing
Chilled Mango And Papaya Soup Flavoured With Passion Fruit
Arugula And Baby Spinach Salad With Sliced Red Onions And A Sherry Wine Dressing
Bread Selection
Freshly Baked Carrot And Scallions Loaf Cumin And Cilantro Dip
Main Course
Penne Arrabbiata Penne Pasta Tossed In Spiced Tomato Sauce With Basil And Garlic Shrimp
Pan-Seared Halibut With Smashed Minted Green Peas And Shredded Potato Cake, Served With A White Wine Chive Cream Sauce
Mesquite Grilled Chicken Breast On Wilted Spinach And Crushed Sweet Potatoes Served With Cream Of Corn And Bacon Sauce
Pork Tenderloin Wellington Pork Tenderloin Wrapped In Mushroom Duxelle, Crêpes And Puff Pastry With Gratin Potatoes, Roasted Baby Vegetables And A Rich Bordeaux Wine Sauce
Grilled Strip Loin With Cheddar Cheese And Onion, Smashed Baked Potato, Roasted Green Asparagus, Tomato, And A Red Wine Jus
Vegetarian
Spinach, Sweet Potato And Lentil Dhal Served With Jasmine Rice And Tamarind Chutney
Paccheri Pasta With Tomato Sauce, Roasted Eggplant And Parmesan
Lighter Note Offerings
Mango Chicken Salad Oak Leaf, Lollo Rossa And Orzo Pasta With Grilled Chicken Breast, Mango Slices And A Cilantro Dressing
Grilled Grain Fed Sirloin Steak Served With Garden Vegetables And Your Choice Of Steamed White Rice Or Baked Potato
Slow-Roasted Chicken Breast Served With Garden Vegetables And Your Choice Of Steamed White Rice Or Baked Potato
Oven-Baked Filet Of Salmon Served With Garden Vegetables And Your Choice Of Steamed White Rice Or Baked Potato
Desserts
Kahlua Crème Brülée With Cinnamon Shortbread Cookies
Dark Chocolate Bombe Layered With Raspberry Jelly And White Chocolate Spiral Décor
Warm Sticky Fig And Pecan Pudding Served With Butterscotch Sauce And Vanilla Ice Cream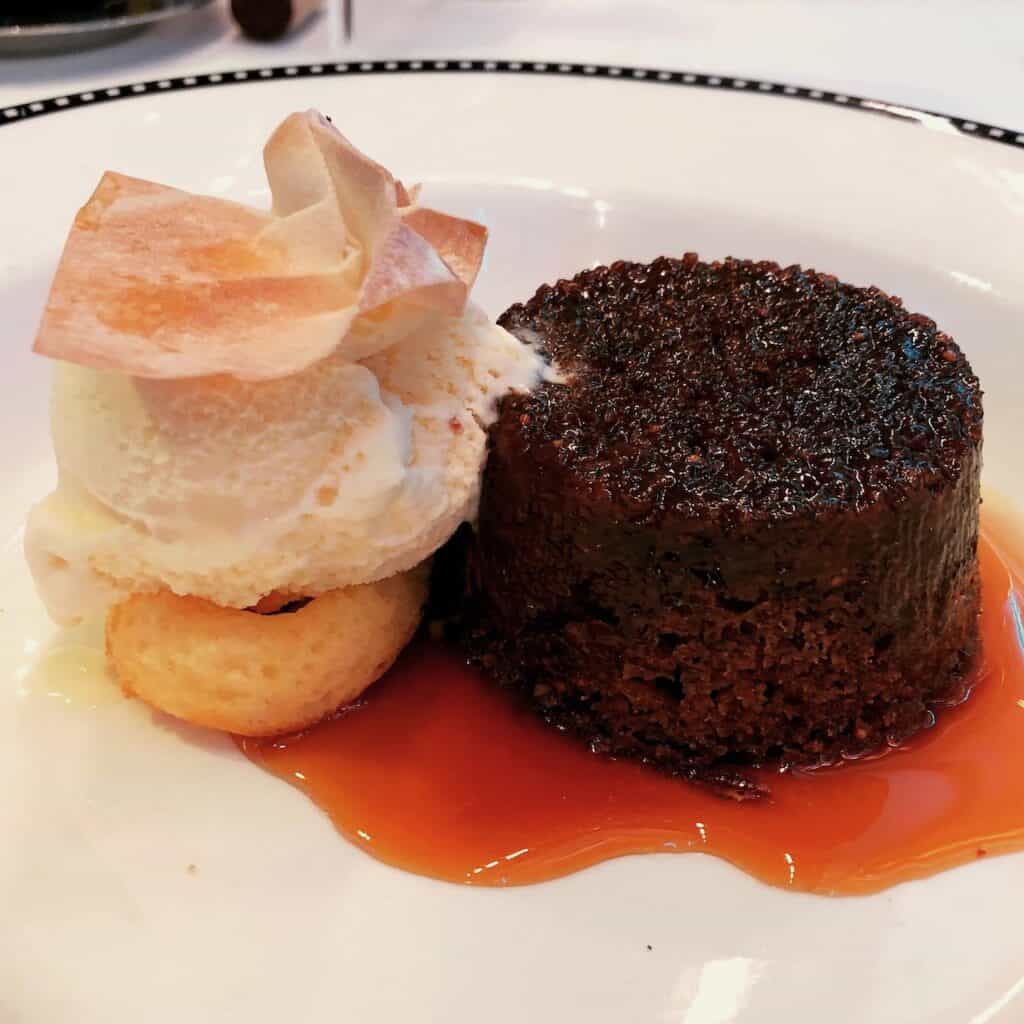 Ice Cream Sundae
Magical Express Sundae Mint Chocolate Chip Ice Cream. Chocolate Fudge Bites And Whipped Cream
Signature Desserts
Mango Marble Cheesecake Served With Berry Compote
No Sugar Added Dessert
Nsa – Fresh Fruit Sabayon White Wine Sabayon Over Seasonal Fruits And Vanilla Ice Cream
Sign up for our newsletter to get the latest Disney Cruise news. Check back to see the rest of the Disney Dream transatlantic cruise menus. Going on the Disney Wish? You can find the menus here.
---
This post may contain affiliate links. Meaning, that if you make a purchase through my links, I will earn a small commission at no additional cost to you. Thank you for your support of this site.