Escape to a getaway for coffee or drinks amidst laid-back sophistication and a touch of tropical bliss.
Sit back and relax at the Cove Café, an adults-only lounge that's the perfect place to take time out for specialty drinks, coffee beverage offerings or tea throughout the day. During the evening, guests can unwind while socializing and enjoying cocktails, or wine. Adult beverage tastings are also available at select times for an additional fee.
Choose your Bean
Classico, blend of Arabica
Decaffeniato, classico blend decaffinated
Ethiopia, delicate intensity
Colombia, medium intensity
Brasile, intense taste
Choose your Brewing
Chemex Brewing $8
French Press Brewing $8
V-60 Brewing $8
Aeropress Brewing $8
Moka Brewing $8
Cove Café Bartista Favorites
Espresso (Single) $2.50
Espresso (Double) $3.50
Macchiato (Single) $2.50
Macchiato (Double) $3.50
Mocha (Single) $3.25
Mocha (Double) $4.50
Café Latte (Single) $3.25
Café Latte (Double) $4.50
Cappuccino (Single) $3.25
Cappuccino (Double) $4.50
Add flavor $.75
Nitro Coffee $6.00
Magic Cocoa $6.50
Cornetto Café $5
Tiramisu $7
Green Tea Matcha $5.50
Turmeric Latte $5.50
Beet Root Latte $5.50
Menu Selections from Around the World
Austrian $6 Coffee, chocolate, whipped cream
Turkish $6 Coffee and sugar
Vietnamese $6 Coffee and condensed milk
Mexican $6 Coffee and spices
Italian $6 Espresso and ice cream
Thailand $6 Coffee, Thai tea, condensed milk
Cold Brew Cocktails
Brew Colada $12.50 SelvaRey Coconut, coconut water
Brew Fashion $12.50 Old Forester, chocolate bitters
Brew Tonic $12.50 Gun Powder Gin, Fever-Tree
Brew & Sand $12.50 Monkey Shoulder, Cherry Heering, Cointreau Blood Orange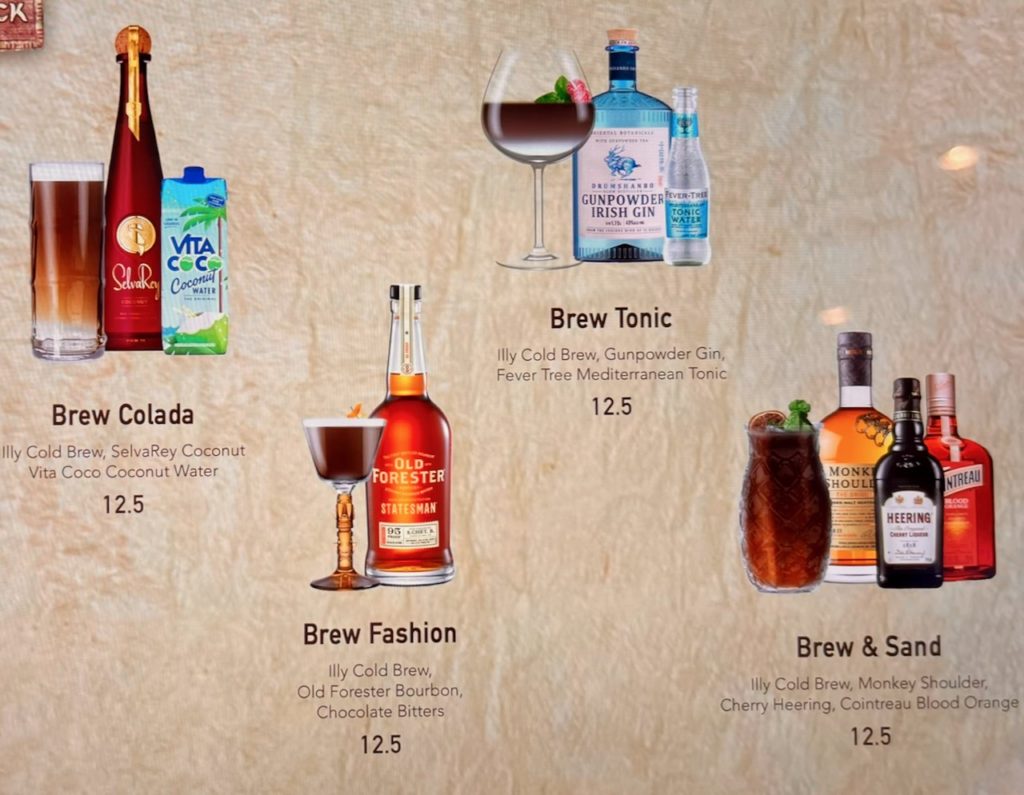 Wines by the Glass
Moët & Chandon Ice $15.25 Épernay, France
Taittinger Brut La Françise $16.75 Reims, France
St. Frances Sonoma Chardonnay $9.75 California, USA
Santa Margherita Pinot Grigio $11 Trentino-Alto-Adige, Italy
Vanderpump Rosé $11.25 Côte de Provence, France
Cloudy Bay Sauvignon Blanc $13.50 Marlborough, New Zealand
King Estate Pinot Noir $12.50 Oregon, USA
Felinio Malbec $9.50 Mendoza, Arizona
Kendall Jackson Cabernet Sauvignon $9.50 California, USA
Murphy-Goode Merlot $9.50 California, USA
Check out the other menus for the restaurants on the Wish: Arendelle, Worlds of Marvel, 1923, Kid's Dinner Menus, Palo Steakhouse Brunch, Palo Steakhouse Dinner, Enchanté, Hyperspace Lounge, The Bayou, and the pub menu for Keg and Compass
Make sure you keep checking back or sign up for our newsletter for the latest Disney Cruise News. There is still a little over a week to enter to win a Disney Cruise.
---
This post may contain affiliate links. Meaning, that if you make a purchase through my links, I will earn a small commission at no additional cost to you. Thank you for your support of this site.