Gather your crew and prepare to transport them to the legendary destinations of the Republic, Empire and First Order.
Inspired by lavish starcruisers like Dryden's Vos' ship in Solo: A Star Wars Story, the Hyperspace Lounge offers a richly themed, immersive experience for adults every evening—with interactive tasting experiences and signature cocktails inspired by the Star Wars saga.
While relaxing over refreshing galactic concoctions, experience hyperspace jumps to several planets in the Star Wars universe to take in the epic views—ranging from serene vistas to action-packed encounters.
The spectacles are seen through the viewport—a widescreen "window" to the stars—also features iconic spaceships and fan-favourite locales such as Tatooine and Coruscant from the original Star Wars trilogy. Surround-sound audio and holographic models of nearby ships further enhance this otherworldly experience.
The Hyperspace Lounge is garnering attention because of its $5000 Kaiburr Crystal drink. There is some mystery surrounding this drink including what is in it how it is served and the possibility if you order it you may be visited by stormtroopers. *Update mystery solved.
Cocktails
Batuu | Spire Sunset Grown on the sides of the planet's petrified spires. Saigon Bagur, Kumquat, Lychee, Coconut.$15.00
Mustafar | Berken's Flow From the largest lavafall of the galaxy. SelvaRey Coconut, Rumchata, Godiva Chocolate, Coconut Water. $16,00
Coruscant | The Chancellor Enjoyed by the senate elite members. Hennessy James, Calvados Menorval 1972. $20.00
Moons of Endor | The Golden One A mix of herbs and berries from the Forest Moon surface. Belvedere Blackberry & Lemongrass, Amaretto Velvet. $15.00
Tatooine | Freetown Reserve Made of Bantha hides mashed with fermented grains. Woodford Reserve Double Oaked.$20.00
Asteroid Belt | Pickled Mynock Proudly servin' to any partygoer eager to fuel up. Código 1530 Artesenal Mezcal, Cointreau BloodmOrange, Baileys Salted Caramel. $16,00
Hyperspace Lounge Glass Add a Hyperspace Lounge Glass with the purchase of any cocktail, $12.00
Hyperfuel
Hyperfuel Coaxium Trio $250.00
Zero Proof (Non-Alcoholic)
Cloud City Oat Milk, Blue Raspberry, Galaxy Ice Cream $7.00
Cloud City with Porg souvenir glass Oat Milk, Blue Raspberry, Galaxy Ice Cream $24.00
Temple Twist Apple, Mint, Pineapple, Ginger Beer, Kiwi $7.00
Temple Twist with Porg souvenir glass Apple, Mint, Pineapple, Ginger Beer, Kiwi
Kaiburr Crystal
Kaiburr Crystal The galaxy's rarest and valuable cocktail $5000.00
The most expensive drink in the galaxy. The Star Wars Hyperspace Lounge on the Disney Wish has a $5,000 Kaiburr Crystal drink. pic.twitter.com/ZcUp3yt0RI

— Ashley Carter (@AshleyLCarter1) June 29, 2022
Wines
George Lucas' visionary brilliance transitions seamlessly from screen to a vineyard panoramic where he has assembled the ultimate cast; including world-class winemakers, wineries in California and Italy which are ripe with potential, and an architectural vernacular that ties everything together in an unrivalled wine experience.
Wines – Italy
Viandante Del Cielo – "Lungolago" $20 per glass
Viandante Del Cielo – "Wiandante" $33 per glass
Viandante Del Cielo – "Pristinvm" $27 per glass
Wines – France
Bastide de Margui, 1784 Rosé $20 per glass
Bastide de Margui, 1784 Vin Blanc $27 per glass
Bastide de Margui, 1984 Vin Rouge $33 per glass
Wines – France
Skywalker Pino Noir Rosé $14.50 per glass
Skywalker Chardonnay $18 per glass
Skywalker Pinot Noir $31 per glass
Skywalker Sparkling $50 per glass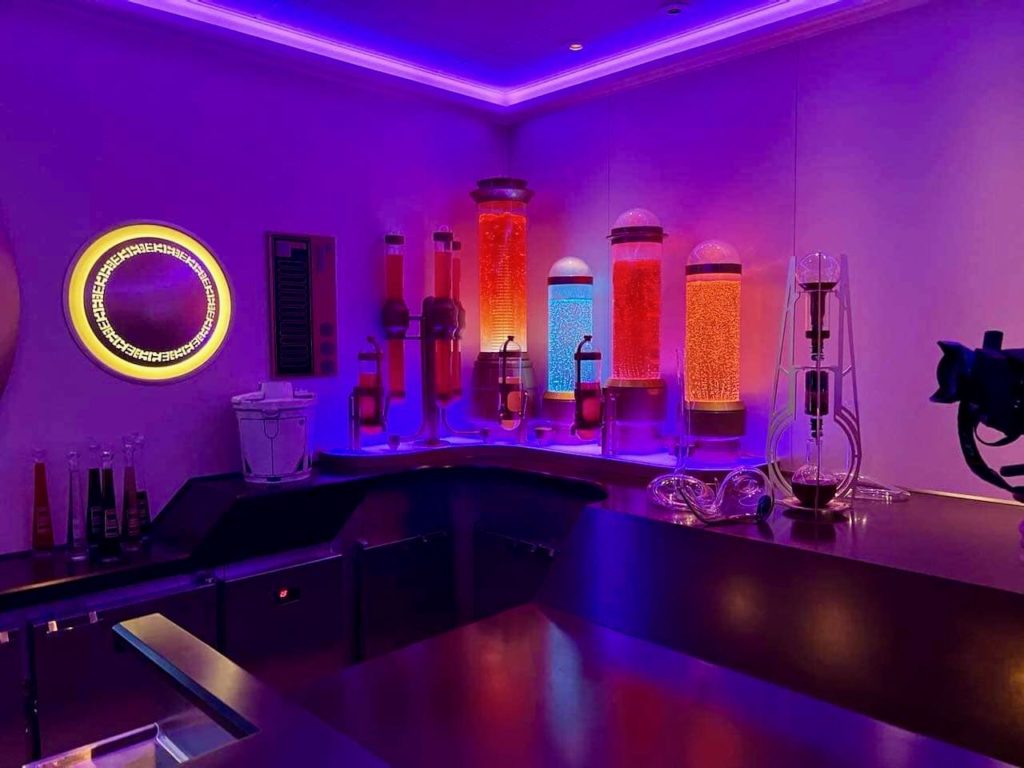 The Flight of Skywalker
An intergalactic tour through the flavours of the Skywalker Vineyards in Marin County. Rose, Chardonnay, Pinot Noir, and Sparkling. $50
Galaxy Brews
Batuuan Harvest Brew $10 A popular drink enjoyed by local Batuuan and travellers during the annual Batuuan Harvest Festival, the Harvest Festival. The Harvest Brew celebrates the beautiful bounty that the planet enjoys every harvest season.
Mustafarian Black Ale $10 Inspired by this volcanic world, the Mustafarian Black Ale captures the dark history and legends that took place on the planet, which was also the site of Darth Vader's personal sanctum.
Check out the menus for the restaurants on the Wish: Arendelle, Worlds of Marvel, 1923, Kid's Dinner Menus, Palo Steakhouse Brunch, Palo Steakhouse Dinner, Enchanté, The Bayou, The Rose, Nightingale's and the pub menu for Keg and Compass. Here are the Spa treatments available on the Disney Wish.
---
This post may contain affiliate links. Meaning, that if you make a purchase through my links, I will earn a small commission at no additional cost to you. Thank you for your support of this site.