Be a part of the world's first Frozen-themed, theatrical dining experience as you're magically transported to the enchanting Kingdom of Arendelle aboard the Disney Wish. Queen Anna and Kristoff are celebrating their engagement and have invited you, their honoured Guest, to join them. Behold festive musical performances from Elsa and Olaf as you devour hearty Norwegian-inspired cuisine made by Oaken himself. It's a dinner worth melting for!
Smorgasbord
Anna's Koldtbord "Hot" Smoked Salmon, Smoked Fjord Trout Horseradish Lefse, Salmon Gravlax, Sweet Shrimp, Dill Honey Mustard, Crisp Knackerbrot
Blushing Oaken's Chilled White and Green Asparagus Pea Tendrils, Heirloom Tomatoes, Radish, Dill GF DF
Elsa's Royal Baked Scallops Shrimp Tarragon Bisque, Rainbow Carrots, Leeks, Flaky Pastry
Jarlsberg Cheese & Rosemary Ham Tart Gala Apple, Williams Pear Compote
Salads
Nordic Cucumber, Potato & Carrot Salad Baby Oakleaf, Lolla Rossa Lettuce GF DF
Troll Valley Baby Field Greens Vanilla, Apricots, Brioche Croutons, Candied Walnuts, Lingonberry Dressing
From the Kettle
Sven's Favorite Carrot Soup Caraway, Rye Sippits Split Yellow Pea Soup
Pulled Ham Hock, Pannekaken
Bread Service
Six-Grain Viking Loaf With Roasted Onion Dip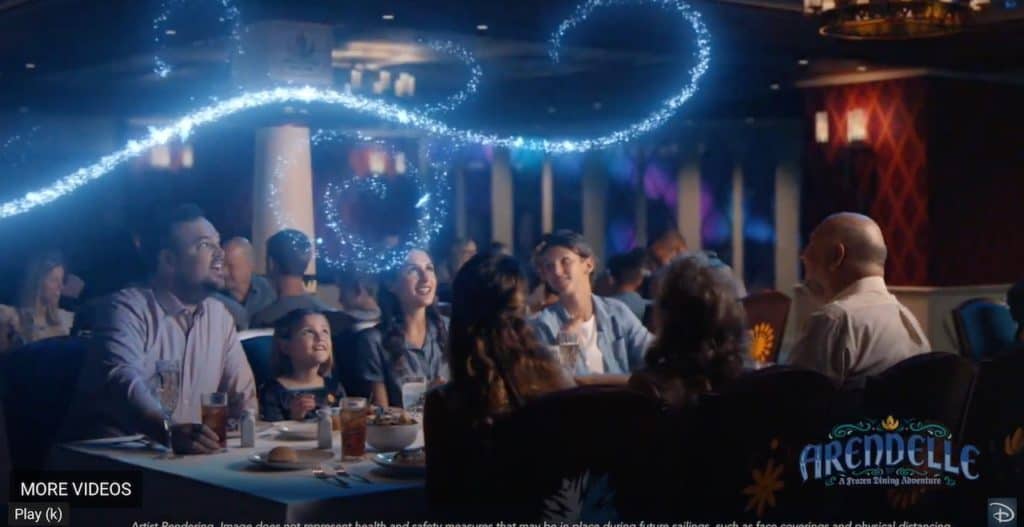 Entrées
King Agnarr's dry-rubbed Roasted Pork Tenderloin Buttered Chard, Honey Butternut Squash, Yukon Gold Potato Purée, crisp Shallots, Red Currant Port Wine Reduction
Pan-seared Chilean Sea Bass White Asparagus, Petite Leeks, Savoy Spinach, Romanesco, Peas, Kohlrabi, Rainbow Carrots, Seared Scallop, Pea Tendrils, Mod Vinaigrette
Arendelle Kjottkake Braised Meatballs, Rosemary Cream Reduction, Egg Noodles, Lingonberry Chutney
Juniper Spiced Roasted Chicken Breast Scallions, Duck Confit Double-fried Potatoes, Estragon Wild Mushroom Ragoût
Garlic & Thyme Roasted Beef Rib-Eye Double-baked Potato, Buttered Broccoli, Sweet Honey-Roasted Carrots, Cabernet Jus
Vegetarian
Queen Iduna's Potato Lefse Marjoram Butter Crust, Heirloom Carrots, Spinach, Celeriac, Green and White Asparagus, Baby Brussels Sprouts, Leeks, Aquavit Jarlsberg Cream
Käldolmar Plant-based "Beef," Savoy Cabbage, Brown Rice, Carrots, Celery, Dill Yogurt Drizzle
Lighter Note
Seared Salmon Salad Fennel Seed Quinoa, Boston Bibb, Oakleaf, Spinach, Endive Lettuce, Red Cabbage, Green Onion, Soft Egg, Cucumber, Dill, Whole-Grain Mustard Dressing, Honey Biscuit Streusel
Grilled Grain-fed Sirloin Steak Served with Garden Vegetables and your choice of Steamed White Rice or Baked Potato
Slow-roasted Breast of Chicken Served with Garden Vegetables and your choice of Steamed White Rice or Baked Potato
Oven-baked Fillet of Salmon Served with Garden Vegetables and your choice of Steamed White Rice or Baked Potato GF
Dessert
Eplekake, Apple Cake Caramel Sauce, Vanilla Bean Ice Cream, Florentine Almond Crunch
Norwegian Pancake Roulade Pancake, Lingonberry Jam, Gjevik White Chocolate Cheesecake
Kvæfiordkake Butter Cake, Baked Almond Meringue, Vanilla Cream, Berry Compote
Signature Dessert
Troll Family's Rock Chocolate Bar Chocolate Cake, Pistachio Cookie Rocks, Elderflower Meringue
No Sugar Added Dessert
Citrus-Almond Cake Lemon Almond Cake, Buttermilk Ice Cream, Orange Fennel Salad
Ice Cream Sundae
"It's Elsa's Coronation Sundae!" Mint Chocolate Chip Ice Cream, Marshmallows, Fresh Whipped Cream, Snowflakes
Check out the menus for the restaurants on the Wish: Worlds of Marvel, 1923, Kid's Dinner Menus, Palo Steakhouse Brunch, Palo Steakhouse Dinner, Enchanté, Hyperspace Lounge, The Bayou, The Rose, Nightingale's and the pub menu for Keg and Compass. Here are the Spa treatments available on the Disney Wish.
---
This post may contain affiliate links. Meaning, that if you make a purchase through my links, I will earn a small commission at no additional cost to you. Thank you for your support of this site.