The Disney Wish has been sailing for a few weeks now and we have had a chance to see some of the new features of the ship. One thing that Disney Cruises are known for are the Broadway way quality shows. The Disney Wish has two new shows onboard "Disney Seas the Adventure" and "The Little Mermaid". Disney's Aladdin – A Musical Spectacular will be joining the line up soon.
Krissy Nocerino from the The Disney Parks Blog reports "When you take your seat in the Walt Disney Theatre on the first night of your voyage, you'll experience a lively musical celebration, featuring a bevy of bold and brave Disney and Pixar characters. "Disney Seas the Adventure" begins with our very own Captain Minnie Mouse handing over the helm of the ship to her dear friend Goofy.
As Goofy embarks on a journey to discover his own inner captain, he encounters special friends who teach him valuable lessons, including Tiana who explains the importance of hard work during a lively performance of "Almost There" from Disney Animation's "The Princess and the Frog" as well as Crush and Squirt who teach him how to "Go with the Flow", just like they do in the world of Pixar's "Finding Nemo." Plus, heroines Elsa, Moana and Merida perform a powerful medley of "Into the Unknown," "How Far I'll Go" and "Touch the Sky."
Through playful interactions and a roster of iconic songs, you and your family are sure to have a great time … and you might just end up on your … what do you call 'em? Oh—feet! Because this show certainly deserves a standing ovation!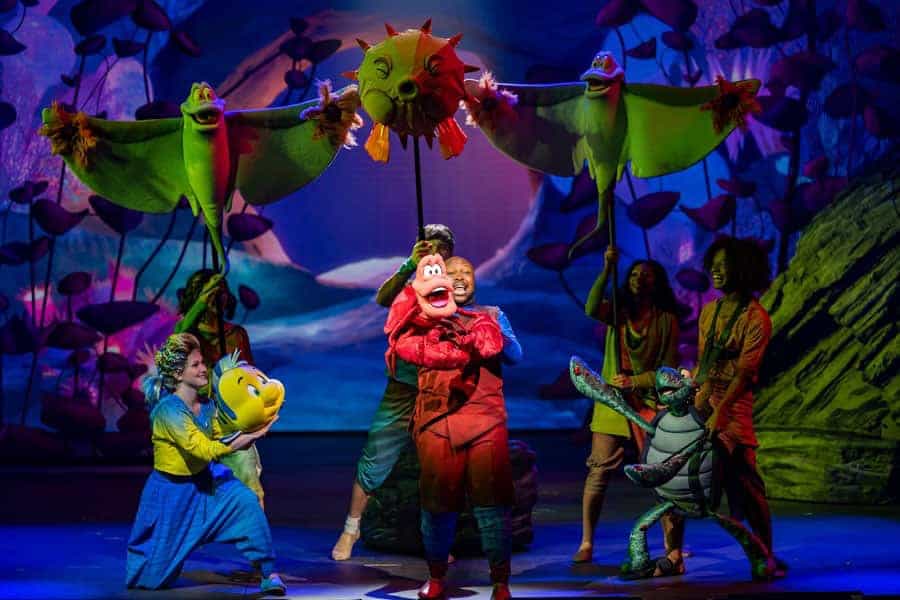 Developed exclusively for the Disney Wish, "Disney The Little Mermaid" is a unique stage adaptation of the original 1989 Disney Animation film. You might recognize the songs, scenes and characters, but this show has been reimagined in a delightful new way.
The curtain opens on a group of modern-day storytellers, who happen to come across a treasure chest full of whozits and whatzits galore. From there, you'll become part of Ariel's world during an immersive story about independence, identity and love. With state-of-the-art puppetry, an innovative script and a score full of surprises, this is a show your whole family will enjoy."
Make sure you keep checking back for the latest news like the changes to back to back cruises, booking reservations for Hyperspace Lounge, and the newest discounts. You can sign up to get our newsletter delivered to your mailbox. Are you sailing on the Disney Wish soon? Check out our menus for the restaurants and the price lists for bingo, spa, salons, and Bibbidi Bobbidi Boutique.
---
This post may contain affiliate links. Meaning, that if you make a purchase through my links, I will earn a small commission at no additional cost to you. Thank you for your support of this site.